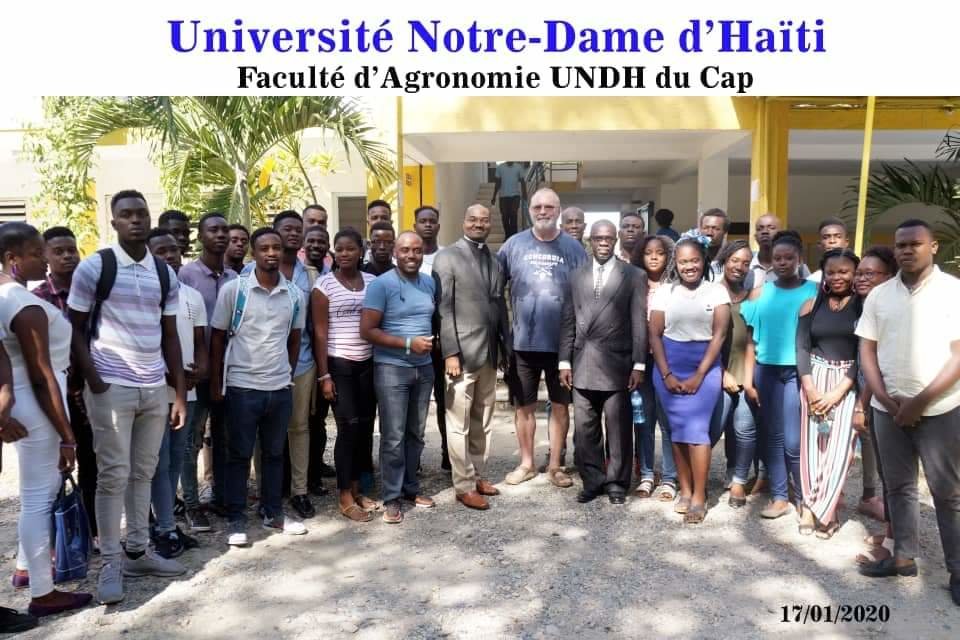 Looking at writing a 2020 recap should start out with a request for a 2020 redo.
2020 started out very strong with our last visit before Covid in January.
Bellegarde summerized the trip as follows.
Tuesday14th - Wednesday 15th
1-Meetings with the builders
On Tuesday 14th after the plane landed in Toussaint Louverture Airport. We took a 3 hours trip to Emmaus House in Hinche. We arrived in Emmaus House around 7 pm.
The next morning, we went to Benaco a small locality in Thomonde where we are building our factory and a residence for workers, visitors and students.
With the builders we chose the best place to built the kiln platform and the posts to hold a container. Three (3) days later the platform and the posts were built.
2- Meeting with our farmers
We head to our farm in Boucantis (4 miles away from Benaco). It's a 130 hectares of land up in the mountain in Thomonde. We spent some time supervising the progress made in the plantation of the grass. This time our farmers was in the process of weeding our second field, to protect this land against fire.
Thursday 16th
3- Meetings with Father Herald
We met with father Herald, Dean on Notre Dame University in Hinche.
Notre Dame university in Hinche is teaching to their students how to make natural gas using organic waste.
We agreed with Father Herald to receive groups of students who will learn the process of transforming the grass to charcoal.
Furthermore, we are looking to develop a curriculum of the process that could be part of their studies. This can be an area for research and academic studies.
Thursday 16th
4- Meeting With Gerald (Fuller center)
We drive to Pignon to meet with Gerald a contributor to Fuller Center, operating in various area in Haiti especially in Pignon.
We discussed the possibility that his organization build some houses for our farmers and neighbors in Benaco. Mr. Joseph had us visiting the neighborhood to have a concrete idea of the kind of houses they have built for low-income families.
It costs around $6000 to build a house with 2 bedrooms, a kitchen, and a small gallery.
5-Meeting with Haiti Outreach
Quick after our meeting With Gerald, we headed to Haiti Outreach headquarters in Pignon to meet with Neil.
We discussed about the process of digging a well in Benaco for the community. This well will be a blessing for the population. This area is really dry. People have to walk miles to find water. having a well in the locality will give people access to and important resources and improve significantly their life's quality.
Mr. Neil showed his concern because of the characteristic of the lands in Benacco. It's so dry and rocky that finding water might be very challenging. His analyze of the process is inconclusive : He can't ensure us that at the end of digging we will find water. So we must proceed in the assumption that, at the end of the process, there is a possibility that we don't find water. The well will cost around $15.000.
6- Meeting with the Dean of Notre Dame University in Cap-Haitian
We have met with Father Francois, Dean of the Notre Dame university in Cap Haitian. We introduced him the project. Father Francois showed a lot of interest about our work. We agreed that Bonzèb will work with Notre Dame agronomy school in Cap Haitian. In a near future, Notre Dame students will be able to come in our farms and experiment our processes.
7- Meetings with the Salesians in Cap Haitian
Our Meeting with Father Lephène was really constructive. we had good discussion about our scholarship program and know more about what they are doing in the community. The Salesians have a mechanics school in Cap Haitian that welcomes hundreds of students. we are looking on how they can build the kiln that will be used to transform the grass to charcoal. This will be a source of income for them and will give to the students the opportunity to work on a common goal, on a project that has real impact in everyday lives. This will be a big step in the project.
Friday 17th
8- Visit to the Notre Dame University Campus
On Friday morning we visited the Agronomy campus. We had good exchanges with the agronomy students from first to 5th year degree about the project. They were focus and very responsive. A lot of questions have been addressed like environmental impact of the project and how the process works, Do we really transform grass to charcoal, is the scholarship fully or partly funded, how Hear Fundation can help in the Visa process? The Faculty is keen to send students to work with our farmers.
9-Meeting With Notre Dame University in Gonaives
It was very nice to visit the New campus they are building in Gonaives. Father Ronald. Presented us to the Civil engineering Students for a quick sharing about our mission. We always take some times to share our works to new people because we value their feedback. Bonzèb is a project for Haitians, Mostly manage by Haitians. Feedbacks are a great contribution to make our path forward.
Saturday 18th
10- Meeting with the Salesians in Gonaives
While we were in Gonaives, we made a quick visit to the Salesians. They have a technical School that teaches electricity, masonry, mechanics, to students from economically disadvantaged families. Bonzèb committed itself to support the School by donating tools the students need to practice in the workshops.
11-Meeting with Mr Ducasse Arcahaie
Joel is a senior agronomist who help to grow vetiver in the area called "Chaine des Matheux"(Arcahaie). In is lab, he is making research on mushroom, biofertilizers and many other crops. we took a tour to his property to look at hit machinery and his impressive laboratory. Considering we are in the same field of activity, He can be a good contributor for the Project.
Sunday 19th
12-Meeting with students From HELP
We met with a group of 9 students From HELP (Haitian Education and Leadership Program). During 2 hours we talked about our mission, specially the scholarship program for those who would like to have a master degree on business and education. We had a nice discussion with that group and were very stunned by their English level. Later we received a visit from Esdris and his family. He receives a scholarship from Concordia University in Portland where he will be pursuing a master degree on Education.
13- Provincial House
In late afternoon we went to the Salesian Provincial House in Tabarre. It is a very nice building with offices, rooms, nice chapel, garden and a big parking. Father Lex had us visited the place. There are rooms available for people who travel in Haiti and would want a place to stay for some days.
Father Lex introduced us to Father Mytilien who is responsible of the Teacher Training School located in a complex close to the Provincial House where they have classrooms, a youth center, playground, chapel and rooms.
In our discussion we agreed that Bonzèb will support the youth Program by providing equipment for soccer and basket ball practicing
Monday 20th
14- Provincial House
This time we met with Father Victor, Executive Director of the Rinaldi Fundation; and Father Jean, the Salesian Provincial.
We had a constructive 2 hour meeting sharing understanding on our missions and how we can work togerther. The Rinaldi Fundation is willing to help us reach the communities where the salesians are implanted around the country.
Since our vision is to have a network of 250 farms producing charcoal all around the country, working with new organization including the Salesians is a plus.
Conclusion
As we are getting known we must reinforce our actions and the organizational structure to efficiently meet our goals. Bonzèb has created a lot of expectation around large number of people that has heard from us, especially among our farmers who are impatient to see the process in action. What Bonzèb comes with is something very innovative in a way even people in the agriculture sector had never seen it before. When the first bag of charcoal is made it will fade the skepticism of some people that like what we are doing but will show more willing when they see it.
The Haitian Education an Aid Resources (HEAR) has been very successful in the past. With very few resources, it has helped very talented students here in Haiti to achieve a master degree on both education and business. Those students are well trained and very appreciated in their works. Hence the need to reinforce the Hear Program by:
Strengthening the Program both economically and Structurally.

Diversifying the field of studies by adding some technical studies like electrical, mechanics, computer science, English, etc.

Working with other NGO in both Haiti and the US.

Addressing the problem with Visas for our students
We had a lot of accomplishment during this 8 day mission. As we had met with people from very diversified background we are getting ourselves a better understanding of the impact our project will have economically, environmentally in the country.
The challenges we faced during our mission will help to define more accurately our objectives, enlarge and enrich both HEAR and BONZEB in the mission of empowering the people by offering knowledge, tools and work.
-------------------------------------------------------
Since this trip and the whole Covid experience we have been supplying our workers and their families with PPE's and have added new workers. We also bought an oxen team and plow for the local farmers, which has helped them prep and plant their fields more quickly and effieciantly.
We have planted new fields and new crops. The Congo bean plantation has been enlarged and the generator and water pumps have been put in place.
The issues with reaquiring our kiln and moving it to Benaco is happening as I write this report.
We have been able to assist workers with medical issues, brought solar chargers to the farm and factory sites and more.
Even as we have been unable to visit Haiti, our team and leaders have been able to keep things moving forward and we are blessed to have support for them.
On a sad note, after 10 years of being able to offer two annual scholarships to Concordia Univerisity in Portland, the school announced its plans to close in the spring. This came just weeks after our last trip and left Edris without his scholarship. It also left the best recruiting class to date without the opportunity to study with us. So the board decided to focus this year on scholarships for Haitian students in Haiti. This was well recieved by our partners in Hinche, Cap Haitien, Gonaives and Croix des Bouquets.
As always, your support and donations are what makes our work possible. Please consider making a generous donation today. Even during this Covid-19 pandemic the workers and their families need the support we offer. They need the work we offer. They need the hope we offer.
Even as we all struggle with stay-a- home orders those we serve can not do this. If they don't go out they can not work and they can not buy food for their family's.
So please pray about how you might be able to help BonZeb continue to meet these needs.
Thank you.