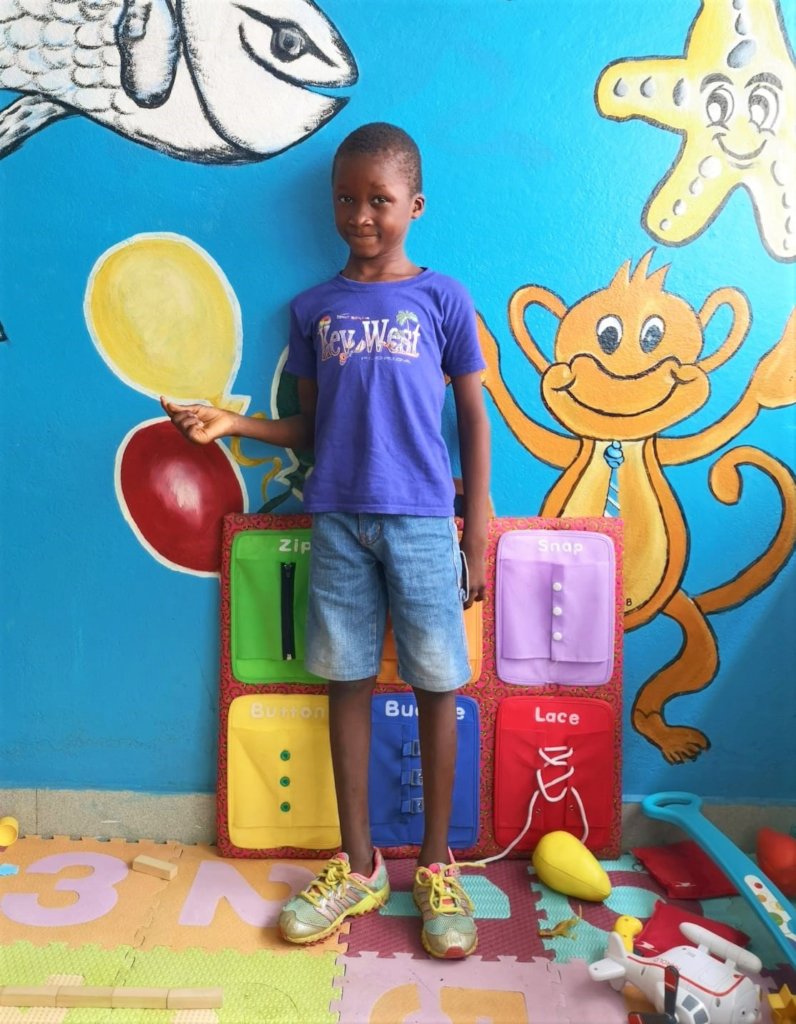 Rashid is a 7-year-old boy who was unable to walk as he had suffered from an acquired brain injury due to sickness. Rashid is currently in 1st grade, and lives with his mother, Adama, and extended family in east Freetown. His injury and paralysis were challenging and debilitating on the family, so they sought help with World Hope International's Enable the Children (ETC) program.
In 2016, Rashid came to one of ETC's clinics held at the children's hospital in Freetown. Since the initial assessment conducted at the clinic, our ETC physiotherapists have been working on his balance, function and strength through specific exercises. These exercises include calf stretches, hamstring stretches, 2 point and 4-point kneeling to help with core stability and balance, and bridging which strengthens the core muscles, focusing on the glutes and spinal muscles. Additionally, the therapists work on right upper limb stretches to increases flexibility and functional mobility.
Rashid's parents were also shown how to perform the stretches and given written instructions to help continue the exercises at home, with the goal of doing the stretches every day. With months of dedication, Rashid can walk again, although his left side is still weak. He uses stability boots that helps correct foot position.
Along with being treated by physiotherapists at his home every other month, Rashid and his mother attend family support group meetings led by an ETC staff member to talk about autism and other disabilities. The family support worker shares information and teaches families and caregivers how to support their child with disabilities. The meetings also encourage parents and other caregivers to know that they are not alone. Rashid's family also participated in Enable the Children's annual beach outing. The event saw a city come together to celebrate the lives of kids and their families who have incredible determination as they live life with a disability and battle stigmatization.
Through the interventions, Adama stated, "Rashid has made so much progress through the exercises and through going to school. We are very thankful for all your care and support. We were so encouraged to meet other people with children with different issues and will continue to have hope that he will continue to improve."
Enable the Chidren provides care and support services to chidlren living with disabilites in Freetown, Sierra Leone