Project Report

| Feb 9, 2023
First Semester of 2022-2023 School Year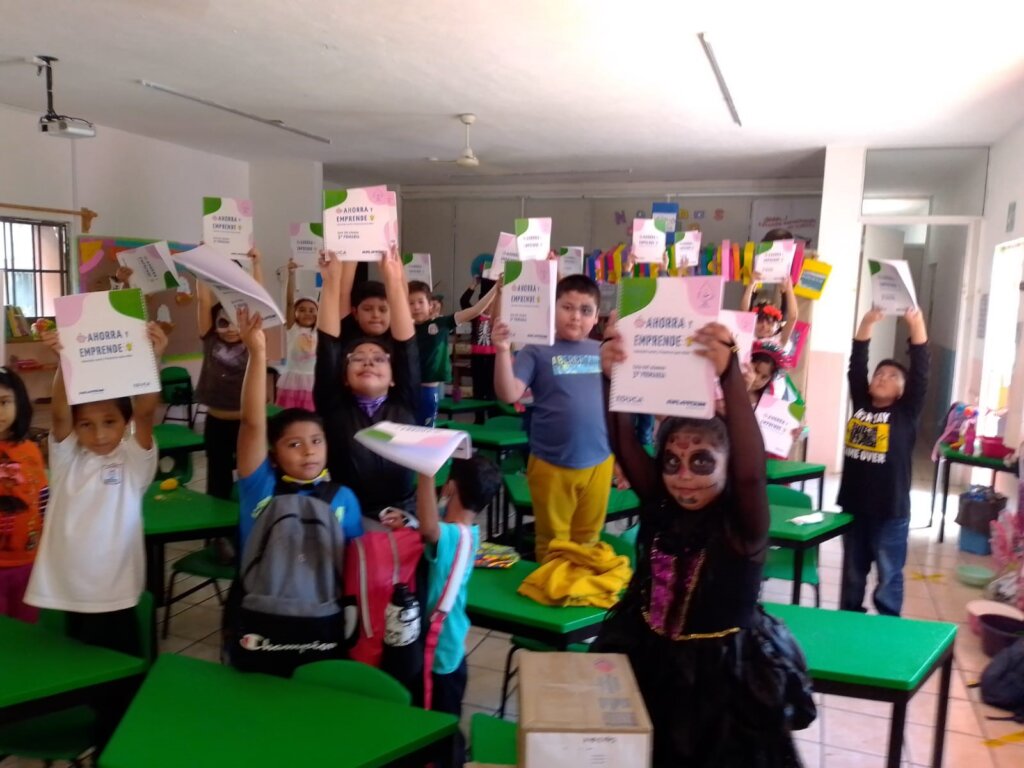 During the 2022-2023 school year the Entrepreneurship and Savings project is implemented in 22 Institutions and 28 educational campuses located at 10 entities of the Republic: Baja California Sur, Mexico City, Chiapas, State of Mexico, Guanajuato, Jalisco, Michoacán, Morelos, Nuevo León, and Querétaro.
Some of the activities developed during the semester were:
- First meeting with the project coordinators
- First teacher training
- Guides delivery to students and teachers
- Savings Month
During the month of October, World Savings Day was celebrated with the aim of raising awareness on the benefits it has in personal finances and how important it is to acquire this habit to achieve goals. For which the following activities were carried out:
Workshop on the importance of formal savings. The workshop had the objective of raising awareness among parents on the importance of savings for their children and how the project contributes to the development of skills, decision making, goal planning, formal savings, opening bank accounts and entrepreneurship.
- First follow up visit
Follow-up visits are part of the support strategy for teachers provided by EDUCA to learn about the characteristics of the context in which the schools implement the project, teacher training needs, and identify the progress of their students in learning and skills. Throughout the school year, at least 2 visits are made.
- Simulators
With the aim of strengthening the financial skills of the youth, simulators are being designed, simulated scenarios that allow them to strengthen their ability to ludically analyze and make decisions.
The topics of the simulators address the main concepts of financial resilience that the Savings and Entrepreneurship project seeks. To define to main topics, the Matrix of Results Indicators is taken up again, with the purpose of measuring the progress of the students and positively influencing their results. The topics covered by the simulators are:
Personal and savings goals

Decision making (incorporating the sustainable consumption approach)

Budget and balance

Purchases with or without interest (investment, estate, debts)

Business Model / Entrepreneurship
We are currently programming the first simulator "Personal and savings goals", plus user profiles and access to the platform, seeking to make it friendly and visually attractive. Some of the agreements towards this goal:
Create personalized student usernames and passwords that allow them to be pre-loaded into the platform.

Each student will have an avatar and will show their progress on the simulators used.

The data preloaded on a simulator will be automatically saved for the continuity of other simulators.

ONLINE COURSES
The Savings and Entrepreneurship Project has an online diploma that allows teachers to acquire the specialization skills of the main and transversal axes (empowerment, financial education, culture of peace, gender, others) required to accompany the learning process and development of students' socio-emotional education, savings and entrepreneurship projects.The online courses are asynchronous, and each teacher is accompanied by an online tutor who advises them during their training process.