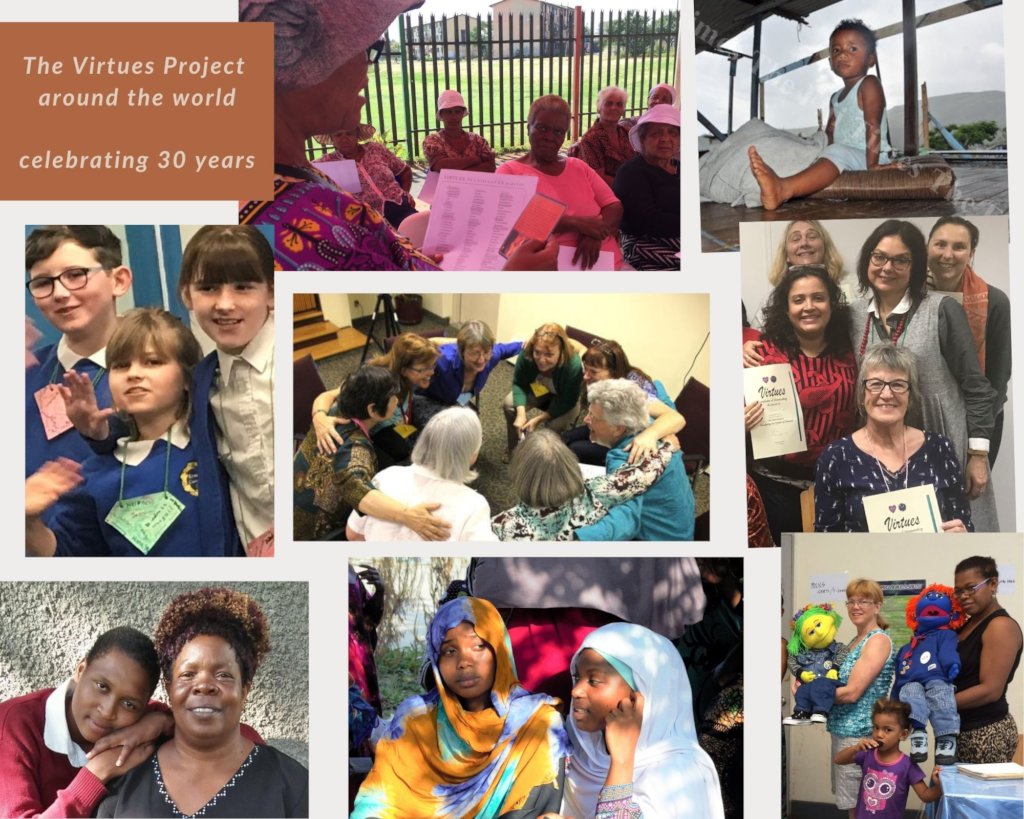 A highlight of our year-long celebration of 30 years of Virtues Project International Association was a virtual event in September -- actually 3 gatherings in three time zones. Facilitators and supporters of the work of The Virtues Project™ gathered to acknowledge our roots and our history and to envision a future world characterized by kindness, justice, and integrity.
The Five Strategies of The Virtues Project™ (TVP) were initially created as a means to counteract the rising violence of children toward others and themselves. It was not long before it was discovered that the practice of these strategies brought about improvement in everyday life for just about everyone, everywhere. Here are just a few examples.
(Fiji) The repeat offender in Fiji who responded so well to the treatment he received from virtues-trained prison officers that he was inspired to change his way of life
(Washington, DC, USA) A manager who uses the virtues cards as he prepares and delivers staff reviews. He also introduced them into team meetings and was astounded to see people responding differently to him and to each other, creating a more supportive, engaging culture
(Kakamega,Kenya) Entire communities that have discovered how to be self-sufficient, resilient and inclusive and schools that have seen a dramatic increase in attendance and improved academic performance
(Winnipeg, Manitoba, CA) Older teens with learning disabilities who gained self-respect when their virtues were acknowledged
(Tanzania) Teachers in private- and government-run schools who have found the strategies of The Virtues Project™ to be an effective, safe and orderly replacement for corporal punishment.
(Calgary, Alberta CA) A hospitalized teen threatening suicide, who demonstrated that she had the wisdom to define her own care plan when listened to by a virtues companion
(Brooklyn, NY, USA) The school bus driver who creates rhymes to inspire kids to choose virtues
(Japan) A college student who had sought "revenge" against the bullies of his childhood by showing them up with his achievements, but still felt empty until he came to know who he really was through TVP.
(Melbourne, Victoria, AU) A twelve year old girl (mental capacity of five years old) who spontaneously applies complex virtues concepts in her daily life after modeling and practicing them in her classroom
(Italy) Many individuals who found strength, stamina and capacity to endure what cannot be overcome during difficult, pandemic times
(USA) A principal who, instead of imposing harsh discipline, used virtues companioning to learn that a student's disruptive behavior.was related to fears related to her mother's cancer
We celebrate that the Five Strategies of TVP are being practiced worldwide, in homes, in communities, and all sorts of workplaces, like schools, hospitals and prisons. This work continues in more than 100 countries through a network of Facilitators, Master Facilitators and Champions and with VPIA initiatives to Ignite Virtues Globally.
Current initiatives focus on increasing VPIA's capability to support and grow this network through enhanced training resources and collaboration, and on building an online presence through our website and social media to extend the reach of The Virtues Project™ well beyond this network.
You are an important part of this movement. With your help, The Virtues Project™ has inspired and mobilized people worldwide to commit acts of service and generosity, to heal violence with virtues. Your gifts truly transform lives -- and communities -- around the world!!
Thank you for continuing to support this work.
Links: