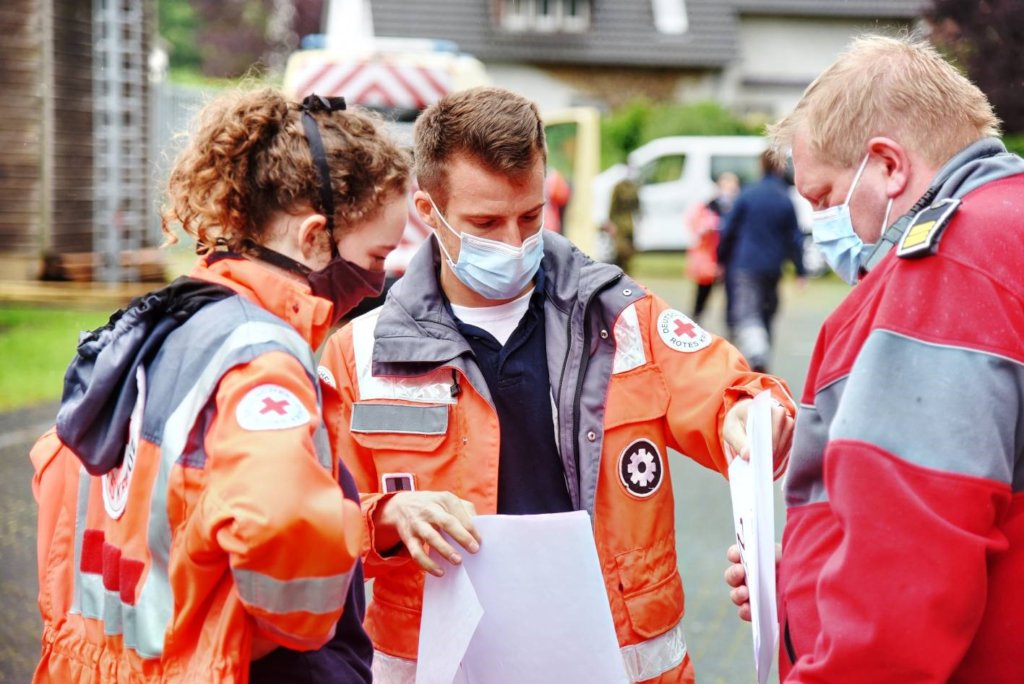 The corona emergency relief fund was set up by the German Red Cross Headquarters to provide help to people in need according to the principles of the International Red Cross and Red Crescent Movement. Many of the projects funded are ongoing, the report showcases examples.
Background
All donations form part of the corona emergency relief fund. The 20 member societies of the Red Cross Germany (DRK) receive 75% of the resources for direct project funding. The 19 regional state associations ('Landesverbände') and the nursing association conduct own projects or forward the funds to projects from their county chapters ('Kreisverbände or Ortsvereine'). The last distribution will take place by the end of July 2020. Within the National Headquarters 15% remain for overarching corona relief projects. Administrative costs add up to 10% of the fund. German Red Cross' National Headquarters introduced strict rules and control mechanisms for the use of the funds. Projects are to be in the field of welfare work and national aid in the context of the corona pandemic. The funds must not be used to finance normal operations activities and must not to replace government grants.
The content range of projects is wide and new project ideas emerged throughout the pandemic. In the beginning one focus was the implementation of measures to strengthen the health system, such as the use of mobile medical practices, fever measuring stations and the provision of equipment. Psycho-social care and support in quarantine situations are only two examples of the ongoing work. This report lists some examples for the work conducted and is not complete. Further examples and updates are provided on https://www.drk.de/hilfe-in-deutschland/corona-nothilfefonds-hilfsprojekte-des-drk/ (only in German).
The German Red Cross is extremely grateful for all donations received.
Examples for projects conducted by the GRC member societies
Support One on One - support for students in need of learning assistance
In a situation, where public life is very limited, schools rely on digital teaching for pupils to participate remotely. However, there are families who do not have the digital means or cannot handle them. Furthermore, digital learning requires a lot of self-discipline and great support from the parents' side. Not all parents can provide this help and some feel overstrained with the current situation and the learning material. This imposes the threat of enlarging the gap between stronger and weaker families and could therefore affect opportunities for children. To prevent weak families from getting more and more dependant, the DRK-Kreisverband Waldshut launched the Support One on One project. In their day care centre children from socially disadvantaged families, children and parents from a migration background and children whose classroom survival is at risk, can receive special learning support. In cooperation with schools the county chapter offers a professionally sound learning and motivation atmosphere.
Red Cross course: Care
How to care for a sick relative in times of a pandemic? Through an online course developed by the DRK-Kreisverband Jena-Eisenberg-Stadtroda, one can learn how to protect oneself and organize life when one has to care for sick relatives. The online course shows measures that are particularly easy to carry out. Furthermore it offers all interested parties the opportunity to follow the online course chapter by chapter.
Emergency services
The restrictions resulting from the pandemic are being addressed with various emergency services. This shall guarantee the basic supply especially for the high-risk groups and socially weak people. In Wanzleben, for example, a mobile emergency service provides a service telephone as well as individual support services (purchasing services, medication or other postal services, deliveries, and transport services).
Production and distribution of masks
With the introduction of the nationwide mask obligation in recent months and the bottleneck in infection protection clothing, various GRC facilities have produced and distributed self-sewn mouth and nose covers. One of them was the DRK-Kreisverband Schwalm-Eder: Through an appeal on Facebook and the local media, about 1,500 volunteers committed themselves to work on this project from their homes or from the premises of the GRC rescue stations. Together with voluntary active members of the DRK-Kreisverband thew sewed, collected, distributed, and delivered sewing kits or finished masks.
GRC telephone hotline for worries and sorrow
This offer of the DRK-Landesverband Schleswig-Holstein serves as a contact point for people who are struggling with the management of problems during the pandemic. The idea is to be there for people in this special time and to help them to cope with difficult life circumstances. In solution-oriented talks the DRK-Landesverband aims to help those seeking advice to solve their problems, and to discuss possible steps and methods on how to cope with the situation.
Medical care in the 'Domwache'
The service provided by the DRK-Kreisverband Hamburg Altona represents an offer of health care in dignity for homeless people (e.g. dressing changes, wound care, measurement of different vital parameters). In times of a pandemic, otherwise, for this group, access to the health care system could be particularly difficult.
Auxiliary staff training
The educational institute of the DRK-Landesverband Rhineland-Palatinate offers with its cooperation partners trainings of auxiliary staff. This qualification entitles the holder to carry out supporting activities in the outpatient care and in hospital. The newly trained persons can thus support in staff shortage situations in nursing homes, hospitals, or auxiliary hospitals.
Special vehicle Covid-19
The rescue service of the DRK-Kreisverband Aalen is supported by a special 'Covid-19-Vehicle'. This vehicle is equipped with special protective equipment to be able to carry out transport for people suffering from Covid-19.
2. Examples for projects conducted by the GRC National Headquarters
Assistance in palliative care
Palliative care in this exceptional situation is very limited and important elements cannot be provided due to the contact ban: Hospice employees have an even greater responsibility for their guests and their relatives. The accompaniment culture must therefore find alternative forms of social interaction that preserve the essence of palliative care to the greatest possible extent. This project aims to develop and implement new communication forms such as the use of audio-visual technology. Hospice workers are trained how to use and how to make their guests familiar with audio-visual tools. The main goal of this project is to sustain relations and social interaction between hospice guests with their care takers and their families and friends via video and audio communication in order to minimise social isolation.
Health education for children and young people: new formats of the Youth Red Cross
The subjects of hygiene and infection control are highly topical and will probably continue to affect schools in particular. Against this background, the YRC is creating digital services to provide children and young people with age-appropriate information and to practice health protection measures interactively. The aim is to motivate young people to get to grips with these measures over a longer period of time to understand their background and to comply with them. Web-based training combines information transfer (for instance via short videos, graphics, tutorials) with ideas for action and gamification elements (quizzes, playful exercises, competition formats). The children and young people are encouraged via social media to participate in the formats, and various challenges increase the project's reach. The formats produced are to be thematically expanded step by step and extended to include topics such as first aid in times of a pandemic or tutorials for the school medical service.
The GRC's WhatsApp chatbot: reliable information even in times of crisis
Especially in view of the multitude of channels which distribute a wide range of information during the corona crisis, it is important to rely on trustworthy and reputable sources. The GRC's new WhatsApp chatbot offers reliable corona information in a contemporary format and in real time. A chatbot is a technical dialogue system which enables communication by text input or voice. Chatbots are often used to automatically process frequent enquiries by means of artificial intelligence (AI) - from simple information to personal appointments, a great deal is possible. Not least because of the rapid information flow, this kind of communication channel is able to offer great added value for users. Of course, an automated bot cannot replace human and personal communication. However, AI and human contact can also be combined in a chat function. The GRC's WhatsApp chatbot is to be expanded thematically in a subsequent step: alongside information on the coronavirus, in future it should also be possible to use it for blood donation appointments, to provide information and news on projects abroad - especially also in case of catastrophes - and it is planned to integrate the chat function into various sections of the GRC website.
Links: