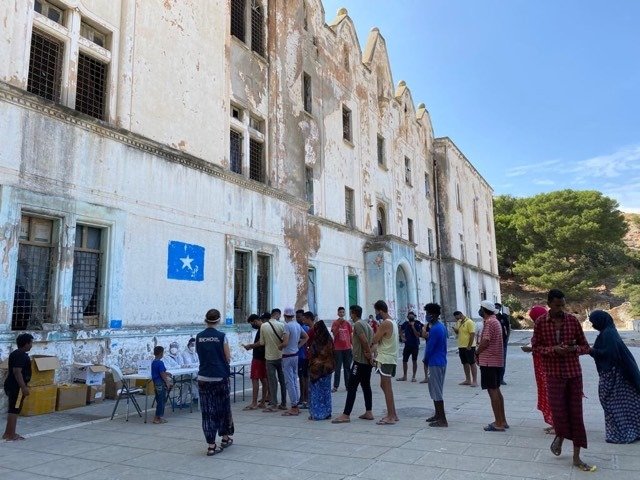 Dear friends,
Our last report left you in August when our team had just finished a major summer clothes distribution and we had finally received the green light from the camp authorities to re-open the HUB for educational activities. Needless to mention, with all safety regulations in place such as distancing rules, the number of students we could accommodate in our classrooms was much lower than back in March when we had to close the HUB for the first time because of COVID-19. But there were also other reasons for low attendance.
To open the country for summer tourism - the backbone of the Greek economy - the government introduced safety regulations to contain the spread of the virus. Overall, the measures proved successful; infection rates remained relatively low over the summer, particularly on the islands. However, it quickly became apparent that refugees were excluded from the freedom of movement that tourists enjoyed. In March, all camps in the country were put under lockdown, meaning no resident was supposed to leave the camp premises other than for urgent matters such as doctors or hospital visits, errands for medication, etc. But throughout the summer while the country was opening up for tourists, the lockdown of camps was repeatedly extended. This effectively turned all refugee camps in the country into "closed" prison-like facilities and revealed an ulterior motive.
The pandemic provided the perfect excuse: the new safety regulations laid the foundations for a new policy, which sees arriving refugees held in closed facilities until their asylum applications are processed - a procedure that should, in the future, take no longer than 12 weeks. The necessary precondition for such speedy procedures, however, is a substantial reduction of refugee arrivals. For this, the EU either needs to negotiate a new deal with Turkey – the last one was unilaterally suspended by Turkey in March 2020 – or it needs to find other ways to prevent refugees from coming; ways that have de facto already become common practice.
Since March, multiple reports have surfaced telling of mass push-backs at sea, and even forced returns of people that had already reached the islands. This has resulted in only 9,687 refugees arriving in Greece by sea in 2020 (of which, less than 1,500 arrived after March!), an 84% drop from 2019. To further enforce the country's anti-refugee policy, thousands of people residing in camps, apartments for vulnerable people (ESTIA), and hotel rooms under the Temporary Shelter and Protection Program (Filoxenia) were notified they would be expelled from their accommodation when they had already been granted asylum. These forced expulsions are consistent with a government policy that expects refugees to 'stand on their own feet and fend for themselves' within one month of protection status being granted. After a month, there is no more accommodation, no access to food support, and no EU-funded cash assistance.
The impact of these severe policies started to show in the second half of the year. On one hand, it led to massive homelessness among the refugee population with many people stuck on the streets of Athens or on the islands, unprotected from the virus. On the other, it left camp residents confused, desperate, and, understandably, not too motivated to attend educational programs. By the time we were finally able to re-open the HUB, many of our former students had left, others had been forced to leave the island, and some, fearing expulsion from the island, did not dare to leave the camp to come to class. Consequently, HUB attendance was at a historical low, especially in the classes that required regular attendance such as Languages or IT; sports and arts & crafts (activities that require less commitment) remained popular. However, by the end of August, we had at least managed to regain some of the positive community spirit with fewer, yet very committed students.
Unfortunately, this changed again in mid-September, when a pregnant woman in the camp developed severe COVID symptoms and had to be air-lifted to a hospital on Crete. Her immediate contacts were put in a separate quarantine area and further cases were detected among them. The entire camp was put under strict quarantine which meant we had to suspend all activities and close the HUB for the second time in the year. Our team immediately switched to emergency response and supplied every camp resident with a COVID-Kit containing a three-week supply of disposable masks, hand-sanitizers, and soaps. Luckily, the quick reaction of the camp authorities had prevented the worst and the virus spread no further among the camp residents with the majority of cases taking a mild course.
It was clear that with COVID and the strict regulations in place, the situation would not improve, so we decided to reduce our offer of activities at the HUB, focusing on the preparation of hygiene and clothes distributions instead. This way, we could at least supply the camp residents with the most necessary items before the winter. The team went through thousands of boxes in our storage facility, re-sorting, and re-counting items, giving inappropriate clothes away to locals in need. As the Hotspot camp stayed locked-down, we were never able to reopen our HUB Boutique, but ran emergency distributions outside the Hotspot camp, catering separately to children, women, and men. As temperatures were starting to drop, it was a race against time to have everybody in warm winter clothes, and our final distribution in December was to give a warm blanket to everybody and prepare enough COVID-Kits in case of another surge of the virus. 2020 has been a tough year and although our mission was compromised by the difficult circumstances, we still managed to achieve a lot for our beneficiaries which would not have been possible without the flexibility, courage, and commitment of our volunteer team.
We now need to wait and see what the new year will bring. Work on the new "closed" camp (or rather detention center) started in November. It will be located behind the current Hotspot, even further away from town. There are plans to provide the camp with facilities such as a mini-market, a coffee shop, some children's day-care facilities - some basics that should keep people content while they wait for their asylum applications to be processed. Refugees will be kept in isolation until they leave the island, be it forward to the mainland or backward to Turkey. But with Turkey currently refusing to take back refugees from the Greek islands and with no new deal in sight, we wonder how this plan will work out. We feel that our future operations will depend less on Corona, and more on political decisions. Will the EU continue to tolerate push-backs at sea thereby controlling the number of arrivals on the islands? Will authorities manage to process asylum applications as quickly as they plan? Will NGOs be able to continue their work? The past year has already given us a taste of the Greek government's approach towards NGOs. Because of the introduction of such tough regulations, many have had no choice but to give up and cease operations. Clearly, witnesses on the ground are not welcome. The government's final blow was the introduction of a "Confidentiality Law", which obliges workers and civil servants, as well as NGOs and their volunteers, to stay silent about what they witness in the camps, be it related to operations or residents. In short, it is not going to be easy and there are a lot of open questions. However, one thing is clear: as long as we are granted access to our beneficiaries, we are determined to stay on the island and continue to help.