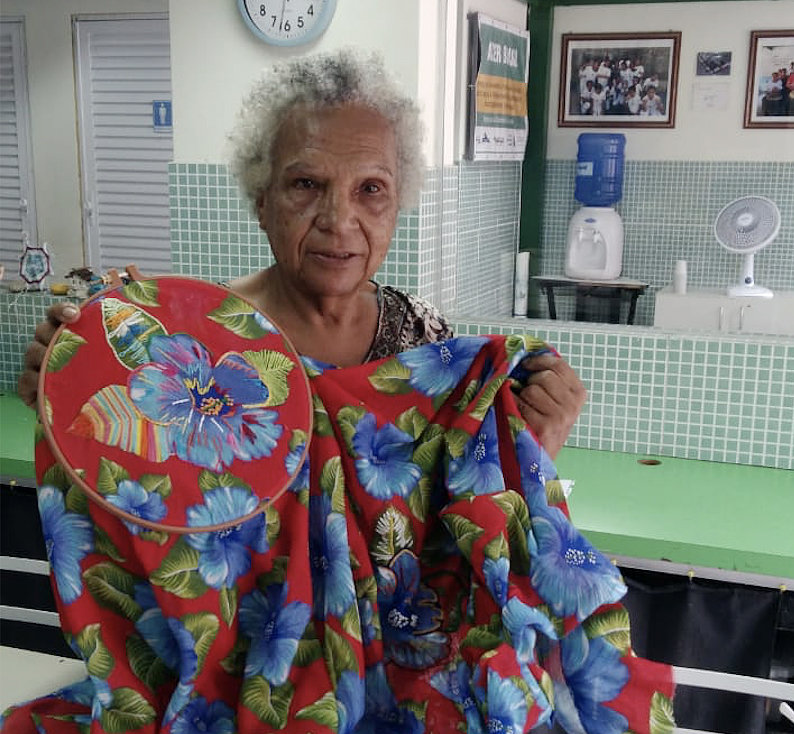 The community of Eldorado, with its overcrowded housing, overstretched public health services, and dependence on an informal economy, has been badly hit by the Covid-19 pandemic. On March 24th, a period of quarantine was initiated in São Paulo State, which was recently extended to June 28th.
Just before ACER was closed, our resourceful teacher, Carol, distributed materials to the women so that they could continue sewing at home. Since then she has been keeping in touch with them via their WhatsApp group and personal WhatsApp calls. We are currently looking at ways of getting more materials to them via the parcels of emergency food and cooking gas currently being delivered by ACER each month.
We asked the women how they are managing during quarantine. Viviane writes, 'Right now I feel trapped, anxious, worn out from the routine of three children at home. And the embroidery helps to distract me. It calms me down a little.' Aline tells us, 'I feel helpless because I can't do much at home. I have two daughters, who are right here, so I have to look after them and help them with school work. Like this I can't help financially. The handwork and embroidery helps me to relax in this chaos. I get anxious and depressed and the activities help to calm me and continue with the household tasks.' Fátima writes simply, 'Embroidery is my gift every day, a time I have for myself and which I love to do. Miss our classes.'
Now for the good news! Our vision for establishing a thriving textile community at the ACER community centre has recently been given a boost through a generous donation for industrial standard sewing equipment and better lighting and ventilation for the sewing room. This will enable an exciting new vocational course for young people from the community with a focus on ethical, sustainable fashion. If restrictions have sufficiently eased, the planned start date is 1st August, when schools normally reopen after the winter holidays.
The pandemic will have disastrous consequences for the local economy. For the past three years the Eldorado Textile Project has provided a creative outlet and an opportunity for women living in a marginalised area to earn a modest income. Your donations are keeping alive a supportive textile community and will give some local young people a chance to change their lives.
If you are considering making a donation, please note that there are two upcoming GlobalGiving Campaigns that give a percentage of matching funding: the July Bonus Day on 15th July for donations from $100 to $1000 and a 'Little by Little' Campaign in September for donations of up to $50. Thank you so much for your support during these difficult times!