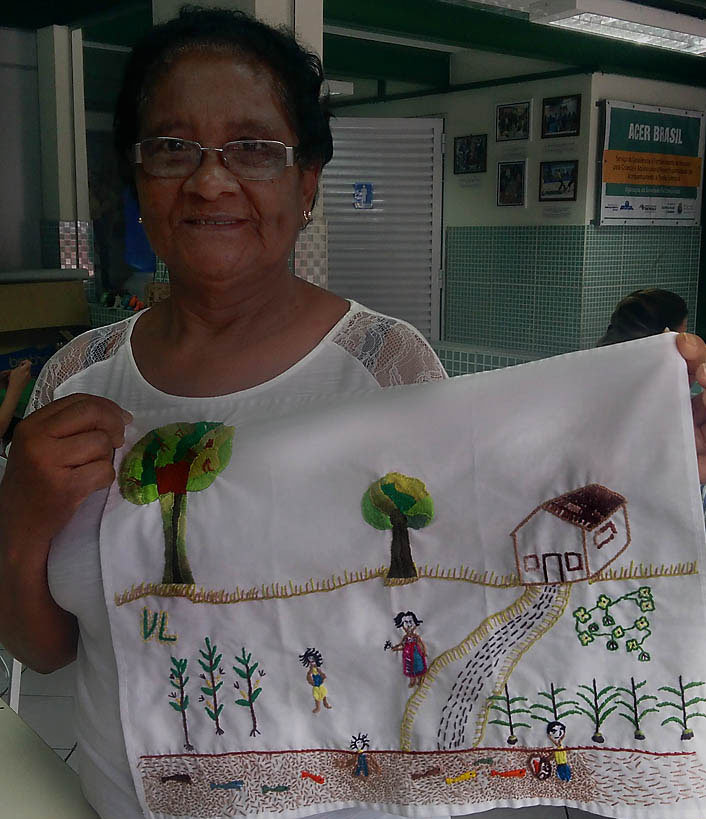 As this is our first report, we'd like to fill you in a little more about the Eldorado Textile Project.
Carol, our coordinator in Eldorado, is a former art teacher, now a freelance textile teacher passionate about teaching textiles. She teaches one day a week for the Eldorado Textile Project; two of the most experienced women from the group act as facilitators on a second day.
Carol writes:
'The Eldorado Textile Project arose in 2017 with an initiative to teach sewing skills to women living in a peripheral region of Diadema, São Paulo. In the course of these past years, participants who arrived with little or no experience in the world of sewing have discovered their capabilities as craftswomen and have increasingly felt skilled enough to create their own pieces of work. The project currently serves 25 women who meet weekly to sew, embroider and become more self aware. The items they make are sold in shops and fairs in Brazil and overseas, contributing to the family income of each one of them'.
Though making a small income is important as a way of increasing the women's self esteem and confidence, earning money is not the only aim of the project. It has also generated a supportive textile community and a safe space where the participants can practice new skills, exchange ideas, and express their creativity. In the winter months of July and August, they were encouraged by Carol to draw and embroider their memories of childhood, creating pieces that were not intended for sale. This resulted in several depictions of a happy childhood in rural settings that contrast poignantly with the densely populated makeshift housing of Eldorado.
After two and a half years, the women's skills have considerably improved and they have expanded their products from embroidered cushions to patchwork bags and embroidered guest towels. In November and December, 2019, they took part for the first time in a local Christmas fair and in two Christmas fairs in São Paulo city, where they sold a substantial amount of their work and were given much encouragement and advice. This was an encouraging step towards the sustainability of the group.
We would like to express our heartfelt thanks to everyone who has supported this project, which through a women's textile group is helping to transform a marginalised community in Brazil. If you are considering making a further donation, we would like to point out that we are participating in the 'Little by Little' Campaign, whereby donations up to $50 made between 23rd and 27th March will be matched at 50%.