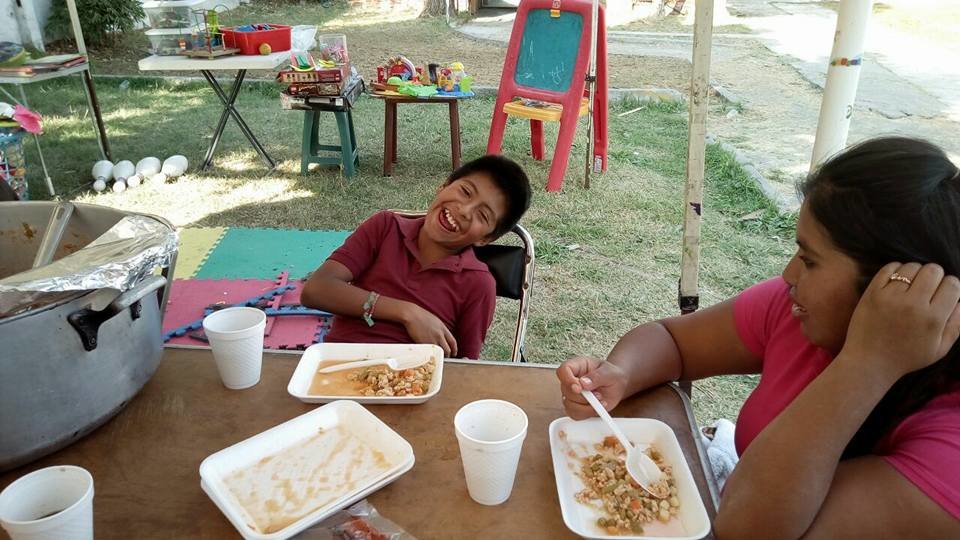 "Are you guys open today?" said Manuel eagerly, zooming across the busy road on his bike to catch us before we went inside the Campamento de Niños de San Gregorio. We had arrived on a Saturday morning with plumbers to expand the available bathrooms, and Manuel had been watching us patiently from across the street as we opened up the large metal gates sprinkled with colorful handprints of the children who spend time in the Campamento. We were curious to meet such an eager young guy, so we invited him in to chat about his experiences here. Soon we had more children knocking on the door, as the word had gotten out that maybe we were open today, too!
We asked these children about their educational experiences since the earthquake, and everyone had a story to tell. One girl in elementary school has spent the past four months picking up a packet of worksheets every week, attempting to learn at home by herself since her school has not opened since the earthquake. Another girl has been attending school, but only from 2-4pm daily because her school is making room for children whose schools are still damaged. Manuel, with a sour face, told us that he goes to his junior high in the morning from only 8-10am, also because his school is now sharing space with many other local children. The children from the San Gregorio elementary school have been assigned to go to school on Fridays from 9-12, so they have only had 18 hours of schooling, total, since the quake.
This is the story of San Gregorio and the neighborhoods surrounding it. Everyone has been deeply affected by the earthquake, even if they were one of the lucky few whose house is still standing. The children of the area have had their education much more affected than we even originally knew, and even those kids with more regular school hours are still affected deeply by cuts in the hours and days that they attend school. We also spoke to several mothers who stopped by to pick up their kids that Saturday, and they told us how eager they were to have their children involved in regular educational activity. They described bored sons and daughters who are making no academic progress as the year goes on.
It has been hard to get clear official information on when the school in San Gregorio will open. The educational authorities now have plans to demolish the extremely damaged public Pre-K and K school, which shares a wall with the elementary school. The land is too dangerous for using heavy machinery, so they are in the process of making a safe plan for a demolition with explosives. Work has started on reconstructing the elementary school, but given the difficulties of reconstruction in such an unstable zone, we do not predict that the two will reopen for several months. We have lots of work ahead of us.
Our priorities for the next month are are securing more volunteers to do meaningful activities with the children, securing safe transport for children to and from the center of San Gregorio, and continuing to provide them at least two meals of healthy food. Four months after the quake, we are having problems securing enough volunteers to work with the children each day. Local parents have finally been able to return to work to support their families, and our regular volunteers are not all able to come anymore. Working parents with very long hours also do not have the time to walk their children to the Campamento de Ninos and pick them up, so if they cannot pay for the bus fare they prefer to keep their kids at home. Every month there is less and less attention on the needs of earthquake recovery and responses for our calls for help from the general public as well. With any additional money that we receive right now, we will be spending it on:
Securing a morning and afternoon transport for the children to the center of San Gregorio
Transport subsidies for volunteers. San Gregorio is 20-30 kilometers from the center of Mexico City, and gas prices are quite high here - $3.25 a gallon in a city where the average salary is only about 3000 USD per year and even many professionals earn about half of what they would in the US.
Paid positions for local parents to watch children and cook at least two meals a day for them
We have made significant progress in the last two months. We were finally given control of the property from the government on December 2, and we welcomed children in the space on December 5 even though there was no electricity, no running water, and only two functioning toilets. The children simply did not have anywhere else to go except staying inside the shacks and tents that their parents have erected on the sites of their demolished homes.
Since officially opening on December 2nd, we have:
Added 8 new toilets and 4 more sinks with running water (previously we only had two each)
Set up our electricity service and added lighting to the indoor areas so that we can be inside in the chilly winter weather
Built a new kitchen indoors with a gas stove, gas oven, correct ventilation, and an industrial size sink and refrigerator. Up until early January, volunteer parents from the area had been cooking over wood stoves outside
Cleared a significant area of brush in the back of the lot for safety purposes - to clear it of snakes and rodents
Secured weekly food deliveries that include fresh food
Delivered donations of furniture, educational toys and materials, and physical activities
Made contact with psychologists who will be able to come weekly to provide individual support to the children who need it most and do group workshops with all of the children
Set up initial meetings with local non-profits who may be able to lend volunteers to work with the children
From the story of Manuel and his friends, we now know the need in the San Gregorio area is even greater than we estimated in early November. Many more children are affected than we were originally aware. As we get more resources, we will be able to offer more truly educational activities for even more local children, serve as a safe space to learn and do homework after school, or to provide flexible employment opportunities for some parents. We estimate we could be serving four times as many children per day as we are now if we had the resources to support them. In the meantime, however, we are concentrating on ensuring that the 50 children, on average, who are with us each day are safe, well-fed, and involved in meaningful activities that help them keep on track with their education during this time of extreme tumult in their lives.