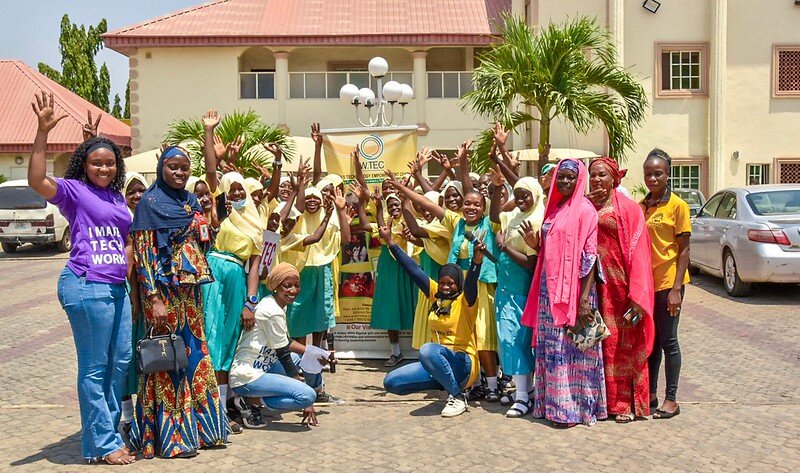 W.TEC: Working towards bridging the gender gap in STEM
Dear valued associates,
We trust that each of you is enjoying good health and prosperity!
We trust that this year has been filled with as many positive experiences for you as it has for us. We are delighted to share our report, which delineates the advancements and accomplishments our organization has achieved in the past quarter. Your unwavering partnership and support have been instrumental in our journey, and we trust that this report offers valuable insights into our activities. We eagerly anticipate the exciting opportunities that lie ahead in the coming year.
Please read below to see what we have been up to:
W.TEC Academy concluded it third term for 2022/2023 School Year
W.TEC MakeHer Space Review Meeting and Graduation Ceremony
2023 W.TEC She Creates Camp
SHE CAN WITH ICT in Kwara and Lagos State
W.TEC She Talks Tech Radio Show
W.TEC Academy concluded it third term for 2022/2023 School Year
The W.TEC Academy is W.TEC's co-curricular technology programme for secondary school female students where the girls will learn computer programming and mobile App Development. The Academy runs in Kwara, Ondo and Lagos states.
In April 2023, the programme graduated a total of 262, 160 & 71 in Kwara, Ondo and Lagos respectively. The participants can now confidently build a simple website, create games, create and edit videos, graphic designs, data analysis and work on various programming applications like mobile applications etc. Certificates were presented to the successful participants who completed the programme.
The W.TEC Academy Kwara had a graduation ceremony on the 5th of July 2023, 179 students were present at the graduation. Activities for the graduation includes presentations of various projects the girls have built, tech quiz, presentations of gifts for outstanding students. In attendance we have the ministry of education Kwara, parents, teacher and principal. The graduation ceremony was covered by the News Agency of Nigeria (NAN).
For the new Academy session, the clubs will be taking place again in the 28 existing secondary schools in Lagos, Ondo and Kwara states and we are planning to add to the existing schools in Lagos state.
The Academy has been carefully designed for students in these schools to help improve their digital technology skill and empower them with necessary information and skills to boost their academic, entrepreneurial and professional outcomes in the future.
The new students selected for this term in Kwara state will be learning computer fundamentals, Website design using Mobirize, graphic design and Mobile Application. The Lagos schools will be learning scratch programming, video game design, mobile App design and video editing. While the Ondo schools will be learning scratch programming and electronics (building power bank, solar phone charger etc.)
The Academy programme in Kwara State is implemented in collaboration with Oracle and the Kwara State Ministry of Education, while the Academy programme in Lagos State is implemented in collaboration with the Lagos State Ministry of Education, while the Academy programme in Ondo State is implemented in collaboration with the Ondo State Ministry of Education and the Ministry of youth and works.
W.TEC MakeHer Space Review Meeting, Celebrations and Graduation Ceremony
We commenced the 2023 cycle of the MakeHer Space project in January with pre-evaluation session in Lagos State, Kwara State, Nasarawa, Abuja and Bauchi State with training in 21 centers across the states. From January to June 2023, our team trained 1,177 girls and young women on Electronics and Renewable Energy to build projects like power banks, solar phone chargers, and rechargeable lamps.
The Make Her Space project is designed by W.TEC to provide women and girls (ages 10-25 years) hands-on skills, to build technological and engineering-based solutions for their communities.
This phase of the MakeHer Space project included internships for selected participants. Although we initially planned to deploy 36 girls from our Northern States in the Internship Programme, we ended up deploying 42 girls to 5 internship host organizations. The girls received training in embedded systems, laptops and phone repairs. The girls in the embedded systems internships worked on personal projects that ranged from automated waste bins, smoke and fire detectors/alarms, motion sensors, automated borehole water level detectors
On the 9th of May 2023, our MakeHer Space participants attended the 2023 international Girls in ICT day commemoration in Abuja where they presented their hands-on power bank project and also thrilled the audience by sharing the step by step process of building the power bank. The event was organized to inspire, encourage & empower girls to pursue a future in ICT, by ensuring they have the needed skills & support to achieve their goals.
Prior to the graduation ceremonies - which were held in all the participating states - W.TEC held a review meeting for the project in all the states with facilitators, state coordinators, supervisors and partners in all the state to review the progress of the project and discussed what went well and areas that needs improvement in terms of mobilization, celebrations, supports, equipment, curriculum and many more. W. TEC also had a courtesy visit to some of the project partners in Abuja on the 10th of May 2023. The W.TEC MakeHER Space Programme is implemented with support from Google.org.
2023 W.TEC She Creates Camp
The 2023 edition of the W.TEC She Creates Camp marked the 16th installment of this annual initiative, proudly presented by the Women's Technology Empowerment Centre (W.TEC) under the theme "SOLVE WITH AI." This technology-oriented camp provides an array of programs and activities, designed to educate students on how to create and employ technology in innovative and dynamic ways.
Spanning over a duration of two weeks, the program was held at Laureates College in Mafoluku, Lagos. It commenced on Sunday, August 6th, 2023, and culminated on Saturday, August 19th, 2023, with a graduation ceremony graced by esteemed partners, sponsors, W.TEC board members, parents/guardians of the participating students, and the presence of the media to capture this grand event.
This two-weeks residential technology camp targets girls in secondary schools, aged between 13 and 17. It serves as both an educational and mentoring platform, primarily focused on inspiring girls to cultivate an early interest in computers and other information technology. The ultimate goal is to empower them for positive contributions to their social and economic development.
For the camp duration, 24 students who registered for the camp participated in Artificial Intelligence, Software Innovation, Internet of Things (IoT) & Robotics, Choosing the right career, Cyber Security, Financial Literacy, Emotional Intelligence, Gender & Leadership, Self-defense, Sex Education, Health & Wellness, Physical dance & Exercise, Team Building, Photography, Digital Literacy, Science experiment, Public Speaking, Ankara Art Work and Excursion to Technology Companies and other extra-curricular activities.
The overarching objective is to elevate the participation of Nigerian girls and women in productive technology utilization for learning, professional development, and leadership roles. In pursuit of this mission, W.TEC's initiatives will progressively emphasize the empowerment of girls and women to transition into technology creators, proficient in content development and the creation of practical applications
W.TEC She Creates Camp Evaluation:
As a key component of our sustainability strategy for the She Creates STEM Camp alumni, W.TEC has implemented a survey aimed at assessing the STEAM skills and the practical application of technology that our camp alumni acquired during their time at the She Creates Camp. This evaluation provides valuable insights into how these alumni are incorporating digital technology and STEM skills into their diverse career trajectories.
Furthermore, this survey offers our alumni the chance to contribute innovative ideas aimed at enhancing our curriculum for future camps. We found that 96.9% of our alumni respondents have been using the skills they learned at the camp. We also discovered that 76.7% of the girls intend to study a STEM degree as a result of participating in the She Creates Camp.
Sustaining Her Enterprise Career and Network (SHE CAN WITH ICT) programme wrap up and resumption for the next circle
The Sustaining Her Enterprise Career and Network (SHE CAN WITH ICT), is a W.TEC Initiative designed to improve the productivity and profitability of women-owned businesses, by equipping them with in-depth practical digital technology skills and tools to catalyze their entrepreneurial growth in an increasingly technology-driven business environment. The SHE CAN WITH ICT programme in collaboration with Aspire Coronation Trust Foundation (ACT Foundation)as implemented via online classes and in-person classes in Lagos and Kwara states. We look forward to equipping more existing and aspiring female entrepreneurs and impacting more lives in this new year.
The SHE CAN WITH ICT programme in its training for 2021/2022 & 2022/2023 grant circle combined, has equipped 1,072 existing and inspiring female entrepreneurs with technology skills and knowledge. The programme for the 2022/2023 grant circle is proposed to reach 500 existing and aspiring business women in its in-person and online classes which it has currently surpassed. The 2022/2023 grant cycle ended with SEED GRANTS awarded to selected participants to support their business growth, testimonials of the impact of the training in improving their business exposure, revenue, time and customer relation, collection of feedback and survey analysis, research and many more. After the close of the 2022/2023 cycle, we've received several invitations from past participants to share our training resource with them to continue the training in their respective communities as well as invitations to facilitate selected modules of our training curriculum.
She Talks Tech is W.TEC's women-focused radio show and podcast aimed at presenting technology in a fun, accessible and practical way. Research shows that digital technology has the potential to improve women's quality of life, but much of this potential is unfulfilled due to structural factors like prohibitive cost of access. Our target audiences are women aged 18 to 40 years.
She Talks Tech features interviews with women working in technology careers covering their career journeys, mistakes they made, what their typical day is like, advice to other women building a successful career in technology. It also includes technology tips and techniques for business, managing personal lives, building networks, managing health, education, etc. The radio show is broadcast weekly on Women FM (WFM) 91.7 and is also available as a podcast on Spotify... [list other places].
*******************
We extend our heartfelt gratitude for your continuous support of our diverse projects. Your contributions have played a pivotal role in enabling us to extend our reach to more beneficiaries. We would greatly appreciate your continued support as we strive to make a positive impact through our work.
Warm regards,
Osaro D. Oshomoji
*******************

FOR MORE INFORMATION:
Follow W.TEC on Instagram, Twitter & Facebook
Visit W.TEC website: www.wtec.org.ng
Email W.TEC: info@wtec.org.ng
ABOUT W.TEC & THE W.TEC ACADEMY:
The W.TEC Academy is an after-school technology programme for girls in public secondary schools, designed to inspire girls to pursue computer science careers. The girls go through a year-long computing curriculum, which includes Computer Architecture & Networking, Scratch Programming, Alice Programming and Digital Arts.

The Women's Technology Empowerment Centre (W.TEC) is a Nigerian nonprofit organisation committed to building a more inclusive technology ecosystem, with the next generation of women technology creators, entrepreneurs and leaders.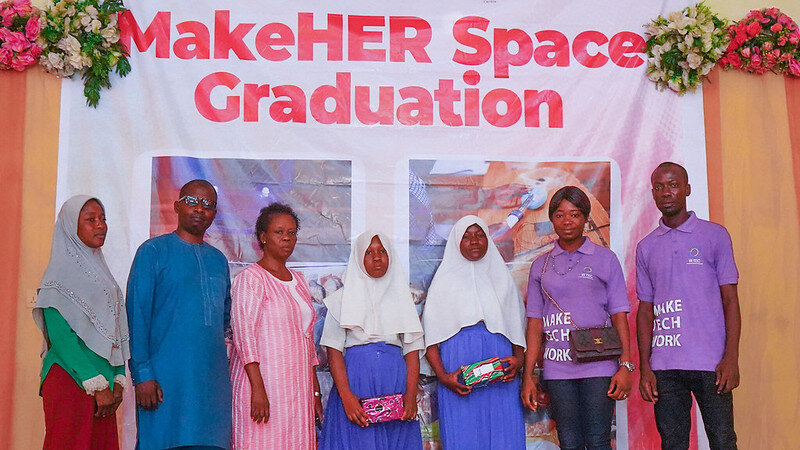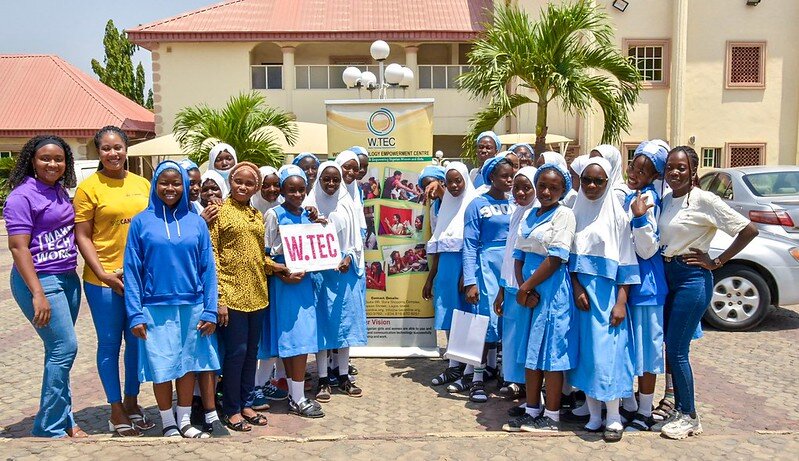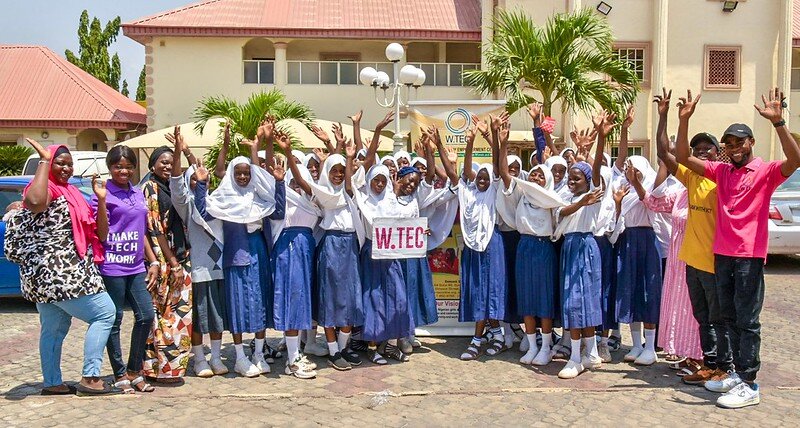 Links: