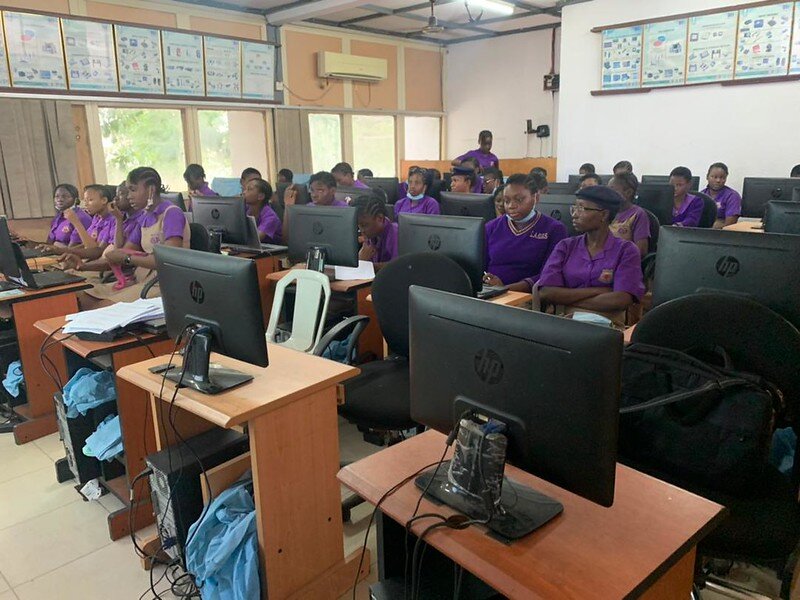 W.TEC: Working towards bridging the gender gap in STEM
Dear friends,
Trust you are all doing great!
Happy New Year! We hope this year has been as wonderful for you as it has been for us, we appreciate your support towards our various projects and we are looking forward to great opportunities this year.
Please read below to see what we have been up to:
W.TEC Academy concluded it first term and resumes it second term for 2022/2023 School Year

W.TEC MakeHer Space Review Meeting and Graduation Ceremony

2022 W.TEC She Creates Camp

SHE CAN WITH ICT programme continues its training in Kwara and Lagos State

W.TEC She Talks Tech Radio Show

W.TEC celebrated the international day of the girl child.
W.TEC Academy concluded its First term and resumes it second term for 2022/2023 School Year
The W.tec Academy running in Kwara and Lagos state concluded its first term in December 2022, the programme graduated a total of 256 & 499 in Kwara and Lagos respectively. The participants can now confidently build a simple website, create and edit videos, graphic designs, data analysis and work on various programming applications like mobile applications etc. Certificates were presented to the successful participants who completed the programme.
It's back to school for the girls and it's a New Year and new term for the students after the Christmas and New Year break. W.TEC is also set to resume classes for W. TEC Academy, our co-curricular technology programme for secondary school female students.
For the new term, the Academy will be taking place again in the 23 existing secondary schools in Lagos and Kwara states and we are planning to extend the academy to one additional state (Ondo State) and as well add to the existing schools in Lagos state.
The Academy has been carefully designed for students in these schools to help improve their digital technology skill and empower them with necessary information and skills to boost their academic, entrepreneurial and professional outcomes in the future.
The W.TEC Academy team members will continue to put in their best to make sure the participating schools have their facilities in good shape for a smooth sailing class for the girls. The new students selected for this term in Kwara state will be learning computer fundamentals, Website design using Mobirize, graphic design and Mobile Application. While the Lagos schools will be learning scratch programming, video game design and video editing.
W.TEC Academy is a co-curricular technology programme for public secondary school girls, which presents technology in a practical and engaging way, with the ultimate aim of encouraging more girls to pursue science and technology careers.
The Academy programme in Kwara State is implemented in collaboration with Oracle and the Kwara State Ministry of Education, while the Academy programme in Lagos State is implemented in collaboration with the Lagos State Ministry of Education.
2. W.TEC MakeHer Space Review Meeting and Graduation Ceremony
The W.TEC MakeHER Space programme was renewed and we have the opportunity to train More girls. We commenced this cycle in September with pre-evaluation session in Lagos State, Kwara State, Nasarawa, Abuja and Bauchi State and training is currently running in in cohorts in 21 centers across the states. Our team is set to train more girls on Renewable Energy to build projects like power bank, solar phone charger, rechargeable lamp and many more. Makeher Space is a programme by W.TEC designed to provide women and girls (ages 10-25 years) hands-on skills, to build technological and engineering-based solutions for their communities.
Prior to the graduation ceremony, W.TEC held a review meeting for the project in all the states with facilitators, state coordinators, supervisors and partners in all the state to review the progress of the project and discussed what went well and areas that needs improvement in terms of mobilization, celebrations, supports, equipment, curriculum and many more. It was indeed a very productive meeting in all the states as we tackled all the topics. W. TEC also had a courtesy visit to some of the partners in Abuja on the 21st of June 2022. W.TEC MakeHER Space Programme is done with support from Google.
3. 2022 W.TEC She Creates Camp
W.TEC She Creates Camp is an initiative designed for girls to inspire them to be more enlightened about the importance of ICT, to know how to create digital contents and also to develop the skills that uses information communication technologies effectively and productively.
The 2022 W.TEC She Creates Camp was the 15th of its kind; it is an initiative of the Women's Technology Empowerment Centre (W.TEC) tagged ''Eco Innovators" the 2-weeks programme took place at Laureates College, Mafoluku, Lagos which commenced on Sunday 7th August 2022 and ended on Saturday 20th August 2022 with a graduation ceremony which was graced by partners, sponsors and parents/guardians of the students, and the media was not left out to cover the grand event.For the two weeks, the young women participated in technology workshops, career presentations, excursions and leadership activities. The She Creates Camp provides a high quality and exciting environment where the girls learn to create useful technologies for everyday living through computer programming, digital electronics, mobile application development, graphics and 3D design, electrical & electronic solution, filmmaking and digital animation programming. The camp ended with a graduation and exhibition of projects the girls worked on. 28 girls participated and graduated from the 2022 She Creates Camp. In line with the sustainability plan of the She Creates Camp, a courtesy visit was made to the Lagos State Ministry of Education, A post follow-up call which is done quarterly kicked off and a campaign (giving Tuesday) was launched in support towards the programme.
Courtesy Visit to Lagos State Ministry of Education District IV:
W.TEC staff visited the Tutor General/Permanent Secretary of the Lagos state ministry of education district 4 in appreciation of their support towards our camp through the past years, the courtesy visit took place on the 23rd of November 2022, we presented the camp report to him and went along with some students who participated in the camp to share their experience of the camp, it was an interesting visit as the TG/PS was elated to have us and to hear our success stories about how W.TEC offered the students scholarships to attend the camp and how the camp has helped a lot of the students in the government schools to be more conversant with the use of technology.
Giving Tuesday is our annual end of year campaign tagged "Make Her Great" which runs from November to December, it aims to build a sustainable support system that will enable us maintain a long-term pipeline for our W.TEC beneficiaries. Giving Tuesday was created in 2012 as a simple idea, a day that encourages people to contribute towards helping the society. Over the past decade, this idea has grown into a global movement that inspires hundreds of people to give and celebrate generosity. The movement also strives to build a world in which the catalytic power of generosity is at the heart of the society we build together, unlocking dignity, opportunity and equity around the globe.
W.TEC She Creates Evaluation:
As part of a sustainability plan for the She Creates Alumni, W.TEC created a survey for all her camp alumni to evaluate them based on their STEAM skills and how they have been using technology they learnt at the She create camp in their day-to-day activities.
This evaluation helps us find out how they are using their ICT skills in their various career paths, we also give the alumni the opportunity to share innovative ideas on how to improve our curriculum for the next camp. This evaluation is done annually in order for us to maintain a relationship with all our alumni.
Plans are currently on the pipeline for the 2023 She Creates Camp while we seek for co-operate and individual donors & partners. Our target for 2023 is 50 participants from both private & public schools.
4. Sustaining Her Enterprise Career and Network (SHE CAN WITH ICT) programme wrap up and resumption for the next circle
The SHE CAN WITH ICT programme continues its training for 2022/2023 grant circle and has equipped 101 existing and inspiring female entrepreneurs with technology skills and knowledge. The programme is proposed to reach 500 existing and aspiring business women in its in-person and online classes.
The Sustaining Her Enterprise Career and Network (SHE CAN WITH ICT), is a W.TEC Initiative designed to improve the productivity and profitability of women-owned businesses, by equipping them with in-depth practical digital technology skills and tools to catalyze their entrepreneurial growth in an increasingly technology-driven business environment. The Women's Technology Empowerment Centre (W.TEC) is implementing the SHE CAN WITH ICT programme in collaboration with Aspire Coronation Trust (ACT) Foundation.
The programme has trained 97 participants in Lagos and this was done in partnership with International Women Society (IWS), Sickle Cell Advocacy and Management Initiative (SAMI). The participants trained so far were excited to be part of the training and the feedback was fantastic. Other trainings will follow up working these partners and other new partners we are having discussion with to bring the training to more women in the state.
The SHE CAN WITH ICT programme since it's commencement in Kwara State has trained 202 business women and aspiring business women in the 4 cohorts out of the planned 6 cohorts. The feedback from the participants gave us the zeal and motivation to continue the training as participants who graduated from the programme refer other interested business women and aspiring business women to join the next cohort of the training.
The online version of the SHE CAN with ICT programme has also trained 49 participants in total. The online classes are organised to cater for interested women who cannot take part in the in-person training due to unavoidable reasons.
We look forward to equipping more existing and aspiring female entrepreneurs and impacting more lives in this new year.
5. W.TEC SHE TALKS TECH:
She talks tech is a women's-focused show aimed at presenting technology in a fun, accessible and practical way. Research shows that digital technology has the potential to improve women's quality of life, but much of this potential is unfulfilled due to structural factors like prohibitive cost of access. Our target audiences are women aged 18 to 40 years. The radio show focuses on Interviews with women working in technology careers covering their career journeys, mistakes they made, what their typical day is like, advice to other women building a successful career in technology, Technology tips and techniques for business, managing personal lives, building networks, managing health, education, etc
6. INTERNATIONAL DAY OF THE GIRL CHILD WAS CELEBRATED AT OREGUN JUNIOR HIGH SCHOOL, KUDIRAT ABIOLA WAY IKEJA:

International Day of the Girl Child is an annual event and internationally recognized on October 11, declared by the United Nations, to empower girls and amplify their voices, support more opportunities for them and increases awareness of gender inequality they face worldwide. The celebration of the day also "reflects the successful emergence of girls and young women as a distinct cohort in development policy, programming, campaigning and research.

To celebrate the international day of the Girl Child this year, the Women's Technology
Empowerment Centre (W.TEC) marked the event at two centres in Lagos state. The first event was celebrated in collaboration with the United Nations Information Centre (UNIC) on the 11th October 2022 and the second event was celebrated in collaboration with Cummins West Africa at the Oregun Junior High school on the 12th of October 2022.
The event featured well packed and interesting activities to mark the day. We had keynote speakers who gave a talk on the theme for this year "Our time is now our rights, our future "
Representatives from Cummins, Union Bank, the Ministry of Education and a host of some of our alumnae who are in the STEM field graced the occasion. The young STEM professionals spoke to the girls andhad a mentoring session with them in groups. They shared the story of their journey into STEMfield and also how they have succeeded and are succeeding in the STEM fields. The girls also had a practical workshop on electronics and renewable energy projects wherethe girls learnt how to build a solar phone charger and a power bank. The girls presented theirprojects and the best group were announced and given gifts. The girls shared their mentoring experience and asked some of the questions and concerns they have; these questions wereanswered and advise where also given to them when necessary.
Thank you for your continuous support towards our various projects, your contribution is significant and enables us reach out to more beneficiaries. We kindly solicit for your continuous donations towards our work.
Warm regards,
Maryam Abdulsalam
*******************

FOR MORE INFORMATION:
Follow W.TEC on Instagram, Twitter and Facebook @wteconline
Visit W.TEC website: www.wtec.org.ng
Email W.TEC: info@wtec.org.ng
ABOUT W.TEC & THE W.TEC ACADEMY:
The W.TEC Academy is an after-school technology programme for girls in public secondary schools, designed to inspire girls to pursue computer science careers. The girls go through a year-long computing curriculum, which includes Computer Architecture & Networking, Scratch Programming, Alice Programming and Digital Arts.

The Women's Technology Empowerment Centre (W.TEC) is a Nigerian nonprofit organisation committed to building a more inclusive technology ecosystem, with the next generation of women technology creators, entrepreneurs and leaders.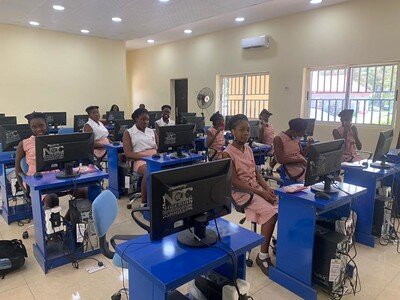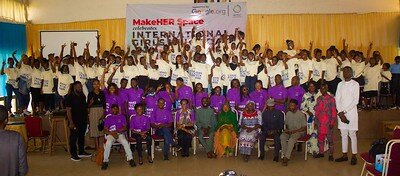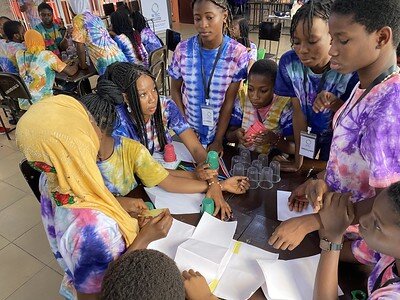 Links: