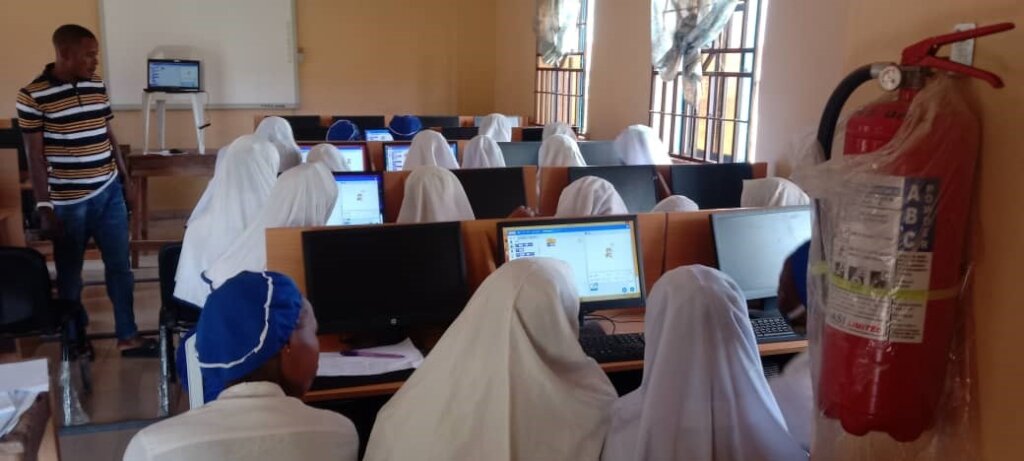 Dear friends,
We wish you a happy new year and a prosperous 2022, filled with lots of success.
Year 2022 started well for us at W.TEC with so many expectations and possibilities for the rest of the year. The uncertainty brought about by the COVID-19 pandemic, which forced us all to have a rethink and restructure some of our programmes and adapt to our new realities has made us stronger.
As we plan for the year 2022, our team has pulled together with determination to continue on our journey of nurturing the next generation of female technology creators, entrepreneurs and leaders through the programmes we run.
Please read below to see what we have been up to:
A. W.TEC Academy resumes its second term for 2021/2022 School Year
It's back to school season in Nigeria after the Christmas and New Year break and W.TEC is also ready to resume classes for W. TEC Academy, our co-curricular technology programme for secondary school female students.
This term, the Academy is taking place in over 21 secondary schools in Lagos and Kwara states with over 700 school girls participating. The Academy has been carefully designed for students in these schools to help improve their digital technology skills and empower them with necessary information and skills to boost their academic, entrepreneurial and professional outcomes in the future. The students will go through a practical and engaging curriculum comprised of computer fundamentals, programming with scratch programming, video game design, video editing and graphic design.
To ensure effective delivery, the W.TEC team has been hosting a series of review meetings with its trainers and partners; they also organized refresher training for all facilitators assigned to the various schools to keep them up to date with the curriculum to ensure effective training in schools. The W.TEC Academy team members have also put in their best to make sure the participating schools have their facilities in good shape for a smooth sailing class for the girls.
W.TEC Academy is a co-curricular technology programme for public secondary school girls, which presents technology in a practical and engaging way, with the ultimate aim of encouraging more girls to pursue science and technology careers.
The Academy programme in Kwara State is implemented in collaboration with Oracle and the Kwara State Ministry of Education, while the Academy programme in Lagos State is implemented in collaboration with the Lagos State Science and Research Innovation Council (LASRIC) and the Lagos State Ministry of Education.
B. MakeHer Space Project Reviewed Phase 1 and Commenced Phase 2
The pilot phase of the MakeHer space project, initially planned to run as a face-to-face programme was restructured to run in an online format from May – November 2020 due to the outbreak of the COVID-19 pandemic. The pilot phase was a success with 88 girls given intensive training on Website Design, 3D Modelling, Video Marketing and Market Research and Analysis via 6 cohorts.
Following the successful implementation of the pilot phase, WTEC launched in-person training from May-August 2021 for 887 girls' participants on Electronics and Renewable Energy panelled projects in Nasarawa, Bauchi and Abuja after the passing of the 2nd wave of the pandemic in Nigeria.
After wrap up of phase 1 in August 2021, we gave a month break for the project in September, to evaluate the project; we also came together to hold a meeting at the federal capital territory, Abuja, which focused on reviewing the lessons and learnings of the previous cohorts and plans for the phase 2 of the project. Present at the meeting were- the W.TEC and MakeHer Space Programme Manager- Mrs Folashade, W.TEC Curriculum Developer- Mr Lesley, Youth Initiative for Sustainable Human Development in Africa (YiSHDA) Director of Programmes- Mr Moses and our amazing state coordinators and facilitators.
In October 2021 we commenced phase 2 of the training and it was indeed another impact filled learning experience for the girls and our trained facilitators. An interesting component we added to phase 2 was giving participants of past cohorts' access to return to our training centres to perfect their skills by doing extensive work and building community solutions projects using a self-directed approach through the Hybrid sessions.
All participants and facilitators of the projects also had the opportunity to earn W.TEC certificates and digital open badges and certificates which is in alignment with the European Union Digital Competence Framework for Citizens. This phase of the MakeHer space is set to run till June 2022 and will be expanding to Lagos and Kwara State Nigeria from January 2022.
In partnership with the nonprofit organization- Youth Initiative for Sustainable Human Development in Africa (YiSHDA), the MakeHer Space project reached 1221 young girls between the ages of 10 to 25 in Abuja, Nasarawa and Bauchi State Nigeria in 2021.
The MakeHer space project is a Hands-on Technology initiative that teaches young women to create technology and engineering-based solutions that solve problems in their communities, provide information about career options and expose them to women working successfully in STEAM.
The MakeHER Space Programme by W.TEC in Nigeria is done with support from Google.
C. W.TEC marked the 2021 16 Days of Activism against Gender-Based Violence
As an organisation focused on empowering women and girls with STEM-based skills, W.TEC held a series of engaging discussion sessions and online activities to mark the 2021 16 Days of Activism campaign for select students of the W.TEC Academy (our afterschool technology club) in Lagos and Kwara state between November and December 2021.
Asides from the workshops sessions we had for girls at their schools, we also had a series of online campaigns. The focus of the workshops and campaign reflected the 2021 theme of the campaign: "Orange the world: End violence against women now!''.
The events featured speakers from W.TEC and leading teachers from host schools, whose presentations cantered on the following:
Internet safety for girls.
New threats women and girls face on the internet
Internet Security
Possible help for internet challenges faced by women.
Question & Answer Session.
The 16 Days of Activism against Gender-Based Violence is an annual international campaign for the elimination of violence against women and girls. It kicks off on the 25 November and runs until 10 December of every year.
D. W.TEC Issued Digital Badges in line with the European Union Digital Competence Framework for Citizens for Its Programmes.
In 2021, W.TEC introduce the digital open badges for facilitators and volunteers at 4 of her programmes; the MakeHer Space, W.TEC Academy, the She Creates Camp and Early Innovators Camp. Facilitators.
The W.TEC's digital open badges are aligned with the European Union Digital Competence Framework for Citizens and were introduced as part of our work on the Digital Generation Youth project (https://www.citiesoflearning.eu/digital-generation-youth/). Learn more at: https://wtec.org.ng/digital-generation-youth-2/.
Digital Generation Youth is a 2-year project funded by the European Union agency ERASMUS+ and aimed at developing new content, methods and activities to improve the quality of youth non-formal learning programmes. W.TEC is working as part of a coalition of organisations across Europe and Africa focused on imparting digital and 21st-century skills to youths. The organisations are Breakthrough Foundation (Netherlands), Nectarus (Lithuania), Afri.ko (Lithuania) and Ready4Life (South Africa).
E. Sustaining Her Enterprise Career and Network (SHE CAN WITH ICT) achievements
The SHE CAN WITH ICT programme since its launch in September 2021, has equipped 338 existing and inspiring female entrepreneurs with technology skills and knowledge. The beneficiaries of the programme also go through mentorship sessions from professional women who share from their wealth of experience with the participants.
The Sustaining Her Enterprise Career and Network (SHE CAN WITH ICT), is a W.TEC Initiative designed to improve the productivity and profitability of women-owned businesses, by equipping them with in-depth practical digital technology skills and tools to catalyze their entrepreneurial growth in an increasingly technology-driven business environment. The Women's Technology Empowerment Centre (W.TEC) is implementing the SHE CAN WITH ICT programme in collaboration with Aspire Coronation Trust (ACT) Foundation,
The graduation ceremony for our beneficiaries took place online (for the virtual classes) and for the in-person centers, we had a graduation ceremony for them physically and also connect them with opportunities. One of the graduation ceremonies took place at International Women Society Jakande Lekki in Lagos State on the 18th of November and another one was held on December 2, 2021, at Impact Center, Ojodu Berger in Lagos State. In attendance were female entrepreneurs, volunteers, partner organizations, media and staff of W.TEC.
Various graduation ceremony centre high tables were graced by the guest speakers and representatives from Women Radio 97.1FM, FCMB, W.TEC, International Women Society, ACT Foundation, AAAF and members of the Association of Nigerian Women in Business (ANWIB).
The SHE CAN WITH ICT training continues this year in our in-person centers as well as online classes. We look forward to equipping more female entrepreneurs in the year 2022.
F. 2021 Camp review and strategy for 2022
In August, 2021 W.TEC organized and hosted the She Creates Camp and Early Innovators Camp virtually for 2 weeks and 4 weeks respectively.
In Week 1 of the She Creates camp, participants learnt Website design and UI/UX design and they learnt Creative Film Editing in week 2. For the Early Innovators camp, the participants learnt 3D Modelling in week 1, Video Game Design for Beginners with Kodu in week 2, Video Game Design for Intermediates with Roblox in week 3 and Junior Filmmakers in week 4.
The last quarter of 2021 was a busy time for us as we reviewed the camp activities and strategized for the coming 2022 camps as well as other projects. W.TEC plan to resume her face-to-face residential and non-residential summer camp this year and it promises to be impact filled. Please stay tuned to hear more about it.
The She Creates Camp is aimed at helping to nurture more female technology creators, entrepreneurs and leaders, by inspiring and encouraging girls aged 13 to 17 years to explore and learn about STEAM (Science, Technology, Engineering, Art, Mathematics) subjects.
The Early Innovators Camp is a technology camp for girls and boys between ages 7 and 12 years and designed to make learning about technology fun and engaging, with the intention of also inspiring them to pursue technology-related careers in the future.
G. She Creates Camp Alumnae Spotlight
Oluwanifesimi is an alumnae of the 2014 W.TEC Technology Camp for Girls which is now known as the She Creates Camp, she was selected to attend the camp on scholarship and had an amazing experience there. She returned to the camp 3 times as a volunteering camp instructor and volunteered at the W.TEC Academy. Today, Nifesimi is employed at W.TEC as Programme Assistant for our MakerHer space project, where she supports the Programme Manager in the implementation of the project.
In this feature, Nifesimi shares with us more about herself and how she uses technology to share her passion with the world.
"My name is Oluwanifesimi, I studied Accountancy at Yaba College of Technology, Lagos, Nigeria, am an entrepreneur, God-lover, a public speaker and a friend. I also love helping others in achieving their various goals in life.
It was at W.TEC camp I fell in love with technology and the great thing I can do with it. I learnt from the Mobile Application Development class how to build mobile applications and understand how to interact with them. Presentation skills I learnt at the camp through project presentations also helped to get rid of the fear I had for speaking in front of a Crowd.
It has been an amazing journey with W.TEC. I thank the organization for introducing me to Technology. I wouldn't wish for anything better.''
*******************
After a mix of virtual, in-person and hybrid programmes in 2021 due to the ongoing COVID-19 pandemic, we have been energized and equipped to be able to engage in any of these mediums of programming with our participants this year.
Despite all the challenges, we are determined to keep innovating and adapting best practices and our new realities, so that we can continue to serve all girls and young women.
Thank you for supporting and sharing our work. Because of you, we have been able to increase our reach, improve the quality of our programming and also have a successful 2021.
Please continue to donate to our work. Also, consider becoming a recurring donor and setting up automatic monthly payments to us. We especially need your support at this time.
Together, we can keep working to build a pipeline that supports girls and women throughout their journeys from early engagement to a career in technology and sciences. We thank you and our girls thank you too.
Warm regards,
Maryam Abdulsalam
*******************

FOR MORE INFORMATION:
https://www.instagram.com/p/CUm1h7FDQVJ/?utm_source=ig_web_copy_link
https://www.instagram.com/p/CUuljbwDWtI/?utm_source=ig_web_copy_link
https://www.instagram.com/p/CVfQUnOjCyl/?utm_source=ig_web_copy_link
https://www.instagram.com/p/CVAla7zjqRZ/?utm_source=ig_web_copy_link
https://www.instagram.com/p/CVSr8FojPSf/?utm_source=ig_web_copy_link
https://www.instagram.com/p/CWsk0BVDUVJ/?utm_source=ig_web_copy_link
ABOUT W.TEC & THE W.TEC ACADEMY:
The W.TEC Academy is an after-school technology programme for girls in public secondary schools, designed to inspire girls to pursue computer science careers. The girls go through a year-long computing curriculum, which includes Computer Architecture & Networking, Scratch Programming, Alice Programming and Digital Arts.
The Women's Technology Empowerment Centre (W.TEC) is a Nigerian nonprofit organisation committed to building a more inclusive technology ecosystem, with the next generation of women technology creators, entrepreneurs and leaders.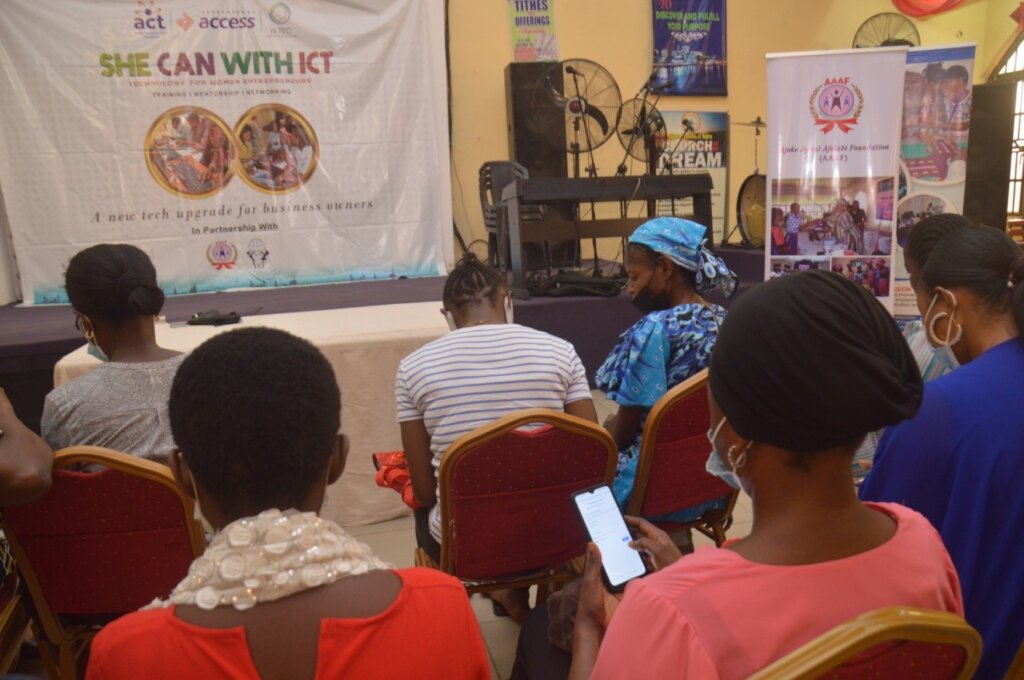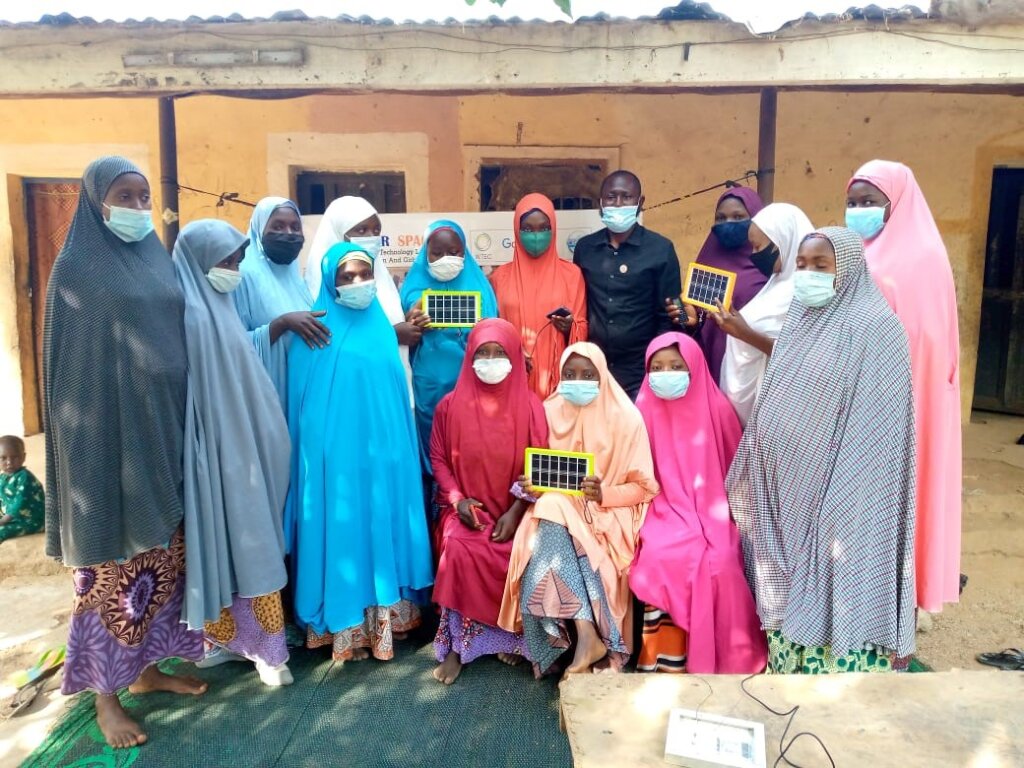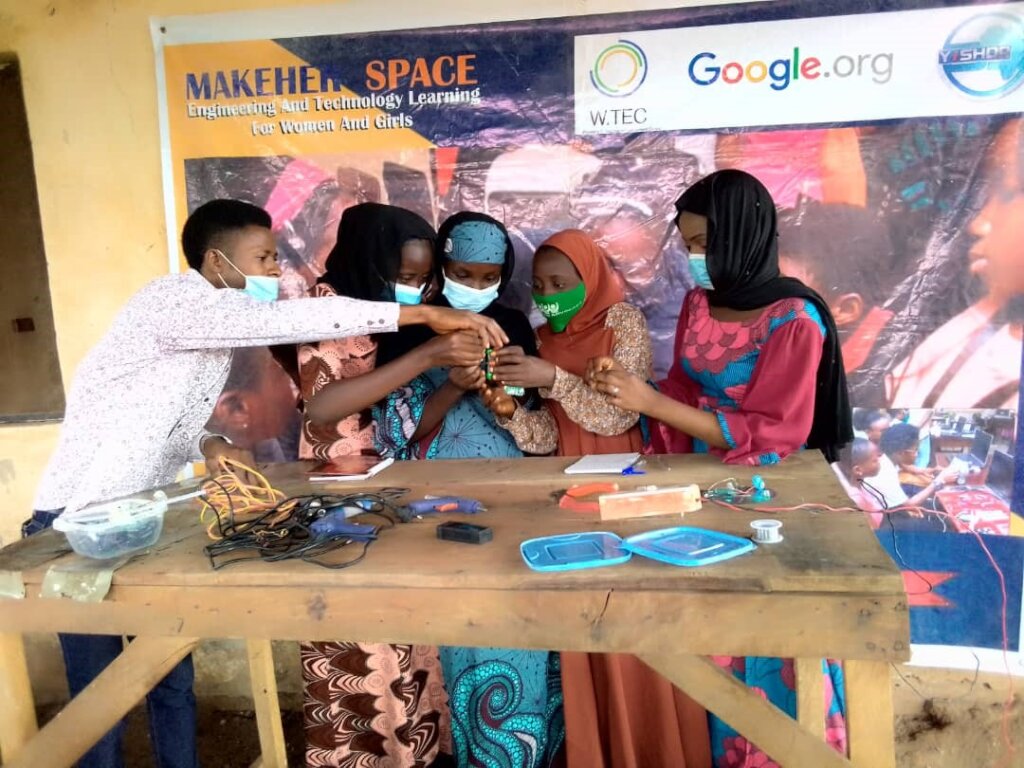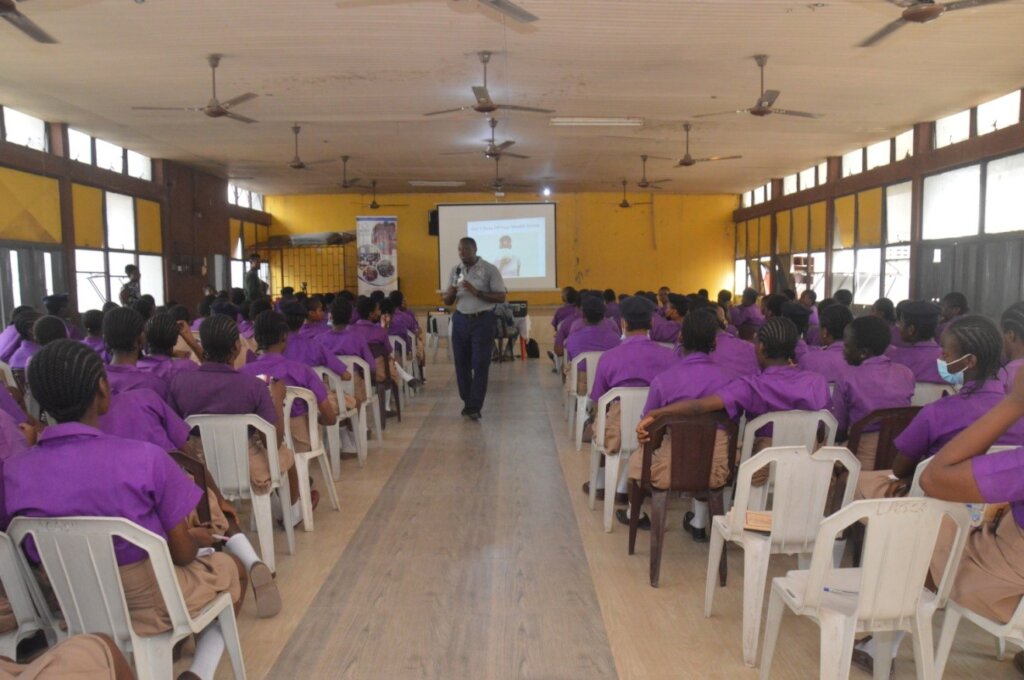 Links: