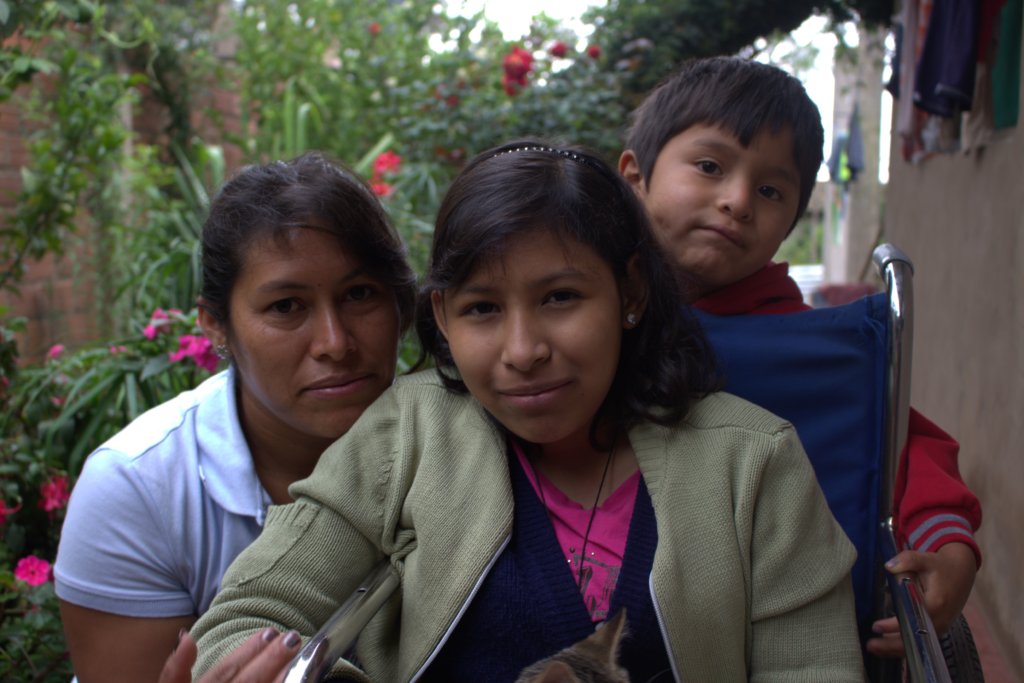 Durly is a clever kid and she lives in Tiquipaya, close to the main square of this small municipality, in the beautiful, steep and flowered neighbourhood of Montecillos. What she likes most is to sew clothes for her little dolls. Her usual company is her cat, her little brother, her mom and her broken-down wheelchair in which she sits, prostrated due to a deformation of her back that has progressed over her life to the point of where she now can´t walk.
Durlu used to have a lifestyle typical of kids her age. Everything changed when the illness appear. Her back problems got increasingly worst, but her mother, Catalina, was very brave and never resigned to the possibility that Durly would grow up differently from anyone else.
Thanks to her strength, Catalina never stopped searching for help from doctors and hospitals; even though, one day Catalina was told that her daughter was going to die and that there was nothing to do. Nowadays, Catalina speaks with pride and love about the developments she´s obtained with Durly. Despite her health condition, Durly is a girl who keeps a sparkle in her eyes, is active and has a great personality. Doctors, that some time ago thought thata nothing could be done, were surprised by Durly´s story.
Despite these results, Durly needs constant medical care and daily attention for her mobilization that is possible thanks to an old wheelchair. However, the wheelchair which was donated by her school five years ago, has begun to show a variety of problems.
First of all, the wheelchair is the wrong width; it is too wide for Durly´s body. It causes her to sit with an unhealthy posture, worsening her deformity and harmful for her general health condition.
Secondly, the front wheels are positioned poorly to navigate the space and layout of the house. The awkward structure makes the wheelchair very unstable. Catalina told us sadly about a couple of bad falls that Durly got due to these faulty wheels.
Third, the wheelchair's structure doesn't include wheelchair's doesn´t include suitable handlers for the hands of this brave girl. This means that Durly has to drive her wheelchair using the normal spokes of the wheel, which has led to multiple injuries.
Fourth, her wheelchair doesn't include a special to prevent bedsores. Nowadays, Durly has a serious case of bedsores that are quite difficult for her mother to cure. The worst thing is that Durly doesn't feel any pain cause due to her illness and that is extremely dangerous. Ultimately, despite attempts at repairing the chair made by the family, it doesn´t fit the new needs of Durly.
All these reasons explain the urgent need to provide Durly with a new wheelchair and a special pillow to prevent bedsores. Catalina still has the firm hope that Durly will be able to go back to school thanks to the new wheelchair; last year Durly had to abandon school due to her wheelchair's problems. Durly has not lost hope that in the future she will become a seamstress and engage in her passion, to sew clothes.