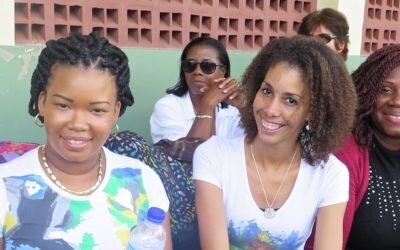 "Violence—gender-based and domestic violence—is an issue. I'm concerned about what's happening to our women. Also, I'm a survivor."- Silva*, PCI MediaProgram Champion, Caribbean
Women and girls like Silva continue to demonstrate strength and resilience in the face of violence. But they shouldn't have to. Your support for PCI Media's entertainment-education interventions is helping us change the story.
Many countries within the Caribbean have high rates of violence against women and girls. 46% of women say they have experienced at least one form of violence. Harmful gender stereotypes normalize violence and prevent women and girls' ability to seek help and access services.
#PlayYourPart is one of our many programs that empower women and girls. #PlayYourPart is a communications campaignto encourage people across the Caribbean region to play their part in changing entrenched, negative social norms, attitudes, and behaviors that lead to violence against women and girls.
#PlayYourPart aims to create change by:
Countering unequal gender norms, harmful behaviors, and attitudes and negative stereotypes that drive VAWG.

Promoting healthy relationships to reduce violence as a normal part of relationships, discipline, or authority, in public and in the home.

Disrupting the intergenerational cycle of violence

.
Thanks to your support, change IS happening. With our partners, we're working to reach the 736 million women and girls—many between the ages of 15 to 19—who still experience intimate partner violence or sexual violence worldwide, according to World Bank data.
Together, we can create a better world for women, girls, and all of our communities.