Edu Fun partners with Diepsloot Combined School (DCS) located in an economically disadvantaged informal settlement north of Johannesburg.
Edu Fun's focus is usually on teaching reading to children at DCS, however with all schools closing in March due to the Coronavirus pandemic, we had to turn our immediate attention to providing food to the most vulnerable children from the school. For many children, the only meal that they get in a day is what they receive at school as part of a feeding scheme which came to an abrupt halt.
Our volunteers and regular supporters, including those on this GlobalGiving platform helped us respond to the immediate need for families to receive food and people donated generously over this time.
This was a huge relief, because it not only provided food to so many people which is not usually a budgeted item, but more importantly, the support we received gave us the opportunity to connect with the Diepsloot community and individuals in a more meaningful way.
Through this process of connecting with families and providing food, our ever-evolving, post-lockdown plan to feed the minds as well as the mouths of so many children started to emerge.
With all the delays and uncertainty around schools re-opening we have continued to re-imagine our education delivery and are actively setting up mini satellite hubs in various areas in Diepsloot where children and their parents can access additional support from our hub leaders while they're still not able to go back to school.
For this pilot project we have identified unemployed youth from the community to run the mini hubs. They are all past pupils of DCS and have already started to establish relationships with the families in their immediate communities over the last few weeks as they have been identifying people who need our support the most. These hub leaders will be mentored by our "Virtual Volunteers" and supported via regular Zoom sessions where they will also receive weekly training sessions on how to teach reading using Phono-Graphix.
We have established our first community Hub and are needing your help to sustain it and to expand to other areas in the Diepsloot community to reach more children and try and save what is left of the 2020 academic year.
The following funding is required
$100 will sponsor a Master pack for each mini hub leader - to include whiteboard and markers; solar lamps with USB charging point; kettle; Internet connectivity (dongle/router).
$25 will sponsor consumables for each hub per week - pre-paid electricity; airtime/data bundles; disposable masks; sanitisers; soap
$20 will sponsor Learner workbooks & stationery per child per month
$30 will sponsor lunches (apple/orange, meals-in-a-bag) for attendees at the mini-hub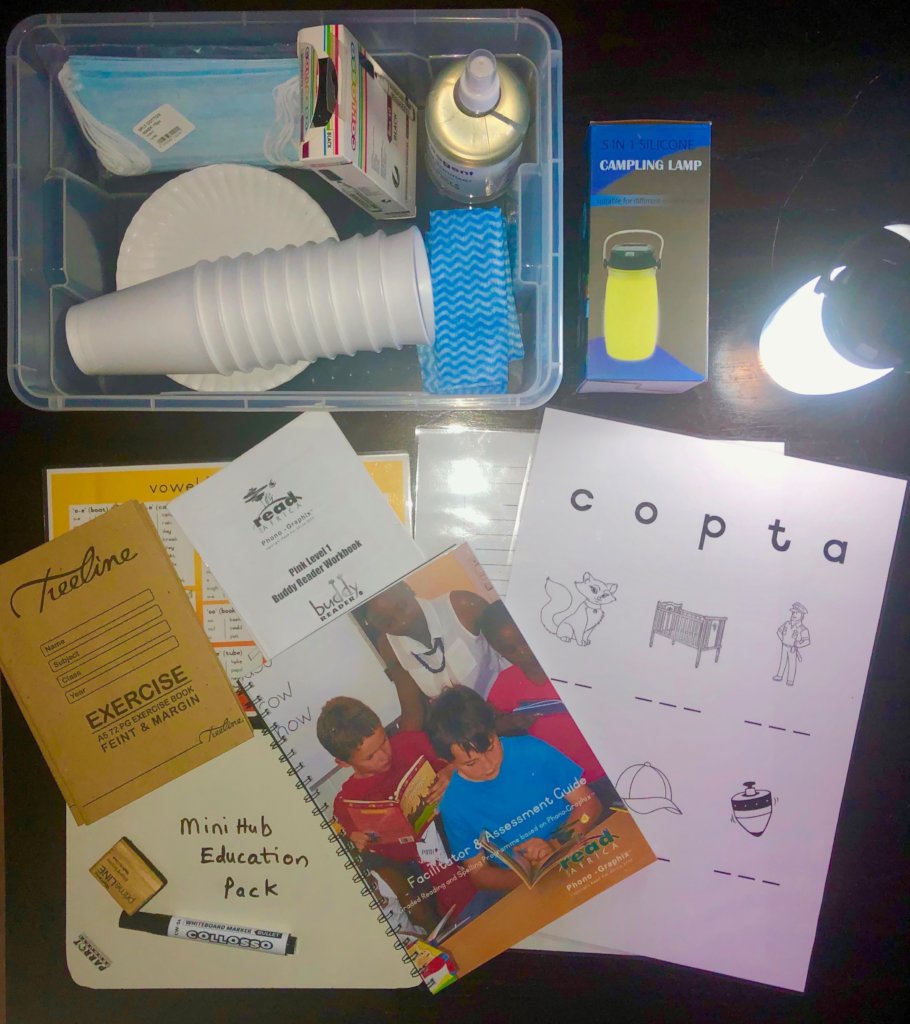 Links: