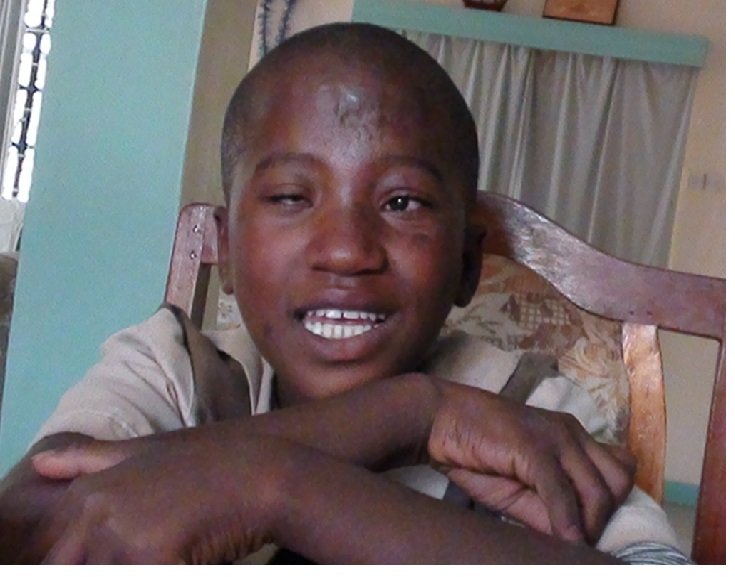 Dear partner,
Had you been the one sitting across from Wanjiru, you would have but warmly returned to her shy smile. Yes she smiles, despite the scars on her face which were the results of burns that she suffered when she was six years old during an epileptic fit. The burns scarred her one eye, forehead and scalp. Wanjiru the last born of 6 children lives in Nguluni village. She is a total orphan; she lost her mom at an early age and the father about two years ago.
It has been three years since Wanjiru joined Msingi Bora, a school run by Acres of Mercy that gives at risk children the hope that is education. Its teachers have been equipped to work with vulnerable children. For a while she was able to come to school because the environment was right for her. "I love learning here because the teachers are caring," she remarked one day when asked about what she thinks about Acres of Mercy.
Sadly though, Wanjiru fell ill over a prolonged period of time- about 6 months. Her hospital bill was catered for with support from partners, family and friends. Her illness caused her to stay out of school yet again. When she recovered she could not dare return to school. And even though we managed frequent home visits we let off at some point. I wish we hadn't almost given up. Almost, because an opportunity arose to give her what she deserves.
I met her on the way to the school about three weeks ago early July 2015 ever smiling. She is still somewhat shy, but she had matured in the last 12 months. Her remarks stunned me. I asked her how she was doing and why she wasn't coming to school anymore. "I cannot come back. It is shameful," she said. "All my classmates have gone ahead of me. How can I learn with the children I left behind in the same class?" She reasoned. That floored me. But it was the hard truth, her reality. How could I expect a 17 year old young woman to go back to class 5? And sit with 10 and 12 year olds?
But all's not lost. Wanjiru can still learn-access education. She however needs friends and partners like you and I to help her through counseling, and enrolling in an adult classroom. She will need a tutor and learning resources. She still needs health attention. You see Wanjiru has arthritis, a condition aggravated by her Anti Retroviral Therapy. She still needs nutrition and a host of other psychosocial support. We all deserve a second chance. Let's give the gift of hope to Wanjiru because she also has a right to education. Take the chance, support Wanjiru by clicking here. I am giving hope
Sometimes we take a different path from the normal because perhaps we might discover what we lost. This here is a story of a young girl who was at our school, but because we lost touch with her reality-she is now out of school.
May it inspire us all to grab a second chance even the first chance to walk with the children we serve, to give hope, to ensure better futures and lives.