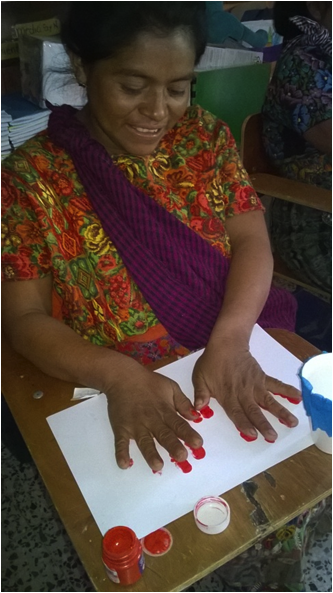 Greetings to all, I hope you are very well ...
It is a pleasure to write again and tell you our joys and achievements this month, in this case the conversations of what is happening at the San Rafael "El Arado" school in Sumpango. Parents are very happy that their children are studying preschool, since some years there was no preschooler in this community; Teachers Claudia and Betzabé have been working hard these last few years, because the children study in better conditions and much support from their parents.
During this month the children have many activities to do, they are learning the numbers, the vowels, the geometric figures, the colors, they already identify what their name is and they can write it, they have done fine motor exercises and exercises. They are also working with books to continue the stimulation to reading, and they learned a solo reading by observing the images, without having to read. This is a very big and surprising advance for them, because they feel very proud to be able to read without the help of their teacher.
In Guatemala on March 8, International Women's Day is celebrated, a very important day for all Guatemalan women. The teachers of this community planned a very fun day for the mothers, so they would enjoy that day and with the objective of giving them an idea of how important and valuable they are; A picture was done and they played with their children through dynamics that the teachers taught to have fun.
The effort of the teachers to look for support has been rewarded! Because of their initiative, the children have their Physical Education uniform, which is of great benefit to this community and is also possible thanks to the Rotarians of South Guatemala, who made this donation. This Association aims to help Guatemalan education and in this way help communities in which it is very difficult to have uniforms. Clothing, pants, jackets and tennis shoes for this class, children were very excited and grateful for this amazing gift, as many of them love to exercise.
Thanks to donations like these and the support obtained, children can better enjoy this stage of their life, in preschool; They can be the same, have fun and most importantly learn by playing ...
We thank all people at heart for all the support they give us, and if they want to do so do it and change the future of our Guatemalan children.