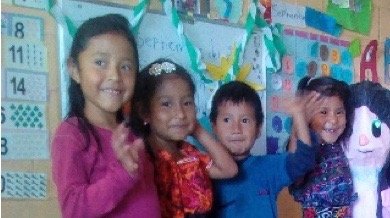 We are very happy to be able to tell you again what progress we have made, and to thank you especially for the support provided in this year.
We want to tell you that in the last month we completed the 2016 school year, and the teachers are very happy that most of their children have completed the year successfully. The most satisfactory thing for a teacher is to see that the effort, the commitment, the love, and the teaching that she gives to her students, has had a positive effect on them.
It is very satisfying and surprising to see how we have progressed and already reached this stage of the year, and to see the development that our students have had over the course of the year. Many of them came out reading and writing words, others recognizing the form and the sound of the vowels and some consonants which greatly facilitated the writing of their name. Some learned the numbers 1-20 and others up to 30. We taught them to follow patterns, sequence and discrimination in mathematics.
Finally our biggest goal this year was to involve more parents in reading at home. It was a challenge but we can say with certainty that we put it into practice We still need to improve, but we can say that we are progressing more and more. For example, our teacher Paola in San Juan del Obispo worked with this new system and she says: "We did not expect so much dedication, effort and support from the parents. Applying this method made it possible for both children and parents to become more and more interested in reading "
We know that it is just the beginning of a goal, but that we want to fulfill it every year, better each day, as people and professionals. That's why Lets Be Ready we are very grateful for so much support and encouragement from our sponsors.
For the closing of 2016, the children were awarded a diploma in recognition for having been with us this year, we did fun activities with the children and the parents, and in addition the mothers made a rich and delicious lunch for their children.the activities were attended by their closest relatives to share and celebrate this achievement of children. Everyone was very comfortable, and in the end everyone appreciated the patience, the effort, the creativity, the dedication, the support and above all the LOVE that we showed our children during the year.
Now we just have to say Thank you, Thank you very much for all your support! We successfully completed this year ...
* Attached are photos of closings in some schools.