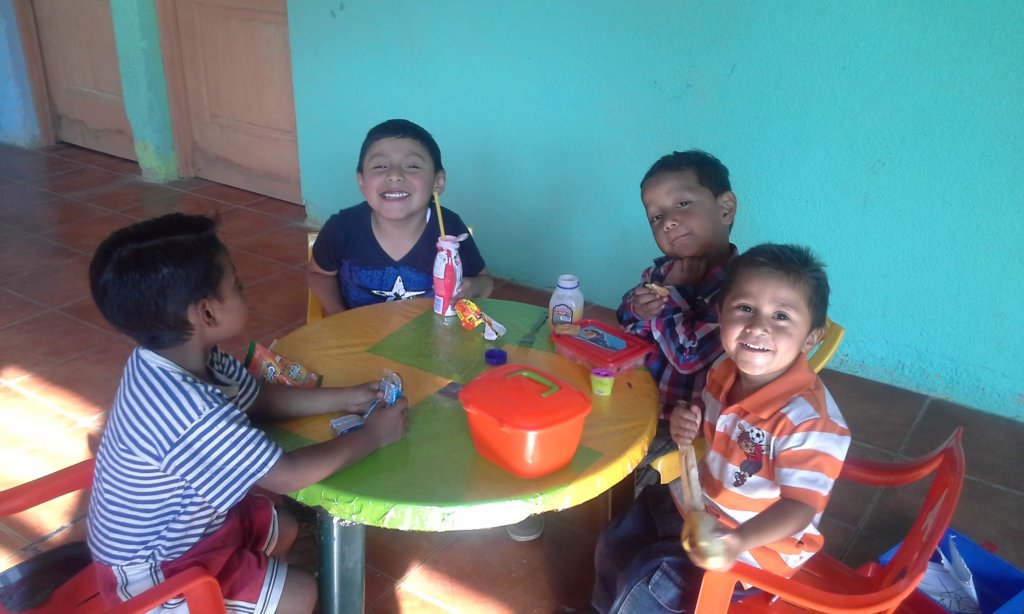 This is a copy of an email from Margarita Bejerano, one of our teachers to her sponsor. The teachers send them every month.
Hello, Marshon
How are you? I hope it's ok…
To start I want to tell you our first day of school was an adventure, the children had fun and began to adapt; play, dance, we sing and read a story.
The first week was adaptive, so that children interact with more children and become familiar with the activities taking place at school.
We begin with the recognition of his name, showing them that there are letters and a group of letters form a word or a name; later, he will recognize his name and recognize the initial starting with his name.
We learned that there is a time to tell a story and that we must pay close attention to reading to answer questions that the teacher will ask. Since the program started with the "Star Books", we began with the story of "Hungry Caterpillar" and performed an activity:Children drew their own caterpillar with paint, making huellitas with their index finger.
We learned what the rules of conduct that we have at school. We must share and collaborate in school as needed. We also learned to follow instructions and to use the learning corners.
Finally this month we learned a lot that we need still to practice and continue practicing. I am very happy to return to a classroom and to teach.
I also tell you that now children of the morning moved in the afternoon with us. They are with Anaelisse, so now we have 23 children in the afternoon, but we are two teachers in charge of the group, Anaelisse and me. We have already organized and divided the children into 4 groups to do the routine and to have a better organization. I will keep telling you more about this in the month of March so you know what else we're doing.
Here shows pictures of the children who are with me and what we did in this last month.