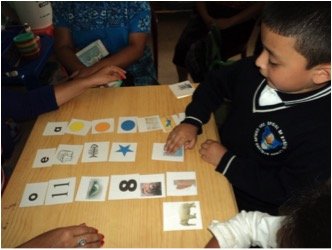 Searching for statistics on literacy rates of Guatemala, I stumbled across the following. Would you believe that the criteria for a literate person in a third world country is "one who can read and write a short simple statement about their everyday life"?
The goal of Let's Be Ready is for every student to develop a love for reading and learn the basic skills necessary to begin reading. We expect them to continue to read throughout their life and develop their full potential, while participating as an active citizen.
Let's Be Ready holds the bar high and works to insure that all students age 4-6 know their letters and sounds and have the opportunity to begin to read in pre-school.
With the help of reading specialist, Sharon Carlson from People of Guatemala we are one step closer to our goal.
Sharon has developed a very specialized phonetic technique using sounds, instead of introducing letters. Students are taught beginning and ending sounds and in this way begin reading.
Teachers were amazed to see how quickly kids caught on to this innovative technique. Having a variety of methods to teach reading skills gives teachers the tools to insure the success of every student. Enjoy the pictures.