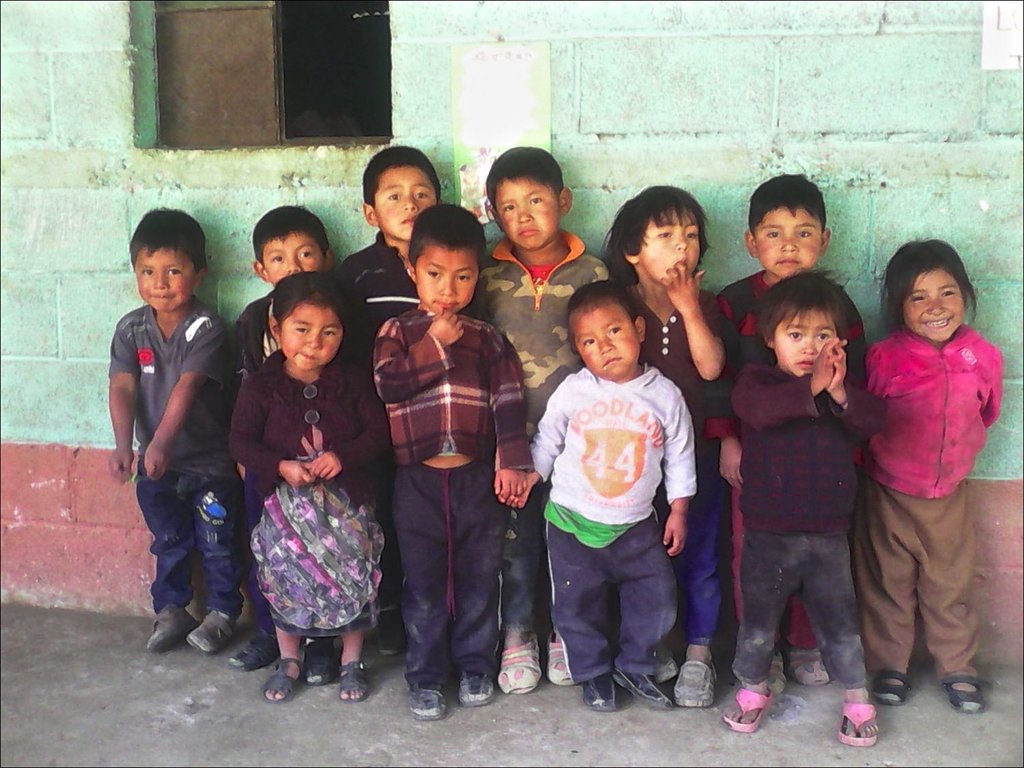 I had only heard about this small community of fifty families, who lived fifteen minutes from Nora's town of Santo Domingo Xenacoj. The prognosis was not good…contaminated water, open fires for cooking, and students who appeared extremely small for their age. I was braced for the worst.
We traveled the back roads by private van to Xenacoj , where we stopped to see Nora's center. She and the younger members of her family will live there and will house donors and visitors who want to visit the nearby "Let's Be Ready" schools, and if they choose take Spanish classes. The house was much larger than I had imagined with a great deal of light and comfortably sized rooms for guests as well as a communal great room adjoining a kitchen. At his point, it lacks windows and the water hook up. Then the Bacajols will need to furnish it.
Now we circled around the mountainous road to Los Izotes. I was excited to see what progress Lidia had made with this high needs community in the two months she had been teaching. The terrain seemed very fertile growing a large variety of flowers for export and blackberries as I was later to discover. It was hard to imagine anyone being malnourished in this verdant mountain area.
We arrived and climbed down a very steep, narrow path to a small turquoise house donated by one of the local residents. Lidia and the kids along with their mothers and one father greeted us warmly. We passed the garden, planted by the mothers, which was already growing beets, carrots, radishes, and a few vegetables I did not recognize. Large colorful signs designated each row. What a great way to learn how to read! How important to learn to grow your own variety of vegetables. Later I was to discover a Sawyer water filter and plans for a wood burning stove. Things were looking up.
As I entered the classroom Lidia was assembling the kids in a circle to begin their morning routine. All but one very small child entered in enthusiastically, naming off the students present and locating their names on the Word Wall. Attendance was followed by the weather, the calendar, and a welcoming song in which each child introduced herself to me and shook my hand. I was totally blown away at how much they had learned in such a short time. Lydia had done such an amazing job with kids who have mothers, most of whom have never attended school.
These shy but appreciative mothers provided a healthy bean sandwich and fresh banana for the snack along with a glass of atole.
After the break, the fun began with the educational materials I had brought. Lidia let the kids open the box and choose their favorite item. One 4 year- old girl was mesmerized by the books. Others were drawn to the puzzles of the alphabet, numbers, and human body. One of the youngest boys was running his fingers over the bugs on a numbers chart. Lidia was playing with an Afro puppet dressed in a red and white polka dot dress Fred and I were given in Cuba. I could see what fun she and the students could have with that.
Some of the kids were most excited about the soccer ball so we walked along a path to an open field and the students and their older siblings had a rollicking game of soccer.
Seeing these kids living in such challenging conditions, so happy and thriving, their parents involved and committed, and lead by an extraordinary teacher really made my heart sing! This garden of students is being watered and cultivated with a gentle hand that insures their growth and a promising start in life.