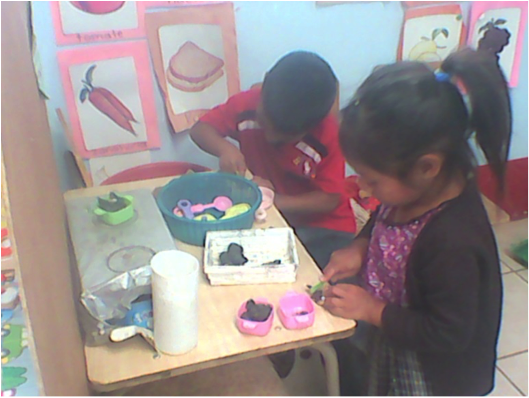 As the school year comes to a close, we are proud of what we have accomplished over the past 7 years, from Nora opening the first classroom in 2008.
This year we had 25 teachers teaching 25 sessions a day in 23 communities using our "traditional" model. These classrooms are part of our Pequenos pero Listos, Small but Ready, classroom program using graduated Guatemalan teachers, methods and materials similar to the head start program in the USA.
Every year these teachers have been given at least 2 weeks of additional training, in 2014 provided by 3 preschool teachers from a Montessori school in Washington DC.
Based on dated we have collected over the past 5 years, over 87%of the children who have entered into the first grade have been successful, not dropping out or having to repeat.
All of the mothers participated in a nutritional improvement program with grants providing fortified drinks and the mothers preparing fresh food for a meal, some of it from gardens we helped them start at their homes and the schools.
We started a new program this year called Aula Magica, the Magic Classroom, in more rural areas using informal classrooms (that is, a dry place where the kids can gather) sometimes without tables and chairs and just a few purchased materials to augment the use of recycled and natural materials from the community. We are giving recorded curriculum on mp3 players, and written guides and training to a literate person in the community to use. We are also beginning to translate from Spanish into the Mayan languages as well as broadcasting them over community radio stations. This method of preparing the kids for success when they arrive at the first grade can be spread faster and cheaper to more rural areas.
18 teachers used the materials in a trial program in 5 communities this year. We are making modifications and adding programs based on their feedback.
If you have any interest in partnering on the roll out of this program into 20 communities next year, let me know and I will give you a more formal presentation and budget. I again am paying for administration, but will need about $10,000 for direct stipend and materials expenses for 2015. More on this program at the Global giving site.
Aula Magica Guatemala: Preparing Kids to Learn