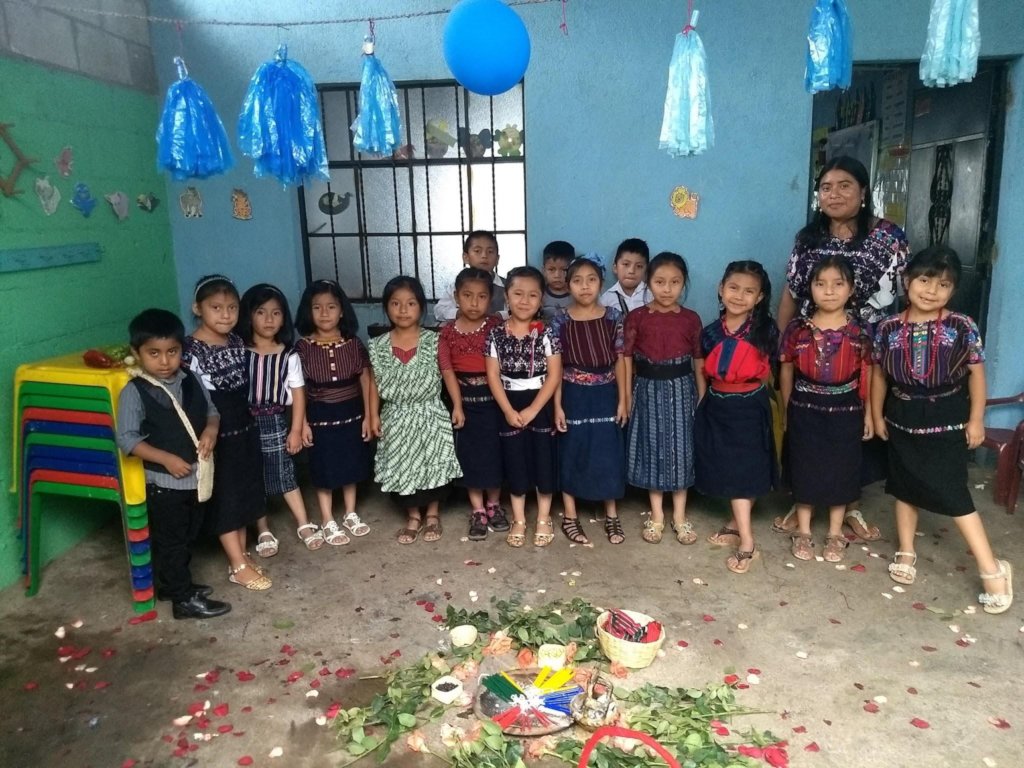 On Wednesday, September 12th, I was able to visit the Pequeños Pero Listos school in Santo Domingo Xenacoj, Guatemala, with the program's director, Sara Bacajol. We arrived in time for the students' gathering to learn about the day in the Mayan calender, 2 B'atz. Their teacher, Miss Gloria, excitedly explained the meaning of the different candles, colors, and grains being used in the special ceremony. She expressed how the gathering is meant to represent a start of a new time, and also to remember their past, whether direct grandparents or long-away ancestry. General background states that B'atz in Mayan astrology is meant to represent life, and is based on the Mayan god of creation, B'atz. The children's energetic excitement and willingness to learn was clear, as they all answered each question in unison as Miss Gloria continued her presentation and encouraged their participation.
Afterwards, the children put on a show of some beautiful dances in their own traditional outfits from home. Their skirts and vests were bright and colorful, as their shoes tapped away and their hair bounced with detailed ribbons woven through. We watched and cheered as they danced in pairs and group circles to upbeat marimba music, giggling and smiling for our photos. Everyone took turns and cheered on their classmates, happily helping their teacher with the music and applauses after each skit. We were even able to hear some solo singers and clever riddles for the class as a mini talent show ensued.
Next we were able to enjoy an amazing home-cooked dish prepared by some of the mothers. "Pulique de pollo," a Mayan meal, is a delicious meat and vegetable stew served with fresh tortillas and tamales. The students all pulled their chairs up to the awaiting tables and happily listened as the mothers explained what the pulique was made of and why it takes skill and patience to cook. It was worth the wait; we all thanked the mothers for the wonderful meal and the students for sharing their unique day with us. After our warm meal and hot drinks, we had to say goodbye to the children. I was so thankful to be invited to their special day in school, and I hope to bring you more stories of these visits in the near future.
(Written by Arisa Gereda)