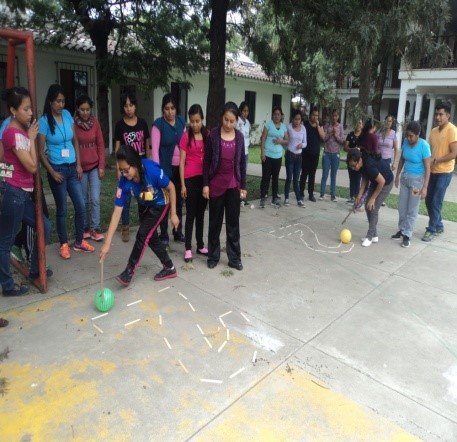 Hello everyone, we are very happy to greet you and tell you about our experiences, activities and the development we have every month with our children, it is a great pleasure.
We are very satisfied and happy for the work we have done so far; the children have had very good progress and achievements with the methods learned at the beginning of the year. That is why we will share what we learned in our last training at the end of July, which some teachers are already putting into practice.
We learned different activities and exercises that we can do with our children, stimulating gross motor skills; making them always from the easy to the difficult so that the results are more effective. Betzabé Tun is one of our star teachers and who was in charge of teaching us this topic, it was fun to do them because she is very enthusiastic and active in her work.
Lucy Diaz also made a very good presentation about "THE STAR BOOKS" she made us reminders of the activities that we must do with these books, she also showed us new ideas of how to read and how to make reading more interesting; for example: to tell a story it is not always necessary to use a book, we can use images of some characters or objects to make a new story, to this activity we can add a gabacha to paste the images. In this way children awaken their imagination more.
In Guatemala we use a Curriculum called Base National Curriculum, which serves as a guide to plan our classes and know what we have to teach. So we thought it important to read and analyze some parts of this book that we often do not pay attention to or take for granted that we are doing it. We had a very interesting debate about Significant Learning, the correct classroom setting and how the affective climate should be in the classroom; which we believe will help us a lot to practice it.
Something that I think helped us a lot to get closer or in other words, to strengthen our relationship as colleagues and friends, was that we did a very emotional activity called "life experience"; where we hear how some teachers have had a very difficult life but despite the obstacles they have never said they can not. Some have gone through economic, health, and work problems; but in spite of that they do not surrender because the goal is to make the change not only in children but also in the world. This part was very beautiful because we knew our friends better, which made us all see ourselves as a family; with whom we can count at any time that we need.
These have been some of the most outstanding activities that we carried out in the Professional Growth 8 workshop.
I hope you like them and I can not wait to tell you what we are doing for the other month...