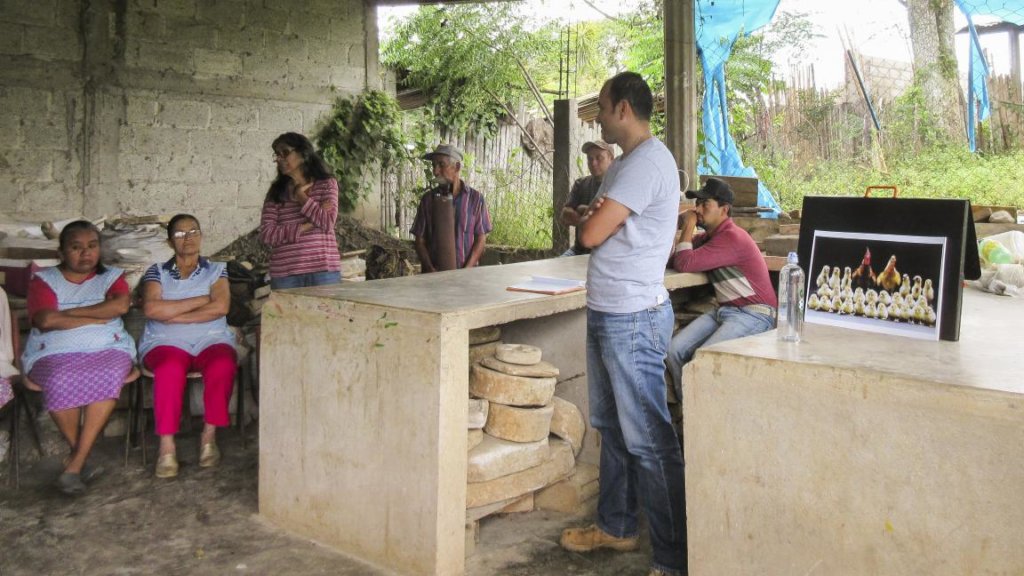 This brief report recounts some of the actions carried out with resources raised by this platform and with those obtained by the Organization in other ways. We are in the process of reviving the promotion of project activities, therefore we consider that participation in GlobalGiving Foundation fundraising platform will be essential to support the efforts of training and implementation of the actions to impact on the social fabric strengthening and preservation of the environment.
During the last quarter the actions taken as part of the project continue as normal thanks to the funding achieved so far and by the commitment and dedication of the participants from both communities.
Efforts to deal with coffee rust have focused on the realization of the cultural work for the maintenance of the diverse shaded coffee agroforestry system, accompanied by the systematic application of various bio-fertilizers including microorganisms incubation of both, the "biols" and leachates of vermicompost, made with local resources and donations obtained from this platform to strengthen the infrastructure needed to produce them.
Application of bio-fertilizers and leachates of vermicompost serve two main functions: the first has to do with the fight to coffee rust, because it has shown that application has a positive effect on health and nutrition of the plants and, hence, on the health of the coffee agroforestry system. The second function is the decline in using chemical fertilizers on the soil (avoiding this way of polluting soil and water), lowering production costs and ensuring the health of those who apply them.
On the other hand there are now 30 families who will receive materials for the construction of vermicompost containers, as well as a half kilogram of earthworm eisennia andrei. In the first days of October the training process will begin with the farmer to farmer methodology, since participants who already have their worms will facilitate the workshops. It is expected that at the end of October these 30 modules will be operating.
Another activity we still maintain is the monitoring of actions aimed at strengthening the meliponiculture. Last three months monitoring has been conducted to verify the health of native bees cores that are sheltered from families in the community. In general we are pleased to announce that the majority of nests are in optimal health conditions and have increased their weight in around 1.5 kg per core, which is an indicator of the early adaptation of these bees to a new environment.
Finally, we have begun the process of training and introduction of poultry as an alternative to achieve food self-sufficiency of families. Workshops about the necessary minimum care required for these animals were given in that process. In these workshops we dealt with topics on houses building and on the development of low-cost feeding. So far they have been produced 200 kg of food for 40 families and continuous production is expected.