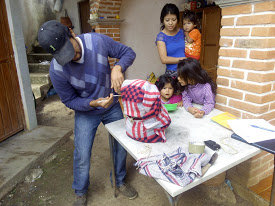 Dear donors.
We have started this year reinforcing two of the new clusters we shared with you in the last report: community melliponiculture and vermicompost practices
Community melliponiculture: During January and February we gave special attention to the hives we bought with your generous support. It was a raw winter and we had to design a strategy for care of the native bees. With the assistance of agro-ecological Meliponarios Network we made an initial diagnosis about the health conditions of the hives. We checked inside boxes and pots and defined a strategy of careful actions to perform depending on the particular conditions of every nest. We classified the hives in 3 types: strong, with chances of surviving the winter and weak.
From 27 hives women received in custody, we fed 8 hives with honey and pollen and covered clay pots with blankets so the cold will not affect breeding. With flowering in mid-February and March hives recovered health entering food by themselves.
Vermicopost
Each year about 20 families are incorporated to organic fertilizing practices. The first year, first concerned participants received training from a technical specialist and a stock of earthworms (Eisenia andrei) was bought. In the three subsequent years the trained members have been those who established their module of worms and are also stock donors for new participants. With some of the donated funds, roof sheets were acquired for roofing of the module as well as the plastic to collect the leachate for use as a foliar fertilizer. This year, several producers expanded their module to provide a greater amount of leachate and solid fertilizer.
As discussed it in the previous report, the use of this fertilizer combined with bio-fertilizers which are also produced in the community, reduces the effect of rust in coffee plantations and decreases the amounts of chemical fertilizers on farms.
High qualitycoffee
One of the important activities for this beginning of the year was to prepare the conditions to offer quality coffee to buyers. A small group of coffee producers put into practice the learning acquired in the first workshop about quality coffee at the end of last year. There are already interested buyers in this first batch of quality coffee. This step is important because it marks the start of a process from being simple cherry coffee sellers to become industrialists and sell already-processed coffee. We are aware that this is a long and difficult road to cover, but we are decided to get our first results at the end of this year, once the harvest season gets started again.
Handcrafted soaps
Finally, an agreement has been signed with the Universidad Iberoamericana to get assistance from 4 teams of marketing students which will help two coffee women groups with this complementary economic activity.
We thank you for your collaboration on this project and are waiting for questions, comments and suggestions
Best regards