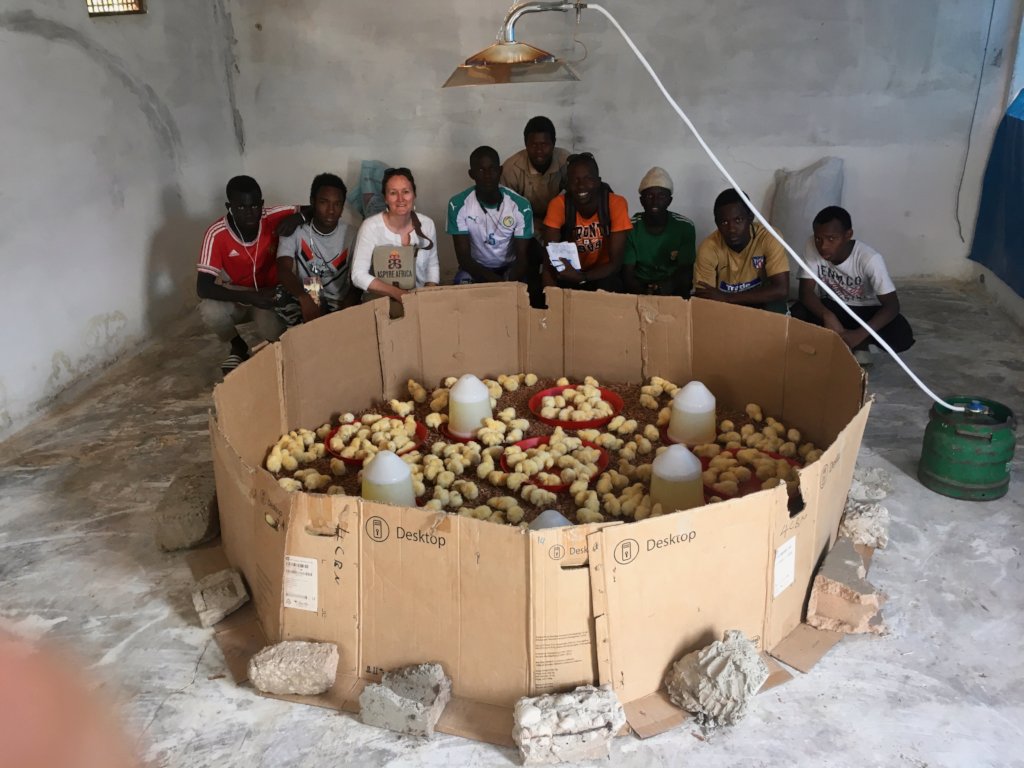 What a special Valentine's day it was indeed! On Friday the 14th February 2020 I had the great pleasure to be there in Saint-Louis to welcome the newborn chicks, and see our first cohort of talibes embark on this new journey as entrepreneurs. It had been a long wait, and days before the arrival of the chicks, the purpose built coop was still not quite up to the standards to guarantee the full safety of both the chicks and the talibes.
Thankfully, the CIPA centre's coop happened to be empty and (our partner) Director Mr Diop kindly offered it to the talibes. Plan B was put into place, with added benefits that the security was guaranteed and the location would allow the technical supervisor to be even more available. Both the CIPA team and the vet in charge of technical support at the SEDIMA (the company from which we bought the chicks and the feed) provided the talibes with all the support and advice needed to succeed.
"We are very very happy, we keep praying for you, to thank you. We never lost our motivation for this project. Today, the trust we have in you, makes us want to do more!" Abdou
"Today the chicks have become my main subject of conversation, even with my Koranic teacher. This project means everything to me. I am so grateful!" Mamadou
The talibes themselves organised their group into teams and agreed on the most efficient way to coordinate the work to be done and make their income generating project a success. Ownership will be key to guarantee the success of this project. Advice and support will be offered in response to their requests. The chickens should be ready to be sold in about 45 days. We look forward to updating you on the results of this first batch of chickens.
Meanwhile I also had a chance to meet with a representative of the USAID "Feed the Future" project who updated us on the funding secured by the CIPA for the technical training of our next cohort. We are hoping that the project will start in April/ May. We would have liked to start sooner, but remain convinced this collaboration will provide real opportunities to increase the impact of our work.
Last but not least we had the great pleasure of receiving a visit from the British Ambassador to the Republic of Senegal Ms Victoria Billing OBE. We were delighted to have been given the chance to present our work and introduce our partner the CIPA centre.
We look forward to updating you again very soon. In the meantime, as we are starting the procedures to recruit the next cohort of talibes, we would like to make sure to mobilise the support we need to reach our fundraising goal for this project. We truly hope that you will continue to be our partner on this journey. Many thanks in advance for your continued support.
With warm wishes,
Savina