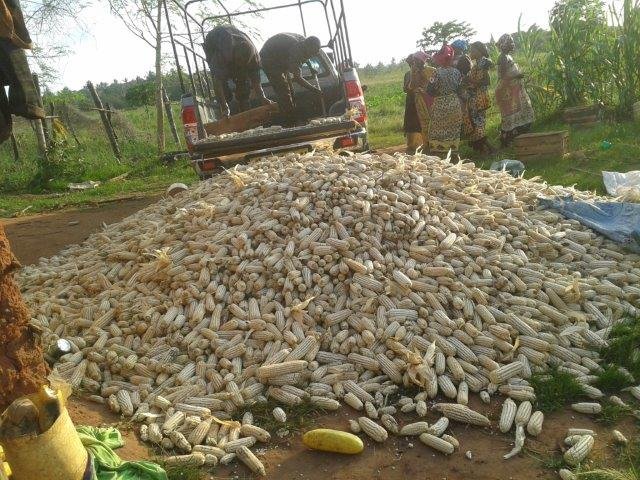 I find myself laughing out loud. Not a crazy laugh, but rather, a laugh of joy. The kind that you can't contain, even when you are on your own and you just feel a little bubble of happiness come up from your belly until it gets so big, it comes out as laughter. I laugh because this project is AMAZING.
The veggies just keep coming and the harvests are fantastic. Maize, tomatoes, peppers, eggplant - all are being harvested weekly. A large portion of the veggies are sold to restaurants, hotels and at the market. The proceeds help with the costs to run programs for children affected and/or infected by AIDS. A smaller portion is sold at a subsidized cost so that mothers can run small businesses and resell in the open market. Another portion is given to malnourished children. This is wonderful and we are so grateful that our little farm is doing so much.
Besides the veggies and fruit, the farm also has goats, chickens, guinea fowl, and rabbits - all to support the kids in our Mombasa program. How cool is that? Thank YOU for being part of this program...we coudn't do it without you.
Daniel, the farm manager is thrilled to have a new place to call home, too. We are building him a nice, safe little house which he'll share with other farm workers. This will allow them to cut out travel time and to enjoy the fruit of their labor (pun intended). It is a huge benefit for these guys to have housing and food as part of their salary, so we are happy to be able to help them in this small way. We hope to keep these guys with us for a long time, as they are dedicated and hard working, knowing that their labor is benefiting children in their communities.
The big concern raised a few times today is the need for a truck, which will take all the veggies and fruit to market. Right now, we are renting a truck to move the produce to market, but we really need to purchase a truck. I am trying to think creatively to see what we can do while we try to raise the funds needed for such a huge purchase (about $25k for a used truck). If anyone out there has great ideas, let me know - tweaver@AFCAids.org.