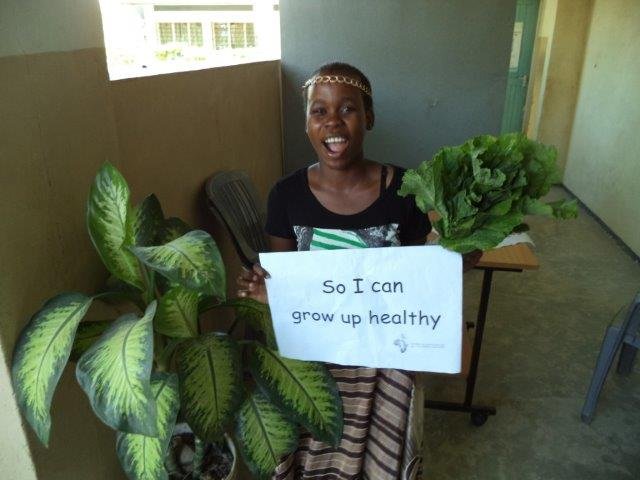 "Greens" as kale, spinach, cow pea leaves, and any leafy veggie is known in Africa, are hugely important. Not only are they nutritious, but they play an important role in Kenyan cooking. For many, it is the only source of iron, vitamin C and other needed nutrients. And, these leafy vegetables grow easily in climate that can't seem to support some other vegetables.
In our large farm in Mombasa, plenty of greens grow outside the greenhouses, due to the drip irrigation system we set up. It is so great because mom's who just gave birth can eat these iron-rich vegetables and children of all ages can benefit from something that is easy to grow, as well as easy to prepare. Our supported clinic makes sure to give kids of all ages a handful of vegetables to take home after their visits to the clinic or their time at Kid's Club. They give them enough for the entire family so that everyone can benefit. I love this project! It helps keep children healthy and full. And, what happens when kids are full and feeling well? They go to school!
Just ask Jamine here - she loves her greens, but more than that, she likes that she is healthy and is at school learning. She is a laugher - one of those kids who loves a good joke and is always poking fun at herself and others. With gorgeous skin, a healthy body and lots of energy, one would never guess that Jamine is HIV+. But, YOU have helped keep her healthy by supporting this project and we can't thank you enough.
On an aside:
I am excited to announce that Microsoft will be making a 100% match to this specific project on June 25, 2014, starting at 12:00PM EDT and ending on June 26, 2014 11:59AM EDT (24 hours). There are only $200,000 available in matching funds, and last year, the funds ran out in the first couple of hours. If you'd like to support our project again, this is the perfect day and time to do so. Please mark your calendar and consider giving to this project on that day. You'll double your help to our children! Please share with friends, as there is a $2500 bonus prize for the project with the most unique donors, which we'd love to receive!