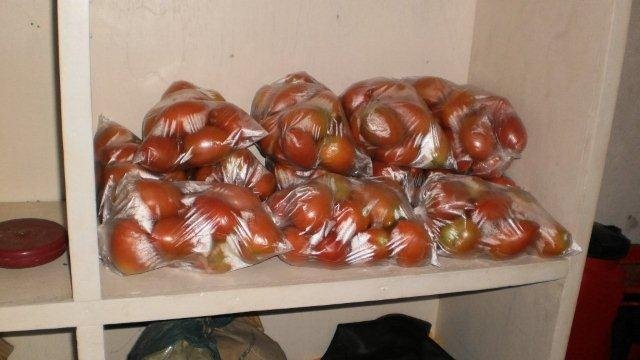 Our first greenhouse in Mombasa continues to produce an innordinate amount of tomatoes for moms to sell at the market and for children to eat. Beyond the greenhouse walls, kale, spinach, sweet potatos, onions, potatoes, peanuts, and cow pea continue to be harvested, as well. The excitement is almost too much to bear, as we know that this is a project that is producing much and which is giving hope to many.
But, we can't just stop planning just because our first greenhouse is a huge success! So, in the spirit of innovation and planning, we are now establishing our first organic greenhouse on a larger track of land in Mombasa. It is so large, in fact, that we are planning on erecting 10 greenhouses on that land, each with a 1/8 acre of drip irrigation outside the greenhouses. In these areas outside, we'll have maize, passion fruit, melons, kale, potatoes, onion, and much more. More than food, though, what we are growing is a self-sustaining way for the clinic in Mombasa to function. With the sales of tomatoes and peppers to hotels frequented by foreigners, the clinic will, in time, be able to sustain itself. With the sales of other veggies at hugely discounted prices to moms in the programs, new seed can be purchased and the borehole and greenhouses can be maintained while moms earn an income to help their families.
It's all good.
It's exciting.
It's FANTASTIC.
If you'd like to visit this program to see first hand what you've done by supporting this project, you are welcome to. Go visit the greenhouses, the clinic, the children and families. Join us on one of our Vacation with a Purpose trips and help us build a house for one of the orphaned children. Just get in touch with me at tweaver@AFCAids.org and we'll get you on the road to Mombasa, Kenya, where you are touching lives you haven't yet met. I hope you will meet them, though, and that you'll see the difference you are making.