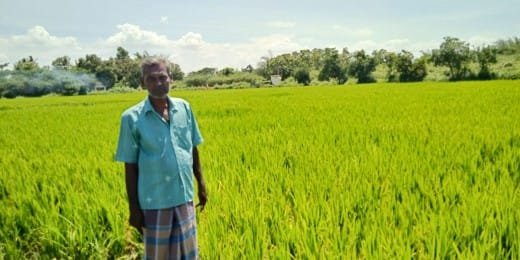 As you probably know, VOICE Trust has trained thousands of farmers in sustainable organic farming practices over the last ten years. Although we are not currently able to conduct more training sessions due to COVID restrictions, we thought you might enjoy hearing how one of the farmers we trained several years ago is doing.
Thangavel has practiced organic farming for the past four years and has taken advantage of several of Voice Trust's educational initiatives, most recently a class on Integrated Pest Management. BecauseThangavel uses strategically chosen natural cultivation methods to protect his crops against the risks of extreme weather and to help ensure the long-term productivity of his land, his agribusiness has been thriving..
To avoid the soil-depleting effects of monocropping, Thangavel seeds his family's 1.5-acre plot with high-yield rice and native urad beans in alternating years. This year, the crop of choice was ADT-36, a rice varietal that is resistant to common pests, drought, and high temperatures. Thangavel tends his crops using low-cost, organic fertilizing and pest control techniques, protecting the environment and maximizing his yield. He reports that neighboring farmers have been impressed by the success of his harvests, and have asked him to share his secrets.
Thus the effect of our training keeps expanding: year after year, from one small farm to the next, children are nourished with healthier food, the land and water are protected from harsh industrial farming techniques, and farmers like Thangavel earn sustainable incomes to support their families.
All of this positive change is a direct result of your generous support. Thank you, sincerely, for making these impacts possible. As Thangavel's story shows, the lessons and supplies you have enabled Voice Trust to deliver are taking hold, seeding sustainable success and resilience.
Together, we can make a difference!
Gratefully,
Janet Preethi