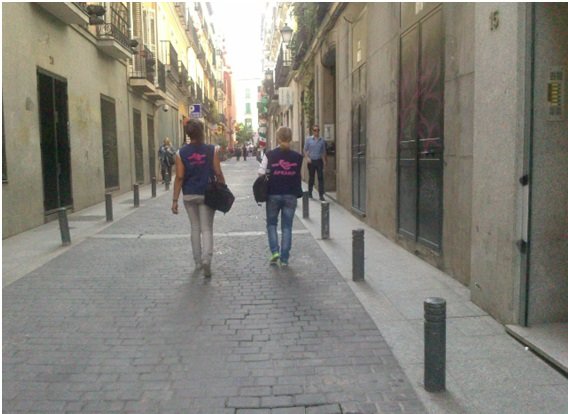 My Dear friends!
APRAMP once again reports new developments over the past three months!
In the middle of August in Spain many people are on vacation, but our Project continues to work every day, rescuing girls and women from exploitation. Therefore, we continue to train survivors of trafficking in employment so that they can become professional mediators and help all those women who are in need!
First of all inform you that the Mediation Course is already well advanced!!! And it is getting very good results from the students. All continue to contribute and learn about Community Mediation and will soon begin to put into practice all their knowledge.
But during this period, something important we wanted to make visible and we wanted to share with all of you!
In 2013, the United Nations General Assembly designed July 30 as "World Day against Trafficking". Today, there is still a need to raise awareness and awareness of situation of victims of trafficking, to promote and protect their rights in all corners of the globe and in our country.
We are talking about a huge business whose merchandise is the person, the woman, who is forced and subjected to coercion and/or deception is moved, to be sold and exploited. They systematic violation of fundamental human rights resulting from trafficking prevents any voluntary decision and the exercise of the victim´s individual freedom, especially if it is a girl
Spain no stranger to this reality, which "has acquired enormous dimensions, with trafficking for the purpose of sexual exploitation being one of the cruelest and most degrading expressions and the greatest magnitude in our country". It is therefore a problem directly related to gender, being a cruel manifestation of violence against women and the relationship of inequality and abuse of power between men and women, trapping thousands of women in prostitution contexts in our country.
APRAMP combats trafficking on a daily basis and rescues women who have been exploited for more than 30 years. But it is also necessary to send a message to society to turn its back on those who participate in this human market and to commit each person to its eradication and to the fight for a more just and equal world.
Failure to act, to look the other way, to stand idly by, to stand still, not to move forward, and also to be complicit in slavery.
That is why, on World Day Against Trafficking, we launched a campaign with a clear and forceful message, in which all the mediators were involved.
"The data is alarming. We must not look away. GIVE THE BACK TO TRAFFICKING! Every gesture is important, your gesture and your commitment are essential. Today APRAMP, wants to count on you, with your social networks or the means you have, to step forward, and GIVE THE BACK to TRAFFICKING, GIVE THE BACK to sexual exploitation, GIVE THE BACK to slavery, GIVE THE BACK to purchase-sale of human beings…"
With the campaign, we were able to make visible this slavery that so many girls and women suffer daily on our street and in our cities, and that is why it is a pleasure to be able to share it with all our friends at Global Giving! GIVE YOUR BACK AGAINST TRAFFICKING HUMAN BEINGS!!!