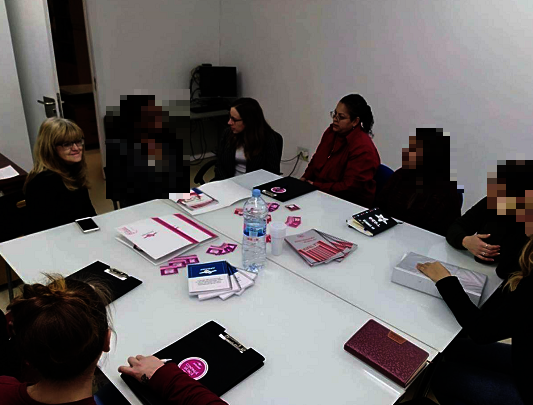 Hello Friends!
As you know, from APRAMP, we always like to give you good news and make you participants of them, to thank you again for your participation to achieve our goals !!!
A few months ago we started the official mediation course, together with UNED Spanish University, and we would like to inform you of everything that has been worked on and the results that our mediators are having!
The course started with BLOCK 0, where in an introductory way, all the participants had to present themselves in the discussion forum and where they would be explained in what the course consisted of and how to use the platform.
The BLOCK 1: INTRODUCTION TO MEDIATION, where mediators have learned that the term of mediation is "the intervention of a person or organism in a discussion or in a confrontation between two parties to find a solution", "it is a technique of conflict resolution, a more or less protocolized and structured way or process with the objective of resolving a conflict ".
In this same block the history of mediation has been taught, something fundamental in an introduction to a course to know the origins of the concept and the action.
How gratifying it is to discover that it was after the Second World War when the world became aware of the seriousness of the problem of not resolving major conflicts. In this post-war era new ideas appeared and creativity and imagination were put at the disposal of a society that had experienced the horrors of war and that yearned for and asked for peace. With all this they were modeling new and different techniques to solve conflicts counting on the "intervention of third parties".
After the first subjects of Block 1, all the participants had to make an evaluation through a notebook of exercises, activities and tests where they exposed everything they had learned, as well as participating in a forum where the topics discussed were discussed.
In the following BLOCK 2: MEDIATION BY ELECTRONIC MEANS. ONLINE MEDIATION. In this block, with which they are currently working, they are learning the new areas and scenarios that have appeared with the new technologies and that have generated new models of conflict and that in turn generate new spaces that can be used as spaces for mediation or mediation scenarios.
The participants have known that there are different channels for mediation, thus generating online face-to-face mediation, a mediation where electronic means are used but carried out in real time, which is why it is defined as face-to-face.
Within this Block several issues have been worked on such as:
-Media electronic and ICT.
- Mediation and the immigrant woman.
- Intercultural mediation of cases.
- Mediation process.
- Mediation procedure and basic principles.
- Development of mediation.
- Language and mediation.
- Conflict and mediation.
- Conflictology
- Basic mediation tools.
- European Code of Conduct Mediators.
After this Block, all the participants will have to pass the evaluation with a notebook of exercises and tests, as well as continue intervening in the forum debate.
The results have been very favorable. Not only for the subjects that they are approving, but also that this course also teaches them to acquire skills and abilities with new technologies! And it motivates them a lot to know that all their knowledge that they have been acquiring in practice, will finally be able to complete it with theory.
"What motivates me the most about the course is knowing that finally and after so many years I will have theory and degree that will allow me to have many more work opportunities" Words from one of the course participants.