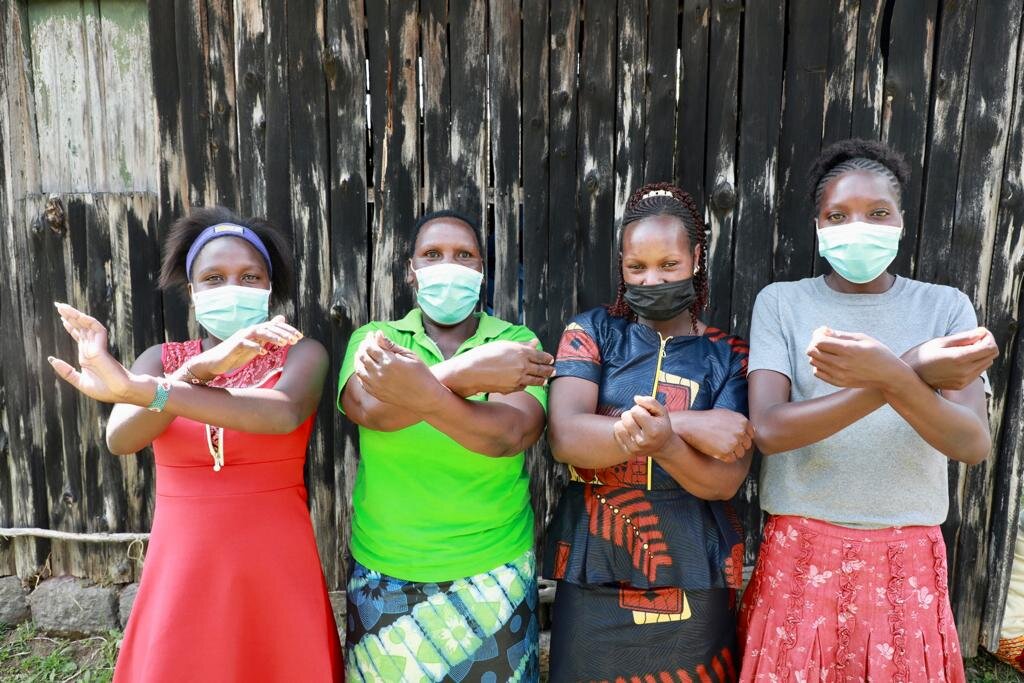 On behalf of families across Kericho county, thank you so much for your generous support of this project. We are 'not there yet' as they saying goes and the road ahead is a long one. The pandemic is far from over in Kenya, restrictions continue such as limits to numbers of people gathering, wearing of face asks is mandatory, prices for food basics like oil, salt and sugar are soaring and health services are under pressure but we continue our programmes to support families through this and with your help we will get there.
Right now 25.8% of adults in Kericho County are fully vaccinated. Everyday we get requests for PPE and fridges for health facilities to keep patients and health workers safe and to store the vaccines as supplies arrive. Meanwhile, soap and water continue to be the first line of defense and the volunteers in the community continue to make sure the most vulnerable households have enough soap and water to keep them safe.
Throughout March, events are taking place under the banner #BreakTheBias to mark International Women's Day on March 8th. The events are spread across the month to reach as many people as possible in smaller groups to comply with restrictions. The programme for each group is the same - women and men gather with staff and local volunteers to talk, listen, discuss and learn. They talk about women as role models and celebrate their achievements, they learn about our programme on sexual, reproductive health and rights and through icebreakers and practical demonstrations get talking about menstural health and other issues that are generally taboo. They hear about the Alternative Rite of Passage courses for girls to eliminate Female Genital Mutilation (FGM); they have a brief introduction to our programme in income generation and are welcome to sign up for business training courses. Throughout the day, all participants are encourage to get vaccinated against COVID-19 and the messages of COVID-19 prevention and awareness are reinforced. The biggest take-away of the day is the sense of togetherness, sharing, opening up, being heard - March is a powerful month for empowerment through these engagements!
Trainings for volunteers to train as ambassadors for Sexual, Reproductive Health and Rights have been taking place since January. After the training, each volunteer receives starter kits to distribute to vulnerable girls and women in their community. These contain reusable sanitary pads, soap and instructions on how to make your own pads. They also get resources to help them share information and raise awareness about COVID-19 . These volunteers will organise trainings in in their villages for small groups of women and men, boys and girls and slowly the barriers are broken down and the lives of women will change for the better.
This month is a very busy time for the volunteers and staff involved in the programme to eliminate FGM. Plans are in place for 57 Alternative Rite of Passage courses for girls between now and early April. The programme addresses the social pressure that exists in communities to have their girls circumcised. The belief that FGM will ensure a girl's proper upbringing, future marriage or family honour still persists in some regions. COVID-19 has caused an increase in the practice of FGM as girls are married off for a bride price due to rising poverty. Our community-based programme involves all members of the community in learning about the dangers of FGM and working with them to abandon the practice. Many weeks and months of engagement culminate in the coming weeks in Alternative Rite of Passage courses for girls. The courses take place over 5 days and finish with a public affirmation from the girls, their families, their neighbours and village leaders that collectively they stand against FGM. The ultimate result as well as keeping the girls safe and healthy is that girls are encouraged to stay in school and finish their education. Knowledge is power and girls need this more than ever if they are to survive the impact of the pandemic on their lives.
All of these seemingly small events and actions are part of an enormous effort to keep people safe, to support change, to encourage and empower. You are a part of making sure than no one is left behind as the rest of the world emerges from this pandemic and we cannot thank you enough.
"Never underestimate the power of a small group of committed people to change the world. In fact it is the only thing that ever has" (Margaret Mead)