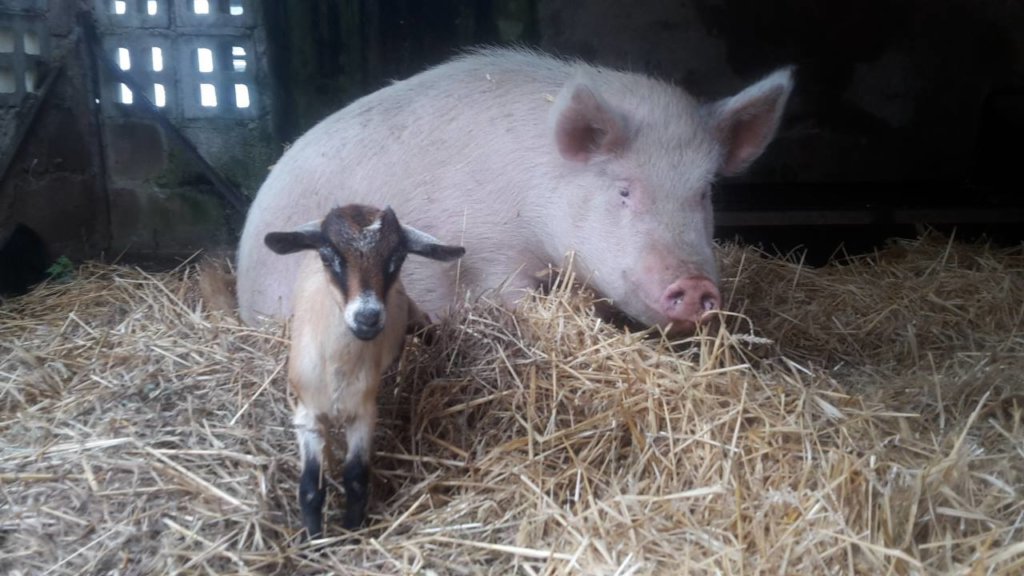 GLOBAL GIVING REPORT MARCH 2019
PETAL FINDS A HOME IN THE MOUNTAINS
It must be hard to imagine what it's like to live in a country of political turmoil and to judge who is good and who is not, why we do not emigrate, or why we are unable to vote to change the system. But this little land, our home, has heart and soul, and when you have experienced this, it gets under your skin and becomes your touchstone. Don't visit Zimbabwe, because you may be seduced! Joking aside, we just do what we can to have a normal life, and continue to rescue abandoned, maltreated or injured animals, and work with the community as best we can.
We continue to have many sad, and some bad cases to deal with. One little dog in our care has nerve damage to her front leg, and she drags it inverted to get around. And the poor child is not very pretty, to boot. We are hoping someone who lives a sedentary life would fancy a little ugly-duckling dog to look after him or her. She has found that love from the SPCA team is a jolly good thing, and has become proprietorial over us, and chases the other dogs off if they come for a hug. We call her Carly.
We confiscated a very large, gorgeous chap who was regularly tied up and beaten by his owner, to teach him a lesson. We are going to court on this one. I doubt we will win, but to sit back and let him have the dog back without a fight was not on. Wish us luck, but know too that we will not give up.
So we carry on, against the odds, but with self-belief, and make a genuine difference in the lives of dogs and cats, birds, goats, donkeys, cows and even pigs….
Anyone who has followed our work at SPCA Mutare will know we have had in our care a very special, pink and portly Petal Pig. This comely lass was rescued by us as a piglet when she and her 7 little pen mates were virtually abandoned in a concrete pen the size of a small toilet. They were all skeletally thin, unhappy, and on their last legs. Petal herself was ice cold, unconscious, and was covered in an angry raw rash, nose to tail. Lynne took her to the vet, and Noel and I took the other 7 to the SPCA. Petal was treated, and brought to life in a warm bath, swaddled in a cosy blanket and befriended by Milo, Lynne's rescue dog. There were times when I saw BabyPetal, I could swear she was smiling.
AS she grew too large to be in a household, she got a position in a petting farm, where she would meet and greet children. When she out grew that position, it was time to bring her home to the SPCA, where she was very welcome. She lived with us for a further plus two years, but lately, as much as we have loved having her, we worried that her life was not what it could be. She was alone. She spent too much time mooching under a haystack – horizontal. She developed a sore leg from being a bit overweight. We changed her diet, she slimmed down and she became more active, but we knew things had to change. She needed more to her life. But where to send her? Very few farmers that we knew would have the finances to take on a pig as a pet, and have another pig who needed a companion.
The Chimanimani mountain community came to our aid. Bring her to Queenie! So this weekend, that's what we did. Our staff built a carpeted, gently sloping ramp suitable for a catwalk model, but she could smell a rat, a mouse AND a gerbil! With ear splitting protest, she stamped off to her mudbath. We cooled her off, and the Inspectors asked us to stand aside, as they herded her firmly back to our Toyota pickup, which was lined with hay and a thick woollen carpet. Miss Pretty, the goat had located all the treats we had stocked the van with, (clever these goats) and was wolfing down the watermelon. This helped to make up Petal's mind. She walked the ramp like Claudia Schiffer, and bang! the tailgate closed behind her. She located some of her butternuts and soft tomatoes, and chomped away, but NOT like Claudia Schiffer. Wasting no time, we opened all the windows for her and took off. Her heavyweight rocked the car as she became alarmed at the motion, and she attacked every latch, window and the canopy door. Then she spotted Lynne through the back window. Its took two seconds for her to learn to push the canopy windows apart, and we had a chomping, gnashing, squealing pig's mouth in true unhappy Diva mode between Lynne and I . That might have been like Claudia, but we have never met her. Chucking a packet of biscuits to the back, we closed the canopy window to a sliver.
The journey was horrid for our large, little girl, who we love so much. She couldn't balance with the rough roads, she got hot, she was confused, and we could do nothing to assuage her fear. We blocked her from seeing Lynne, and that did the trick for a while. The normally breath-taking scenery became landmarks to count down. But it seemed suddenly we were there, and on the rugged track to Queenie and her Pig Christmas, yes, - to Petal's new bestie. There was a perfect off ramp, and down she flew heading for what we could not smell, but she certainly could….. a mudbath! It was not long before ChristmasPig was seen in the sunset lit golden grasses making her way home. She spends her days down at the river and forest, and her nights snuggled in a pen. Clever Clogs Christmas knew instantly that there was something afoot and she headed directly to the bathing Petal. Unerring she marched into the mud and a tussle of porcine-mud-wrestling proportion began. And ended as quick. Petal took herself for a long walk to the far end of her new field, but we heard later she was happy to sleep in her allocated abode, next to Christmas. Things have been going better, but I live for the day that our Perfect Petal goes for that long daily walk to the river and forest, with the silvery mountains in the background. So long, sweet child of ours. Fare thee well.
If you feel you could help us cover the costs to relocate Petal to the mountains, please consider donating via Global Giving. It gets harder not easier to survive this tsunami of currency changes we have foist upon us at present. It beggars belief. We would be very grateful if you could donate to keeping us going. Many thanks from Petal, Christmas and from us all at SPCA Mutare.