Project Report

| Sep 4, 2023
Life saving Act by Frontline Worker: Blood Donation by PHASE Nepal staff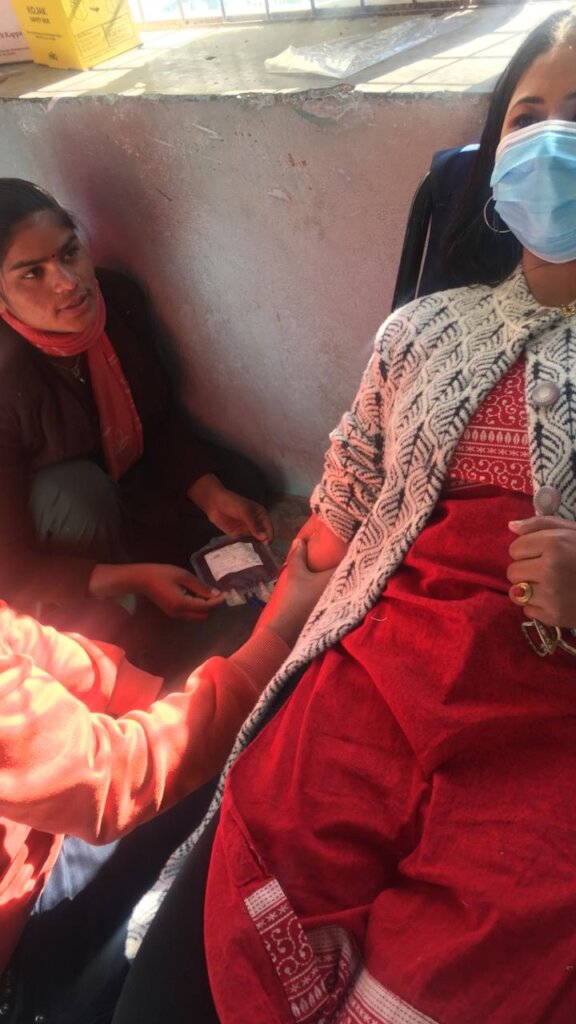 Dear friends, we extend our heartfelt gratitude for your support and generous contributions, which have been instrumental in enabling us to persist in our mission of delivering essential healthcare services to those in need. Our dedicated team of health workers remains committed to providing primary healthcare services to communities in remote regions.
We are excited to share with you the remarkable accomplishments achieved by our frontline healthcare professionals. Their tireless efforts have brought improvements in the health and well-being of individuals in the remote PHASE Nepal working areas.
Purnima Katwal (name changed), aged 45, lives in Ward No. 1 of Adanchuli Village, located in the Humla District. The Katwal family comes from a poor background and is involved in simple agricultural work. Purnima Katwal has a family of seven members, including herself, her husband, two sons, and three daughters.
Purnima Katwal visited the health post because she was experiencing heavy bleeding. After taking her medical history, it was revealed that she had undergone a surgical procedure to terminate a pregnancy at a medical clinic in Adanchuli two weeks ago. Unfortunately, the procedure was not successful, leading to complications and excessive bleeding. In response to this emergency, the family brought her to the PHASE Nepal Health Center in Tumcha for treatment. The staff at PHASE Nepal treated Purnima Katwal for shock and noticed a decrease in her hemoglobin levels, so she was referred to Kolti PHC for further treatment.
During the ultrasound examination of Purnima Katwal, pieces of the baby's placenta was found in her uterus. Her hemoglobin level was only 6 percent, and her blood pressure was 100. In such a situation, the doctor advised her to undergo post-abortion care through a blood transfusion. Since PHASE staff Rasna's ( name changed) blood group and Purnima's blood group matched, cross-match test was conducted, which showed a normal report. Following that, they performed a blood transfusion, provided post-abortion care, and successfully saved her life. She was admitted to the PHC for 5 days and received treatment, including antibiotics, intravenous infusion, and iron pills. She was discharged after 7 days.
When they were leaving after being discharged, Purnima Katwal and her husband expressed their deep gratitude to PHASE Nepal staff and the team for saving their lives. They particularly thanked Rasna the PHASE Nepal staff who donated blood, as she became like a mother to Purnima at that critical moment. Both the husband and wife expressed their heartfelt appreciation, assuring us that they would never forget the exceptional service they received, and they even took a picture with Rasna before leaving.
Thank you for your invaluable support, and we look forward to sharing more inspiring stories of progress with you in the future.

PHASE Nepal Team