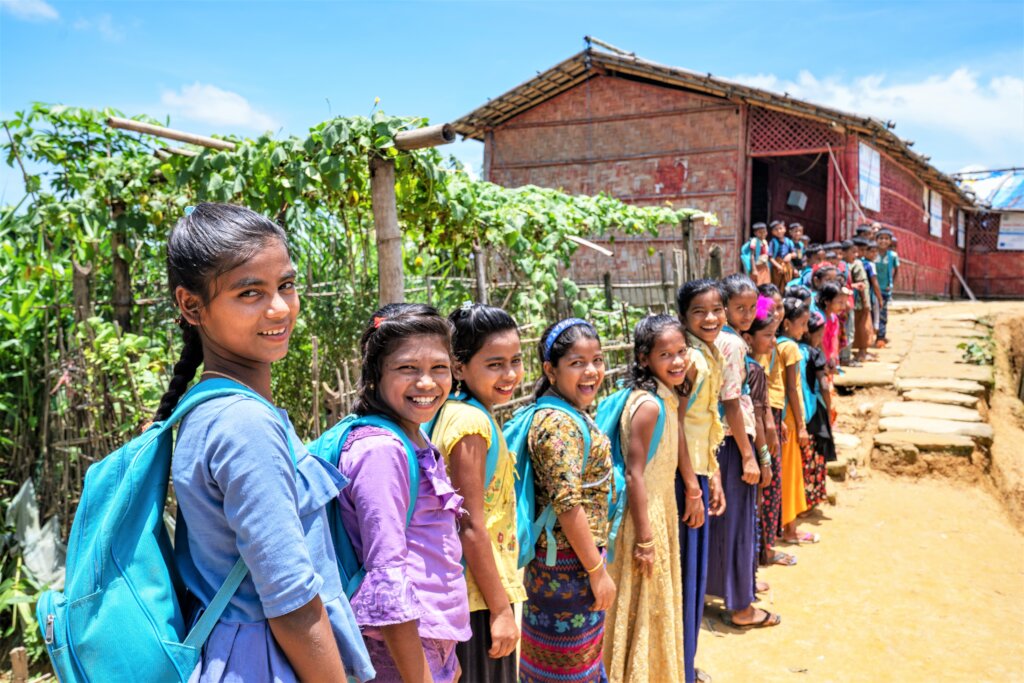 Dear Friend,
The trail of destruction left by Cyclone Mocha, which tore through parts of Bangladesh and Myanmar caused severe disruption to the lives of millions of vulnerable children and families, including many already living in dire conditions. In Bangladesh, home to the world's largest refugee camp in Cox's Bazar, one million Rohingya refugees faced the brunt of the heavy storms. While Cox's Bazar was spared the eye of the storm, thousands of people were affected and several temporary shelters, facilities, and infrastructure that refugees have been provided have flooded and left severely damaged due to heavy winds and rains, including more than 100 learning centers. With your generous support, UNICEF was on the ground and rapidly delivering support where it is needed most urgently.
Delivering education in the largest refugee settlement in the world is an immense operation. Education for Rohingya refugee children is provided through 3,400 learning centers – 2,800 of which are supported by UNICEF – as well as through community-based learning facilities.
The Importance of Education:
Even after facing damage from fires and cyclone Mocha, learning centers in Cox's Bazar are continuing to fill up with displaced children, excited on their first day of school, against all odds Thanks in part to your generosity and expanded educational opportunities for teenagers and girls, a record 300,000 children are enrolled for the 2023/24 school year. "Rohingya refugee children want to learn, and to turn their hopes and dreams for a better future to actual potential." said Mr. Sheldon Yett, UNICEF Representative to Bangladesh.
"The single most important ingredient for ensuring a safe and dignified return of these children to Myanmar is ensuring that they can continue their education while they are here in Bangladesh. I urge our partners and donors to stand by UNICEF as we deliver on our promise to provide education for every Rohingya refugee child."
In addition to the new opportunities for older children, a dedicated campaign has brought more than 13,000 children who were out of school into the classroom. Efforts to support adolescent girls to continue their education are key to the record attendance this year. Due to social norms, parents are often reluctant to send girls to school once they reach puberty. In response, UNICEF and partners have worked closely with the refugee community to demonstrate to parents the benefits of education for girls, to provide girls-only classrooms, and to organize chaperoning to classes by female mentors.
Thank you, we are so grateful for your generous support of the children of the Rohingya refugee crisis.
In partnership,
Alia
Links: