Project Report

| Apr 3, 2023
Update: Supporting the Rohingya Community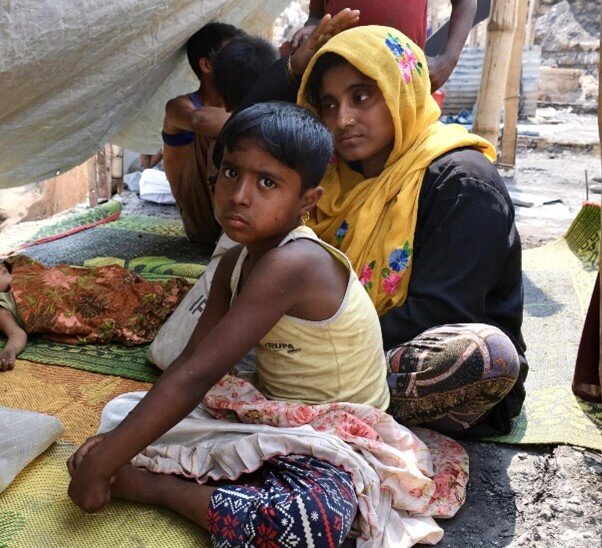 Dear Friend,
UNICEF has been on the ground in the refugee camps in Bangladesh from day one and is still there for every Rohingya refugee child who needs clean water, health care, protection, nutritious food and education. But, 12,000 Rohingya refugees – half of them children – have now lost their shelters in the fire that broke out in the Cox's Bazar refugee camps in March. Several facilities that provide essential services to refugee children and their families have also been destroyed. Among these are over 20 learning centers, at least one nutrition center, and several sanitation facilities.
Eight-year-old Sohida was in a playground when fire raged through her home in a Rohingya refugee camp in Cox's Bazar. She was in danger when she saw the fire and people running and shouting all around her. With her heart racing from fear, Sohida joined the fleeing crowd and ended up on the roadside as night set in. A stranger gave her some food and she spent the night out in the open.
For one so young, Sohida has already seen too much tragedy. Her parents were killed during a wave of unspeakable violence and brutality that forced over 700,000 Rohingyas to flee from their homes in Myanmar in 2017. Under the care of a religious leader from her community, Sohida is among the almost one million Rohingya refugees who now live in refugee camps across the border in the Cox's Bazar, Bangladesh. The morning after the fire, Sohida has made it to a temporary UNICEF shelter.
"I was afraid of getting burnt and dying in the fire," says a shaken Sohida.A social worker at the UNICEF shelter counsels Sohida and other children traumatized by the fire. They pay special attention to children separated from their families in the chaos. Sohida is now reunited with her foster father but challenging days are still ahead as they don't have a place to live.
Thanks in part to your generosity, UNICEF was able to quickly dispatch two mobile medical teams to provide emergency medical aid to injured refugees. UNICEF also provided dignity kits to help families maintain their hygiene and sense of dignity in a desperate situation where they have lost everything of what little they owned. The dignity kits contain soap, toothbrush and toothpaste, and other critical hygiene items such as sanitary pads. For UNICEF, the priority going forward is to repair and rebuild damaged facilities so that children can go back to school and can be given essential healthcare, nutrition and sanitation services.
Thank you, we are so grateful for your generous support of children of the Rohingya refugee crisis. As the long road to recovery and rebuilding now begins.
In partnership,
Whitney