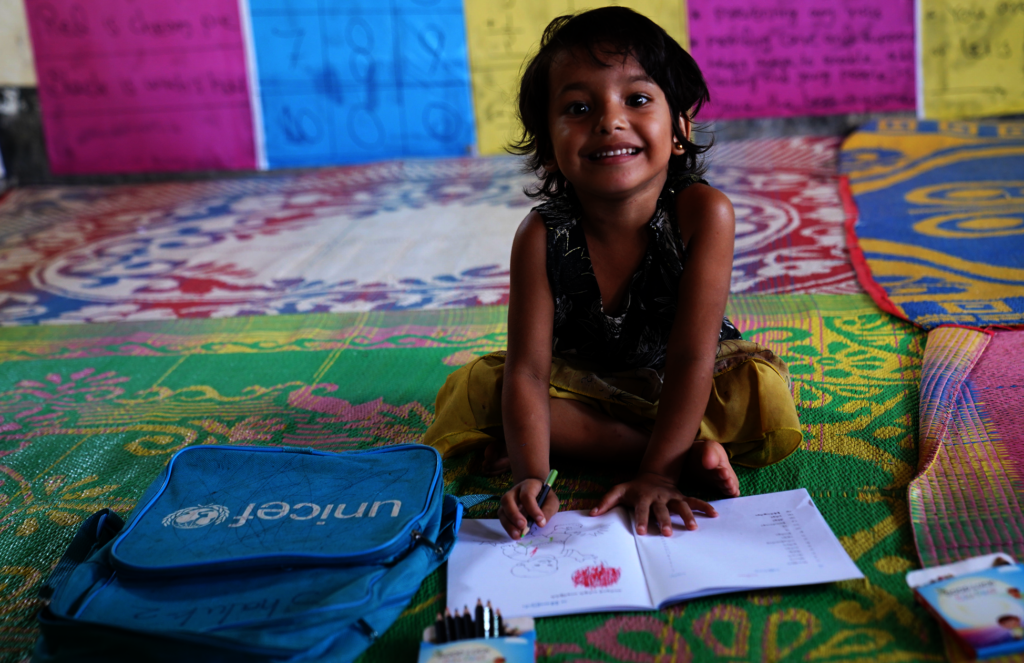 Dear Friend,
This August marked five years since hundreds of thousands of Rohingya families trekked into southern Bangladesh, fleeing violence in Myanmar. They walked for days, fearing for their lives. Some died on the way. Today, one million Rohingya refugees, half of them children, now live in refugee camps in Bangladesh's Cox's Bazar region. For these half a million children, they have spent five years in exile from their home country. UNICEF has been on the ground in the refugee camps in Bangladesh from day one.
Education, especially quality education for Rohingya refugee children, may be their only chance for a better life. UNICEF continues to ensure the fundamental right to education for Rohingya refugee children. UNICEF and partners are running a mammoth education operation for over 300,000 children in what is the largest refugee settlement in the world. Provided through 3,400 learning centers – 2,800 of which are supported by UNICEF – spread across the camps. The centers teach English, Burmese, mathematics, science and life skills, with 80 percent of Rohingya children aged between 6 and 11 years old enrolled with enrolment equally high among girls and boys. But data shows the gender gap becomes prominent as girls get older, with a significant number of Rohingya refugee girls dropping out once they reach puberty - around the age of 12 to 14.
With your support, UNICEF and partners have been piloting a project to provide Rohingya refugee children with formal and standardized education based on the national Myanmar curriculum. As part of the Myanmar Curriculum Pilot, UNICEF supports girls-only lessons in recognition that many Rohingya parents prefer this for their daughters. UNICEF supports girls-only lessons in recognition that many Rohingya parents have made it clear that they want an education based on the Myanmar curriculum prefer this for their daughters. As of August 2022, more than 130,000 learners are learning as per their home country curriculum.
UNICEF is also working with the community to mobilize female Rohingya chaperones to accompany girls to and from the learning centers. Classes in UNICEF-supported learning centers are run by one Bangladeshi teacher from the host community and one Burmese language instructor from the Rohingya community. There is evidence of the positive effects of female teachers on improving girls' learning. Given the shortage of qualified teachers among the Rohingya refugees, recruiting and training new female teachers, as well as continuing the professional development of existing teachers, are priorities for UNICEF.
To ensure lasting change, UNICEF involves members of the community. Mobilizing hundreds of Rohingya volunteers and enlisting the help of 300 religious leaders to speak to their neighbors and friends about the importance of educating girls. Armed with a megaphone these volunteers, walk through the camps spreading the message that all girls have the right to go to school to build a better future for themselves.
All children deserve equitable and inclusive access to education. Investment in education for Rohingya children is critical to prepare them for the uncertain future and avert a "lost generation". Their resolve to study remains strong; we cannot fail them.
Thanks in part to your generosity, Rohingya children and their families are given the opportunity to not only survive with dignity, but also thrive through education. Thank you for your continued support as UNICEF stands alongside this population and continues to advocate for their rights, ensure their wellbeing, and empower their youth.
In partnership,
Whitney