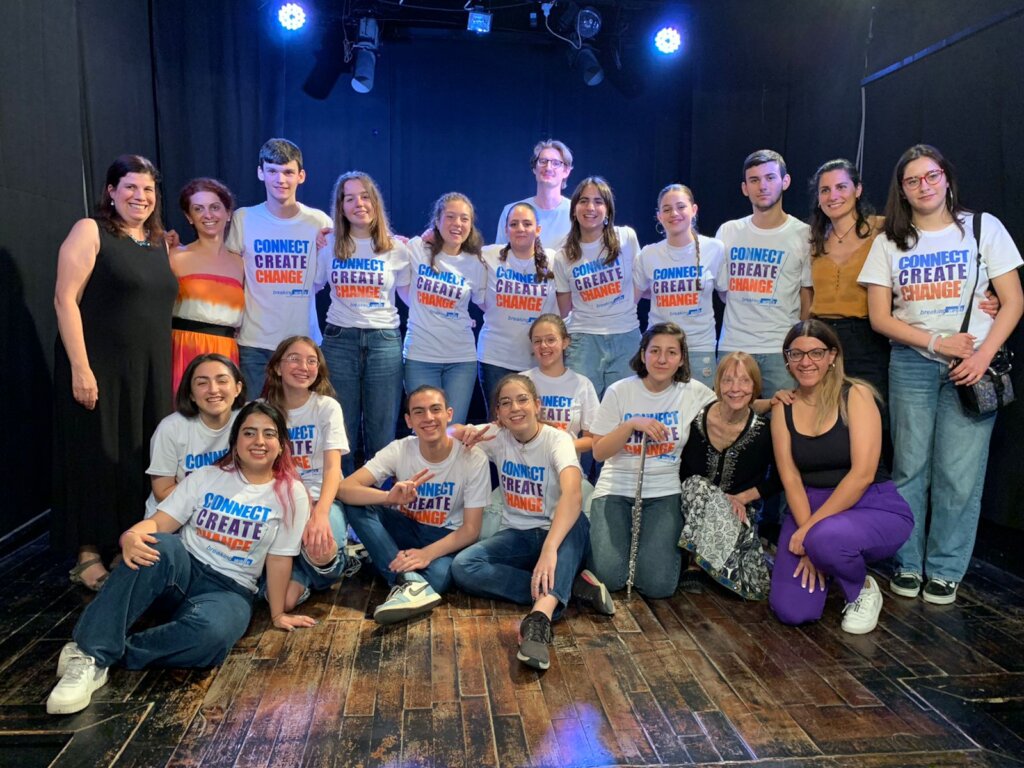 Breaking Walls 2022 Yerevan Summit
by Barcelona artist María Cárdenas
Once again Breaking Walls has been a home for growth, mindfulness, mutual learning, friendship, and leadership. As an artist from Barcelona who has been part of the program for four years, I have realized that every Summit is a unique experience where the vulnerability of each individual - of every artist - builds up a collective, a connection, and the strength and the hope for a bright future.
It was easy to connect to every artist right from the very beginning. At first, we were warmly received by the Armenian artists who were excited to show us the culture and language of Armenia through the music, dances, and also by talking about the complicated history of their country. This made us feel closer to them as artists and friends but also closer to their culture. Once we started with the creative writings and the ensemble-building activities, we got to know each artist and their background more in-depth from a much more vulnerable place. We built a safe space where everyone was respected and heard and, through this, we were able to get to know each other in a way that wouldn't be possible outside Breaking Walls.
When our Directors of Theater Performance, Aina Cuesta and Angela Constantinidou, put together the final script with our writings and we started working on the play "The Sound of my Soul", we were already a family and we found a lot of support in each other during the rehearsals. The final show was a very emotional moment for all of us; the artists, directors, ambassadors, and the audience. We were surprised to hear how the connections within the group were felt by the audience in our monologues and some of them doubted if we had really only known each other for two weeks!
However, we also connected with each other and had fun during our other activities of cultural exploration like the visits to the different museums or the walks around the different cities and the Sevan Lake, which were very enriching. We had a wonderful tour organized by Arpi Maghakyan and Sona Bianjyan, the Director of Cultural Exploration and an artist from the Armenian delegation, around the city of Yerevan. We got to sing Karaoke all together, dance to Armenian traditional songs, and learn the Armenian folk dance. We prepared traditional Armenian food like the lavash bread or the Armenian Tolma - which was delicious. Nevertheless, one of the most special activities at the Summit was the night we had dinner at the Armenian artists' homes. They were very kind and welcoming and prepared traditional and delicious food for us. This made us feel part of the Armenian culture and we learned many things about the differences and similarities that bring us all together.
On the other hand, the visit to the Orran Children's Center was very inspiring, too. We spent the day with children from vulnerable families in Yerevan writing and performing our different collective poems and stories and it was a great opportunity to learn how not even language is a barrier to connect. We found that many children didn't speak much English, however, we realized that we could understand each other through our voices, our art, and through respect for one another. It was great fun and an experience we all will keep very close to our hearts. The feeling of collective understanding also came from the Rainbow Connect Conversation hosted by Dannie Kagan, our Director of Leadership. Every delegation got the opportunity to share a part of their country and their culture with the rest; through music, through stories, and even through food! It was inspiring and fascinating, and we learned a bit more from Morocco, Chile, Poland, Armenia, Spain, South Africa, the United States, and Germany.
During the Summit, we also took different workshops to develop our leadership skills. Throughout the two weeks, we worked with Condola Rashad, a multi-talented artist, and actress who was, too, our Mindfulness Mentor. In her online sessions, we got a chance to watch how we felt and to be in the present which opened us to new spaces not just for creativity but also for self-knowledge and learning about our inner voice. Jessie Fullenkamp, our Health & Wellness Ambassador, also helped us reflect upon ourselves and our identities to embrace them and others and become the outspoken artists and leaders that the world needs. Moreover, Adina Taubman, who was our Director of Creative Activism, taught us how everything can be transformed into something creative and the power that lies in words. With her, we transformed the exact transcripts of interviews that we had done with different inspiring activists into short plays that showed this person's life and work. It was really interesting to see how every play interpreted the interview's transcript differently with a lot of creativity even using the same words that the interviewee used.
So, to sum up, the three words that I would use to describe this Summit would definitely be connect, create, and change. We did not only connect to others and their cultures and their backgrounds,... we connected with ourselves to find our inner voices; we did not only create a poem, a drawing, a song, or a play,... we created bonds, strength, and awareness; so we change, we changed within ourselves to become the leaders of tomorrow and we changed our surroundings by being proof of how the world's youth can come together in understanding to be the voice against injustice and discrimination.
Links: