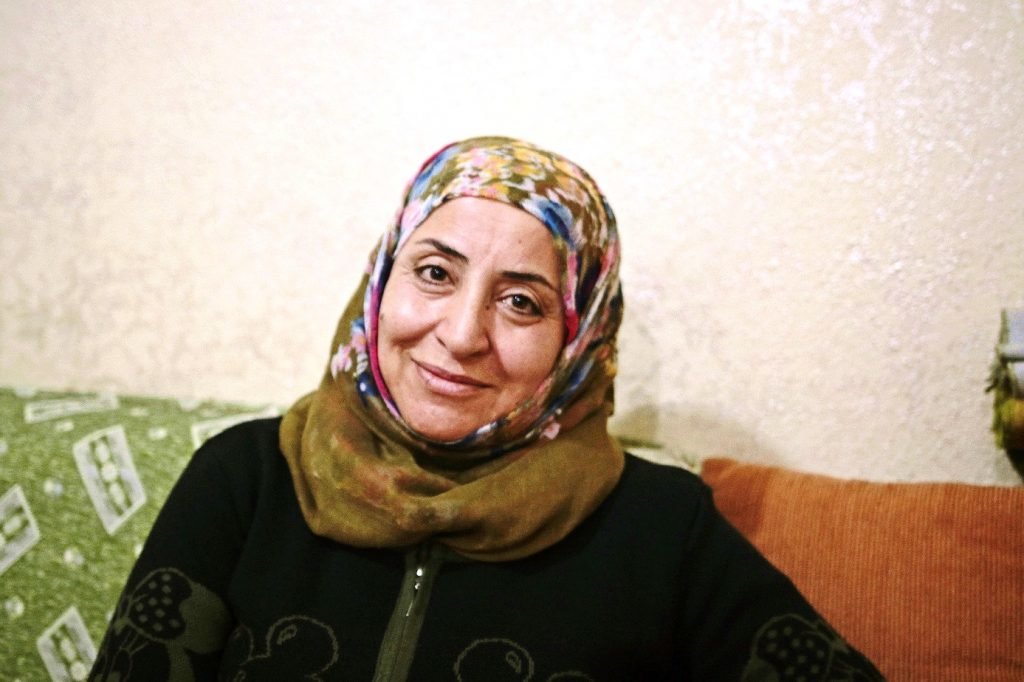 Mother's day is a good day to once again repeat that we stand for equality, justice, and freedom for not just mothers, but all the women of the world, regardless of their ethnicity, nationality, or socio-economic standing. We strive to make possible a future where each and every woman is able to express herself freely, enjoy equal opportunities, and stand firmly on her own feet. In this report, we wish to make two women heard by you, our supporters.
Habibe is a 47-year-old woman currently living in the city of Mardin in Turkey. She's been passionate about education all her life, and this has put her 'at odds' with her family at times. But she never lost her dynamism and strength, and still believes in herself, believes that she can achieve her dreams.
"My son is studying tourism, and I am studying sociology. We care a great deal about education. I have three children, they've all studied. I studied theology back in Syria. Even though my older brother forced me to marry a bigoted man, and even though he pressured me not to do so, I've finished school. After that I was the sole bread-winner in my household for many years. I came to Turkey two years ago, with my daughter. My daughter also has been unlucky with her marriage; she hasn't been able to go to school. But I will make sure my son studies, no matter what. I'm unemployed since two weeks, I worked in a soap workshop before. But that's alright, I can find a new job. I just received my papers from Syria, showing my bachelor's degree. I hope to complete a graduate degree here. But first, I wish to correct the biggest mistake of my life – I will get divorced. Actually we are already separated 8 years a –I've been on my own, taking care of my kids throughout this war. But this divorce has symbolic importance for me. By doing it, I want to communicate a message to my family that insisted I marry him, and also to my kids that also try to hold on to life against all odds. As a woman, I challenge what was 'deemed proper' for me, I reject this wrongdoing and I will change it."
Sena's story also revolves around her ambitions to study and to achieve her full potential. At 21, she is much younger but sees no time to waste.
"My name is Sena, I am currently 21 and I live in the city of Adana in Turkey. I've been studying since 4-years-old. I had to leave 17 years of education back in Syria. I actually had an entirely different set of plans and dreams. I was studying to be a primary school teacher. When we had to leave due to war, I couldn't finish my degree. But I didn't just give in. There was an exam here in Turkey, institutions giving Arabic classes were about to recruit teachers. I took the exam and succeeded. I worked as a teach for about 5 months but then failed to get an extension on my working contract because I didn't have a teacher's degree. But I know that I can continue my education in Turkey. Right now, we work in a farm with my whole family. But I also study for my Turkish proficiency exams. Besides, with this job, I am saving money to go back to school. My biggest dream right now is to have a self-sustaining life by working as a teacher. My older sister has been successful, and I will follow her path."
How we support women, who are seeking to make a change in their lives against all odds? Through vocational and language classes, employability trainings, job placements, social cooperatives… We also help them navigate the bureaucracy. If their state is particularly vulnerable and they have special protection needs, we act fast and ensure their wellbeing. Please continue supporting us so that we can keep supporting lives in 9 cities of Turkey, with our 300-large Support to Life team.