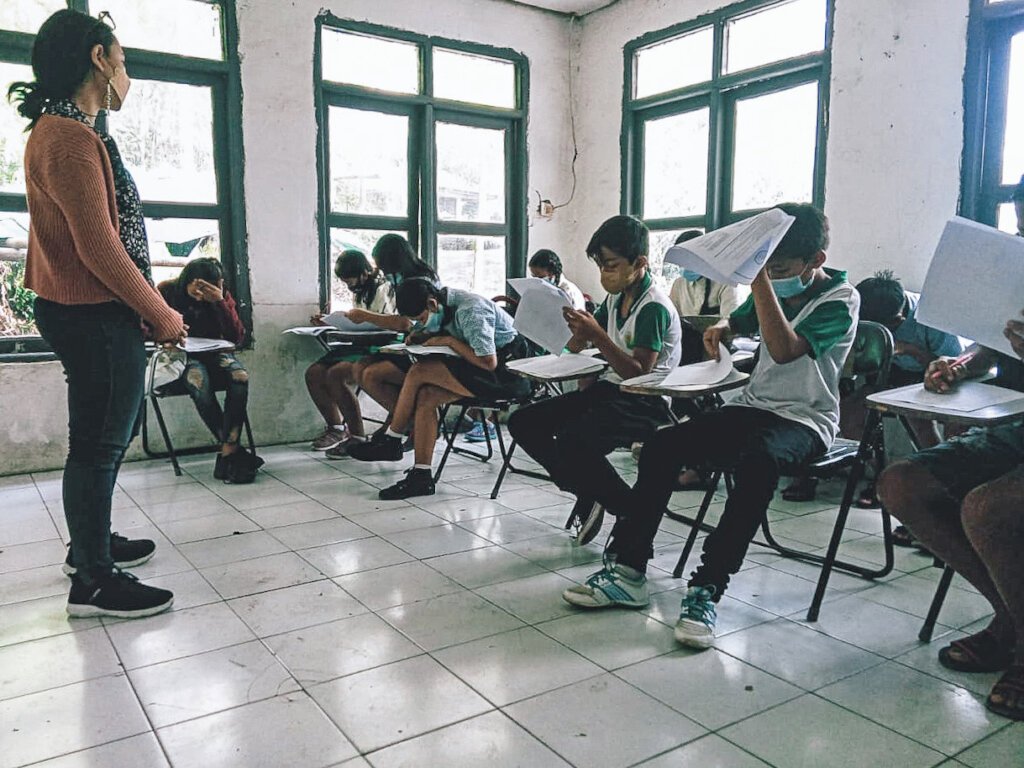 Schools are finally opened, after 19 months of students learning from home due to the mandated COVID-19 school closures on 16th March 2020! On 11thOctober, our government authorised all schools, including EBPP's, to resume face-to-face learning due to the significant reduction in numbers of Covid-19 cases in Bali, whilst implementing strict health protocols at schools. The time of school learning is very limited, so as teachers we manage all the classes well as in online learning.
Tragically, only 5 days later on 16thOctober, a 4.8 Richter scale earthquake struck the whole of Ban village in the early morning at 4.20am, destroying or seriously damaging many of our students' homes and causing significant damage to three EBPP schools.
Many of our students were seriously traumatised by this shocking event, which comes only 3 years after a damaging earthquake in August 2018, which followed the Mount Agung eruption of 2017 when all our students and their families had to evacuate their village for a period of months. Fortunately, we have partnered with a professional team of psychologists who are currently evaluating and counselling our students, who are responding very well – and all are able to focus and continue their studies and other fun activities.
This December, teachers have enjoyed new training and campaign activities. First was our Village Journalism training held by a local journalists' NGO, Bale Bengong.id Media in Ban village community office for two days, December 8th & 9th 2021. This training aimed to improve the teachers' ability in writing about important/interesting events taking place in Ban village, accompanied by photography technique and video editing. It is very important to master this skill for raising issues and problems especially in Ban village.
Secondly, EBPP teachers were finally able to provide training for all students in all EBPP schools, based on the training we'd received in June 2021 from the "Mudfish No Plastic" team, about single-use plastic. This campaign aims to give EBPP students self-awareness to participate in reducing the use of single-use plastics in their daily lives. It is hoped that students will be aware of the importance of reducing the use of single-use plastics to protect our earth together.
Our teachers' final activity to end this first semester was marking students' semester exams and recording all into the book reports which we'll distributed to all students in all levels this week.
A huge thanks to you, for your continued support to our GlobalGiving crowdfunding campaign so that our program can run smoothly until the end of this year and into 2022.