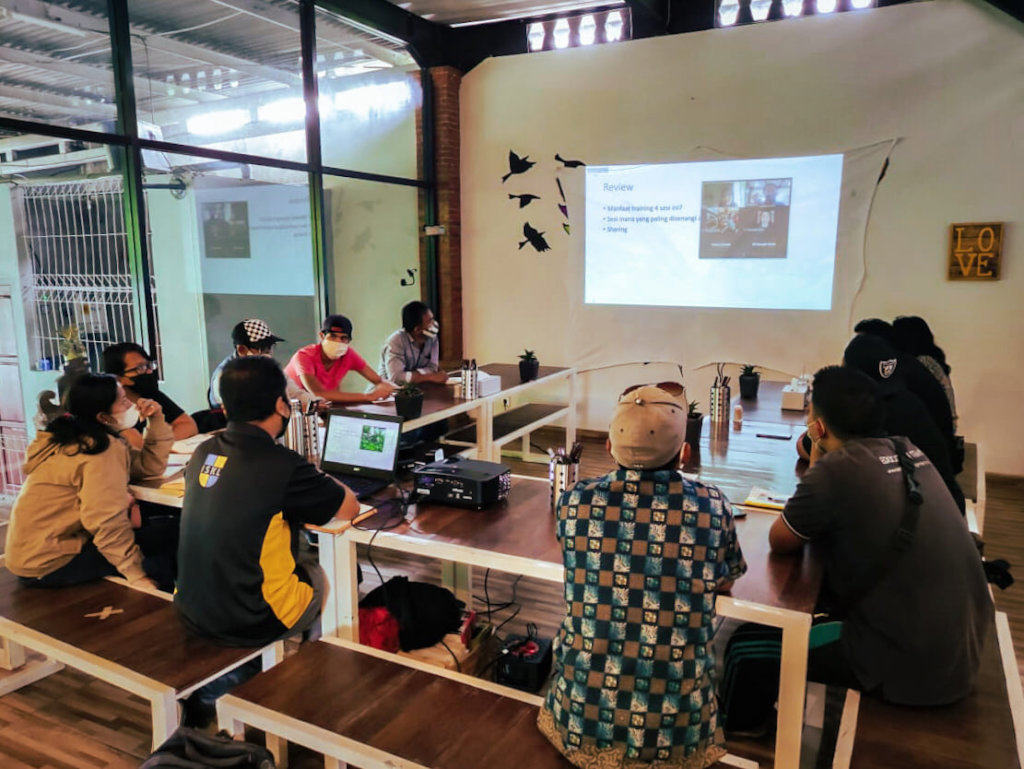 Due to the continuing Covid-19 pandemic and thehigh potential risk of infection, schools remain closed and our teaching activities are still carried out using distance learning: offline for our elementary students with teachers taking materials to their homes and practicing questions, whilst always following COVID-19 health protocols; online with smartphones for junior and senior high students, who our teachers visit directlyweekly to answer queries and share creative ideas.Whilst this is still challenging, our teachers continue to innovate so that students' learning remains interesting and does not become a burden due to excessive learning assignments.
Teachers' Capacity Building Programs
In order to support and increase our teachers' resource capacity, EBPP conducts various capacity building activities, outlined below:
1) Photography training: As all of our teachers are required to document students' activities with their smartphones every week, especially for keeping our donors updated,EBPP management team held a full day intensive photography training course on 10th March to help us improve basic photographytechniques, with hands on practice and advice. We now take much better photos!
2) Teaching techniques for students with special needs: This online Zoom trainingheld over 4 sessions from March-April, was given by a counselling guidance teacher from a state school in Bandung, West Java. She is an education psychologist, who deals specifically with students with special needs. This beneficial capacity building training focussed onteaching techniques and proper mastery of student classes, which was very interesting and useful for us to refresh our teaching techniques and give more focussed attention to slower learners.
To help students' struggling families and increase learning motivation during the pandemic, EBPP continues providing monthly staple food supplement packages comprising rice, mung beans, dried fish and cooking oil for all students and their families.
Even though the COVID-19 pandemic is still ongoing, we continue to innovate in order to improve the quality of resources, especially in teaching techniques at EBPP schools for the future. We hope that this pandemic will end soon and we can return to normal face-to-face classroom teaching-learning activities.