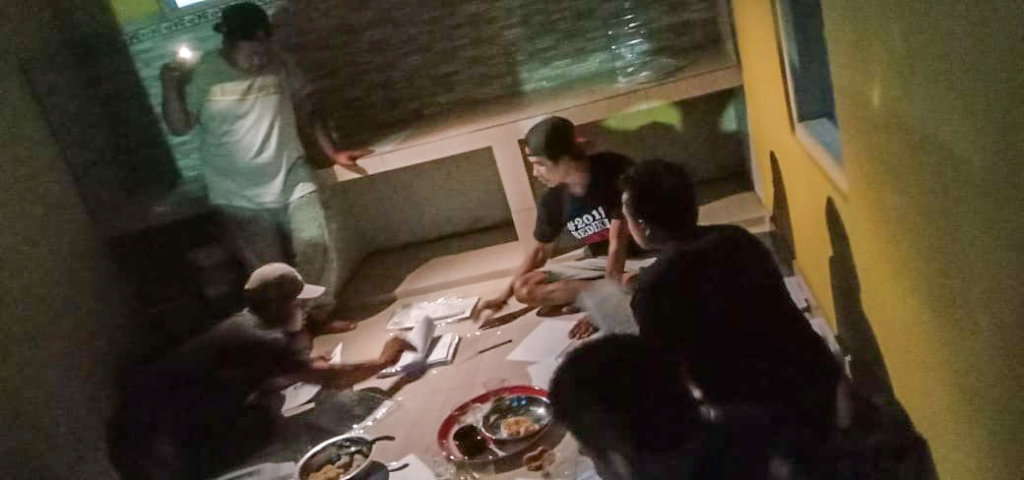 Since the Covid-19 pandemic struck around the world, most students couldn't study well because their schools were closed. On 16th March Indonesia'scentral government also announcedtemporary closure of all schools and students must learn from home. For teachers who care about their students, teaching is very difficult in this situation!
To overcome this difficulty, EBPP teachers initiated a distance learning system, dividing their tasks between two groups. The first group is assigned to prepare the respective modules whilethe seconddelivers the subject matter to each student's home. Getting to most students' homes is quite difficult because they can only be accessed via often steep and winding mountainous footpaths. Even so, the teachers are never discouraged crossing broken roads every day so their students can study at home. They are assisted in distributing materials for elementary schools by our local tutors from each school, who also coordinate with the parents to assist by monitoring their children.
For middle and high school students, EBPP teachers have designed an online learning system through WhatsApp groups, sending all subjects online. The difficulties with this system are: not all students have a smartphone and (b) difficult in all locations to find good signal without going outside. To ensure all had phones and equal opportunities to study, EBPP allocated a GlobalGiving $1,000 "hardshipgrant" to buy 16 cell phones, and loaned them to these students so that they could study effectively from home.
To avoid Covid-19 virustransmission, EBPP's provided each student with complete hygiene/sanitation kits plus masks and all teachers urged students to always maintain good hygiene and health.
We also knew that during the strict lockdown many may go hungry as their families have no income; to assist them, EBPP distributed nutritious food packages to all students and their families in May; AND we plan to providefood packagesevery month during the COVID -19 lockdown – if we have available funds.
Boredom: To relieve boredom while stuck at home, our art teacher distributes drawing and painting materials so students can use their free time to paint at home, channelling their creativity to paper and canvas through colour media and pencils.
Semester exams: In mid-May, all studentstook their final semester exams with a difference!As these could not be done by WhatsApp messages, our dedicated teachers prepared photographed AND photocopied every test and distributed to each student's home! In thefollowingdays, all teachers were full on checking/markingall students'tests papers.
Good luck EBPP teachers, stay safe and healthy;hopefully the Covid-19 virus will soon pass and life will return to normal.
We're grateful to all donors who've helped us feed and support our students till now – but your urgent assistance is needed to enable us to provide food packages for June, July and until the COVID-19 lockdown ends.