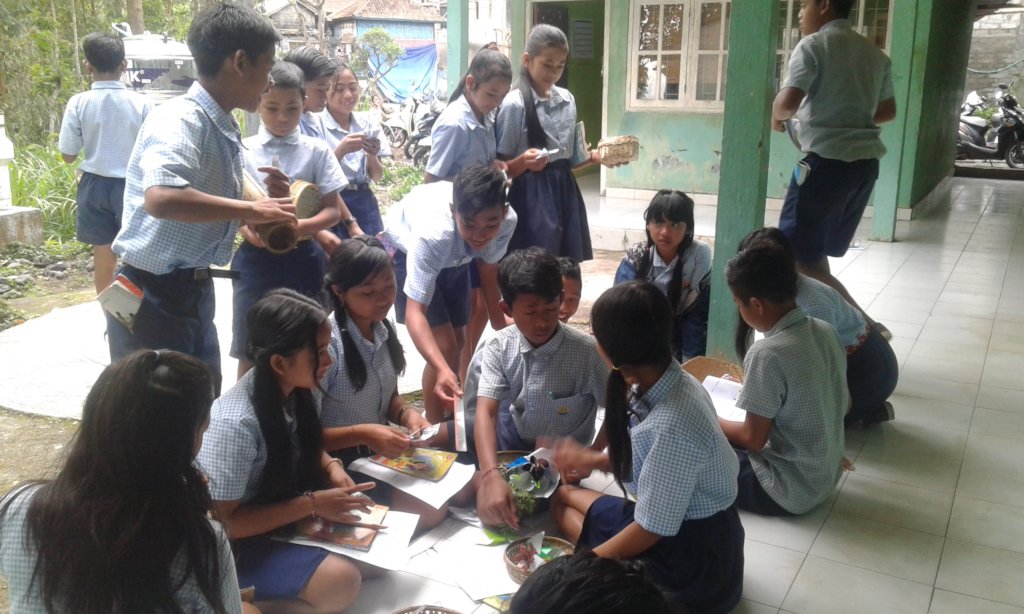 Teaching students in a remote area is a personal satisfaction for the teachers. Different characteristics of students in each EBPP school require our teachers to be more creative and innovative. This month all EBPP teachers are very focused on preparing students who will take the national final exams which will be held in March and April this year by the central government.There are 41 students who will take examinations from 6 EBPP schools at elementary, junior and senior high school level and 17 of them are from Pengalusan and Jatituhu schools.
Pak Made S (EBPP senior teacher) uses a strategy of reading books before learning, to increase interest in reading by getting students to read books about 10 minutes before the main lesson begins. Each student must share about their view after reading the books. With this habit of reading, we've seen that students' grammar and vocabulary has improved; and they've less difficulty composing good sentences and writing short stories. In short, classes become more active and students are more engaged, especially when writing their daily diaries!
Our Balinese Language and Hinduism teacher, Pak Wayan S, uses a different technique, as Balinese and Hindu Religion subjects are the basic foundation knowledge that students must learn at school so they can apply it appropriately in real life. Thus, he uses a contextual teaching model, designed to make learning more meaningful to students by connecting to real life. Before starting the lesson,he gives them questions to direct them to the main topic, which requires them to use their critical thinking skills.
Most people think it's easy to speak Balinese language correctly without learning it intensively, since Balinese is our first language; but Wayan totally disagree because Balinese language has different levels, where the highest is only spoken by people who have a high 'caste'level in society. In order to build students' characters, they need to speak Balinese in a proper way, such as knowing how to address those who are older. The language reflects how respectful you are. Therefore, building our students' characters and confidence is his first priority in teaching Balinese and Hindu Religion. By having a good character and confidence, they will be able to have good behaviour at school, home, and in society.
"I really like the teaching methods used by EBPP teachers, because I can more quickly understand the lessons being delivered," said Rantani, one of our Jatituhu students who will take the national high school exam this year. Thank you, GlobalGiving's donors, for inspiring EBPP teachers to be more creative and innovative
February 2020, By Komang Kurniawan/Team leader of EBPP