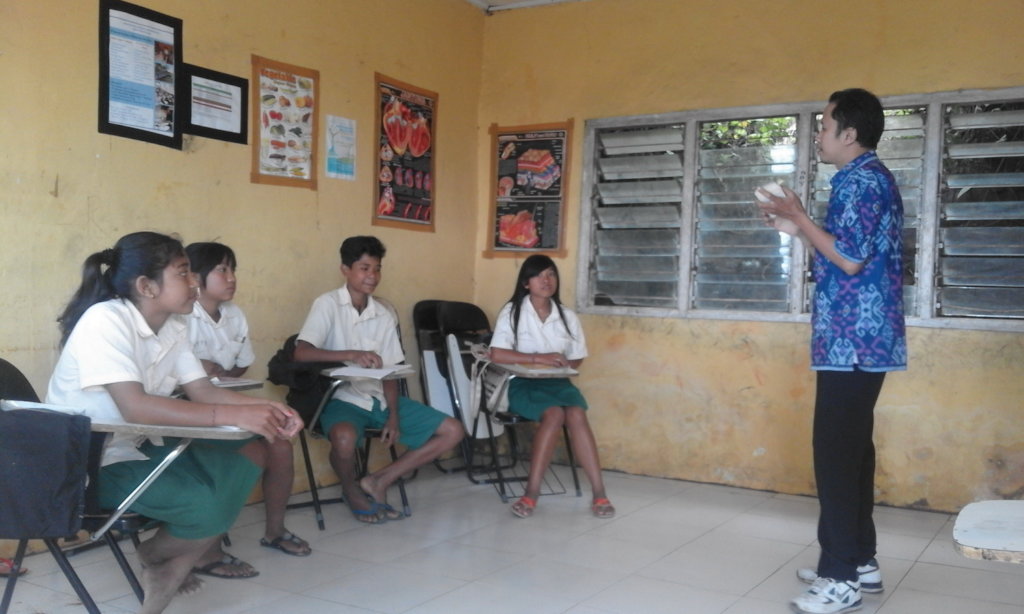 The difficult geographic location of EBPP's Pengalusan and Jatituhuschools, high up the slope of Mount Agung and Abang respectively, does not dampen the enthusiasm of either students or teachersto get to these schools.The teachers admit that the limited school facilities make them even more determined:faced with many challenges and obstacles, we make use of limited media to develop creative learning methods that can foster students' ability to think critically, logically and analytically.
Some examples of creative media in learning Civics and Economicsare when our teacher first drew his own charts/ shapes according to the learning material. Secondly, he created cards as the game method of connecting cards and matching cards. Thirdly, active problem-based discussion learning groups and presentations using a digital projector to display picture and video, and using the mind-mapping learning method as well as contextual learning and field practice.
In maths lessons, our teacher creates crossword puzzles by getting the students to fill in numbers according to the subjects such as the results of multiplication, division and fraction numbers. This game is a very appropriate way to hone students' thinking skills. Another teacher uses charts in teaching statistic by having the students working in groups and doing some interview in neighbours' house to find the data needed. After collecting the data, then they developed the charts and gave presentations. In science classes, the students also gavepresentations to their peers to prove that the material they learn is already mastered. In English, the teacher uses many different activities such as reading story books every week andgetting the students to memorize five new words, learning through games such as noughts and crosses game to encourage step by step students' logical thinking skill. In this game the students have to compete in groups; the winner is the first group to fill three squares in a row, either across, down, or diagonally by creating sentences using the words in the squares. If their sentence is correct they can write either "X"s or "O"s based on their group.
Since we usemany different media in learning, the ability to think critically, logically and analyse starts to grow, seen by the students' ability in asking, answering, commenting, and active communication.To be a successful teacher, we must be able to create interesting learning media that will invite questions and ultimately train students to think critically and analyse problems in all materials presented to them.
Thank you GlobalGiving for supporting our fundraising for education programs, enabling us, the teachers, to develop our students' skills so they can finish their studies, and hopefully, these skills will to make a real contribution to their life by having the ability to think critically, logically, and to analyse problems. We still need funds urgently to enable us to continue teaching these dedicated students for many years to come.