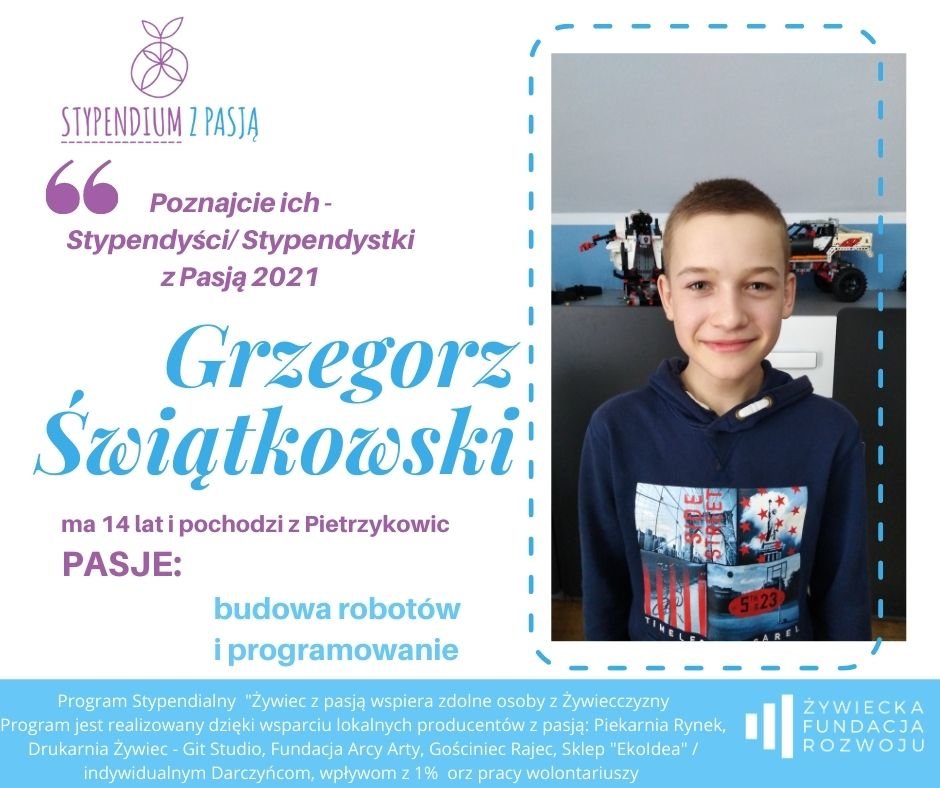 Dear Supporters,
The Scholarship Program "Zywiec with Passion" gives opportunity to talented individuals in our region and helps them to "spread their wings. The great importance and power of this Program is supporting people from small community.
This raport is about some of 14 talented people who have opportunity to develop their talnets thanks to your support. We wouldn't make without YOUR SUPPORT.
With your donations we were able to invite 14 talented people to development journey for intense 6 moths. All participants of scholarship program started working on workshop for local community presenting and promoting their talents, their region.
We would like to present you some of them, their talents and passions. Among supported scholars there are:
Grzegorz, 14 years old, intrested in building and programming robots. Thanks to scholarship program he could buy 3D printer and now he is progrmming a robort of his own idea;
Agata, 23 years old, intrested in developing her social media skills. Scholarship Programm will let her to participate in courses and workshops improving her skills.
Zaneta is 20 years old, she is very talented in music and acting. She dreams about Drama School in Warsaw. Scholarship helps her to take a part in courses and workshops.
Iwona is 27 and has unique classical mezzosopran voice. She knows how hard is to live so faraway from big cities and have little opportunities to develop such a talent. Financial support helps her to participate in national and international competiotion and to practice with the best teachers.
They all are talented, passionate, hard working and very determined to devlop thei talents.
We live in times where many small and big communities, projects are in critical situation but we believe that only change in people might make a difference.
We would like to take this opportunity and to ask you to help us and share this idea and project with other like minded so together we can make believe many young people in themselves. Big or small donation will help us to continue Scholarship Program and invest in the best capital - talented people from small communities.
Thank you for being part of our Scholarship Program.
Stay Safe:)
With Gratitude & Passion & Love
Zywiec Development Foundation