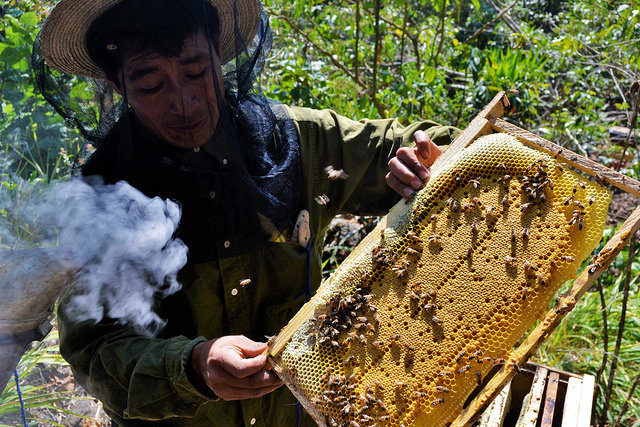 Springtime in Guatemala is coming and our beekeeping groups are getting ready for another great harvest! Since the project started in late 2013, participating groups have produced over 250 pounds of honey that's been sold in local cafes, hotels, grocery stores, and restaurants, and they're hoping to do even better come November.
To get ready for the harvest our project technician is working with seventeen farmers from Totolya and Pampojila to construct three more beehives and several panels to house more bees, as well as helping to clean up the current hive sites and maintain the surrounding lands.
Perhaps the most interesting addition to the project is the plan to plant colorful flowers in order to attract more bees to the hives and to sweeten the flavor of the honey. You may not know this, but the color, texture, and taste of honey is derived from the pollen and flowers surrounding the apiary. Here in Guatemala, we are lucky to have a variety of vegetation that begins to bloom in October, paving the way for sweeter and more abundant honey harvests.
For example, over the next few weeks we'll start to see the budding of the Acajete tree, which produces sweet, translucent nectar. Next to blossom are beautiful yellow wildflowers, followed by avocado trees. The last to bloom are citrus trees and, finally, coffee plants, whose bright red seeds transform into the coffee we all love to drink.
While the Guatemalan countryside becomes lush and colorful, bees will be buzzing from flower to flower, collecting pollen and producing hundreds of pounds of golden honey for sale by farmers in need across the region.