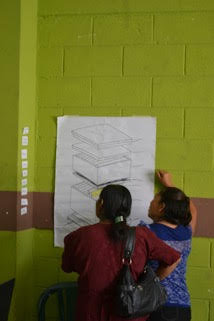 Recently, Pueblo a Pueblo's Beekeeping project solidified a new partnership with a women's coffee cooperative in La Libertad, a small community outside of Huehuetenango. This group of coffee farmers is part of La Cooperativa Crédito Esquipulas, a larger organization that works on savings and loans for local farmers and businesses in Guatemala. Despite the diversity in their services, this will be La Cooperativa's first endeavor into beekeeping!
However, this new beekeeping group will look somewhat different from our three existing projects in Atitlan. First, our existing farmers work together as an association to market and sell their honey, sharing the profits among themselves. The new group, however, will market and sell their honey through the cooperative.
Secondly, whereas half of our current beekeepers are women, our partnership with La Cooperativa Crédito Esquipulas will consist entirely of women, thus continuing our mission to support gender initiatives in rural Guatemala.
Earlier this month our project technicians conducted their first visit with the new cohort of beekeepers. During this visit they formally met the new members, introduced the basics of beekeeping, and developed a timeline for future trainings and apiary installations.
Michelle Sims, the project manager for Pueblo a Pueblo's beekeeping project is very excited about this new expansion and looks forward to "initiating honey production within La Cooperativa Crédito Esquipulas and hopefully expanding this opportunity to other members of the cooperative as well." We at Pueblo a Pueblo, hold the same hope as Michelle and are excited to see how our new partnership evolves!