The first months of 2019 have brought exciting milestones for our Beekeeping project partners in San Pablo La Laguna. In late January, Genaro traveled across the lake to lead the group in their first harvest.
As always, the group began the day by trekking up to the apiary together, carrying their tools, their protective gear, and a picnic lunch. At the top, Genaro greeted the whole team. "We've all been waiting for this day," he said, "and now it is here!" He asked the group members to pay careful attention to his instructions. After all, when it comes to harvesting honey, every drop counts!
The beekeepers checked their hives, removed the frames that were most full of honey, and brought those up to the processing area. Genaro showed them how to use a knife to cut the outer layer of wax from each frame so that the honey can flow freely from it. He then demonstrated how to place frames into the group's brand new extractor—a manual machine which works like a centrifuge to pull honey from the frames. Group members took turns selecting frames, removing their wax, and operating the extractor. Soon, beautiful golden honey began pouring from the extractor's outlet valve.
All in all, the San Pablo beekeepers harvested over 200 pounds of honey—much more than they had hoped for! "This was an extremely impressive first harvest," Genaro notes. "I'm proud of the group's progress so far and I look forward to seeing what they continue to accomplish."
A couple of weeks later, Genaro returned to San Pablo to teach the group best practices for bottling their product and processing the wax they had removed from the frames during the harvest. Their honey now in bottles, the beekeepers were faced with some big questions: how would they brand their product, and how would they present their collective to customers?
These questions led the beekeepers to an exciting new development: a brand new name! The group chose to rename their collective Batz'ib'al Juyu' (pronounced "baht-zee-bahl hoo-yoo"), a phrase in Tz'utujil, the local Mayan dialect. This name combines the words "batz'"—weaving, "bal"—machinery, and "juyu'"—volcano, to describe the ecological fabric of their lakeside home and their role as stewards of its native biodiversity. Honey production is important to these beekeepers not only as a source of supplementary income, but also as a way of preserving local bee populations and the health of their entire ecosystem.
Once they had chosen a new name, the beekeepers collaborated with the Pueblo a Pueblo team to design a logo for their product. Their logo shows the Maya god of maize face-to-face with a honey bee, both contemplating a young corn plant. Every jar of honey from the Batz'ib'al Juyu' collective will carry this logo to communicate the group's basis in the Maya value of environmental stewardship to their consumers.
As the group prepares to enter their second year in the Beekeeping project, Genaro will begin to prepare them with more of the entrepreneurial skills they will need to succeed as a small business. Next up? How to divide bee hives. It's a delicate process, but it is a great way for the collective to earn some extra cash by selling some of their bees to other beekeepers—or to increase the number of hives in their own apiary! Stay tuned for more news from this hardworking team.
Your support fuels these beekeepers' success. Thank you for believing in the power of sustainable livelihoods to build stronger communities and preserve our beautiful Earth!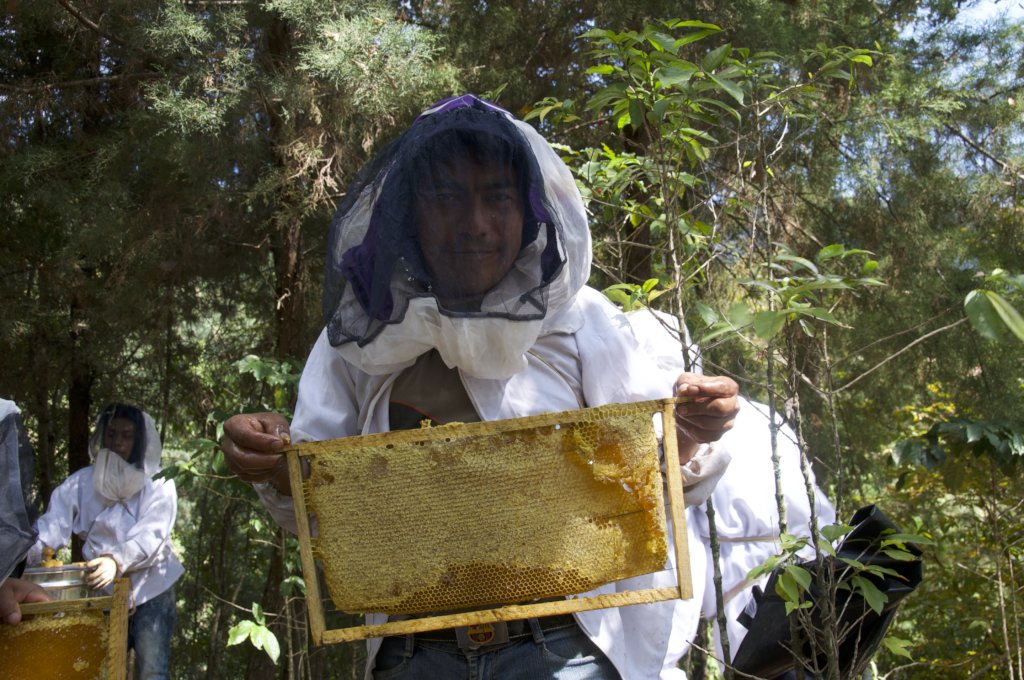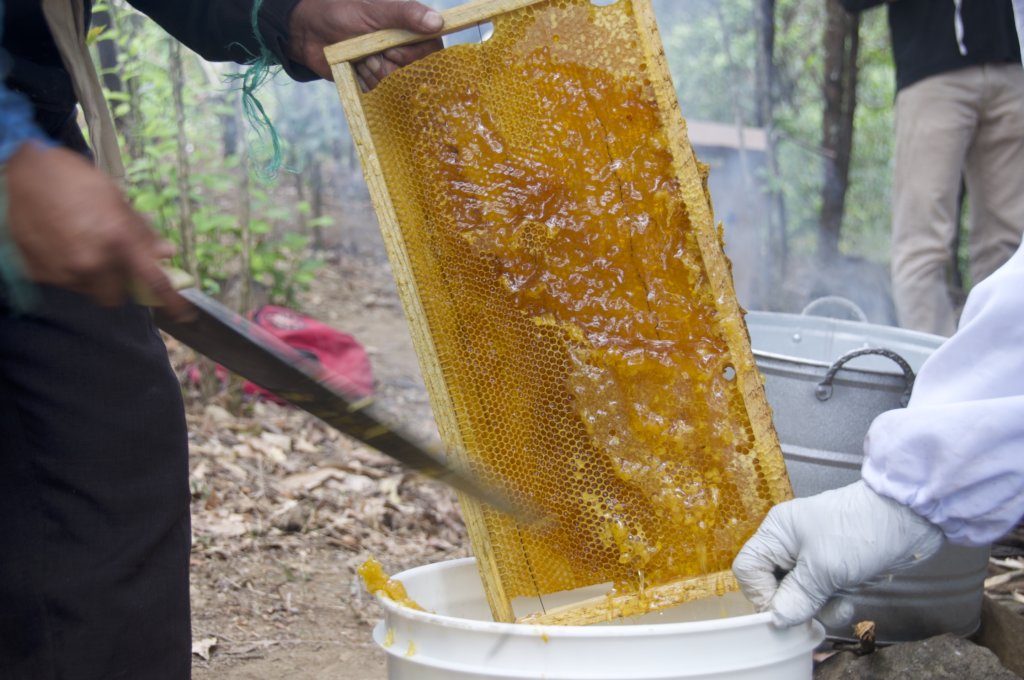 Links: