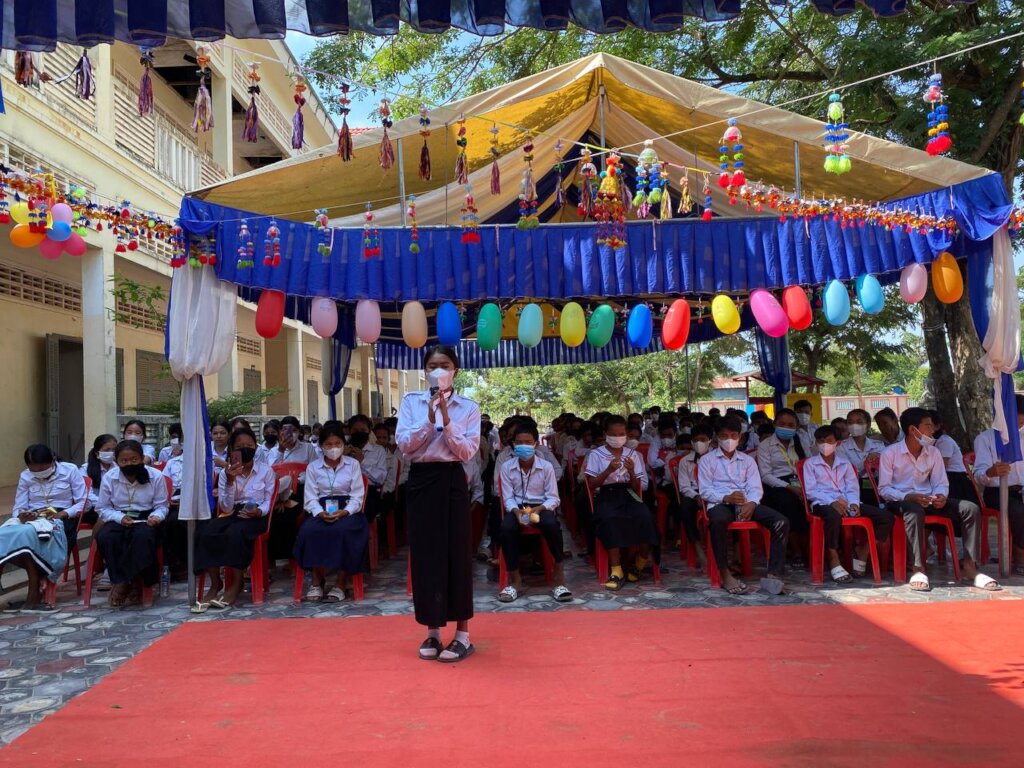 Education and Gender Equality Awareness Campaigns
During the last few months, the This Life In Schools team worked closely with the District Office of Education staff, School Support Committees, and schools to conduct Education and Gender Equality Awareness Campaigns at the end of April, 2022. The purpose of this campaign was to promote gender equality in education and the importance of education. Overall, 2,598 participants (1,516 women) including 2,212 students (1,225 girls) took part. Attendees included parents, DoE staff, the District Governor, commune chiefs, village chiefs, School Support Committee members, Student Council members, teachers, monks, students, and community members. Disseminating messages about importance of education as well as ender-equitable education contributes to reductions in: i) school-related gender-based violence, ii) students dropping out of school, and iii) harmful practices including child marriage and early marriage, migration, and child labour. The events and the presentations of speakers produced a range of emotions among community participants because of the controversial nature of issues such as domestic violence, but they concluded in a good, positive spirit and with much knowledge gained. Certain parts of the events really touched the audiences, most notably when guest speakers shared their negative experiences and stories and this caused them or audience members to cry and express sadness at the difficult lives some of the speakers had had. The participants, however, also laughed and found joy when the students performed role plays. The events were ultimately uplifting because most of the guest speakers sharing these experiences had endured hardship to become leaders today. Guest speakers, parents, and student representatives, shared their success stories, reciting poems about the value of women and education, performing role plays, and taking part in question and answer sessions. Lots of questions were raised by the participants to the guest speakers related to these issues and concerns around education, gender equality and reducing violence in communities.
More engagement leads to more improvement for Student Councils
Nita (name changed to protect identity) is a 15-year-old girl in grade 9, and is a Student Council Chairperson at her school. She lives with her parents in a family that has been identified in the third rank of the Cambodian 'ID poor' classification system. There are four persons in her family; her father is a construction worker in Siem Reap town, and she has one sister who studies in grade 7 in the same school.
Nita said, "In school, I am a student council chairperson and I have been leading this group for three years. In the first year, I had a hard time cooperating with the group because they were less involved and the school didn't have good discipline and strong morals. The school environment was not clean, and - most notably - the students and parents did not understand the value of education. These things, therefore, have caused many students to drop out of school".
She added, "After collaborating with teachers and having the support of This Life to organize the education campaign to disseminate the value of education, I see that my team has improved a lot. They have built a very good relationship, are more courageous, and also have great cooperation among themselves. This resulted in the school getting more disciplined, the environment getting cleaner, and children and parents understanding the value of education better. Active participation from the local authorities in school-related activities also followed".
She said, "Finally, I would like to thank This Life very much for supporting so many activities, especially the valuable education campaign. In the future I will be determined to strengthen myself and the team even more, as well as to actively participate in school, to keep my team stronger, and make the school as much of a child-friendly school as we can".